Making the right moves
By Yang Feiyue | China Daily | Updated: 2023-01-10 07:45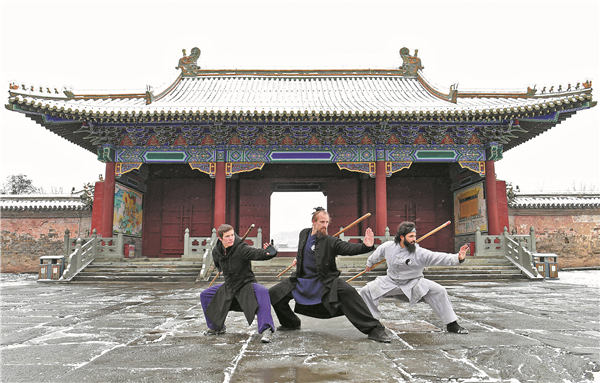 Martial arts enthusiast from the US finds his place in Wudang Mountains, writing a book, building a happy family life and an online following, Yang Feiyue reports.
Wearing his long hair in a bun, a goatee and a Taoist robe, Jake Pinnick easily stands out among many Chinese kung fu practitioners on the Wudang Mountains, although they are all dressed up pretty much the same.
With his blond hair, blue eyes, high nose and white skin, Pinnick often draws the attention of visitors, especially as he adroitly performs the tai chi moves with precision and a panache.
The 32-year-old from Kewanee, a small city in Illinois, United States, has committed himself to learning Chinese martial arts for 12 years and his efforts resulted in him becoming a disciple of Yuan Shimao, the 15th inheritor of the Wudang Sanfeng Sect, a martial arts academy in the mountains, Central China's Hubei province.
Years of learning and practice have enabled Pinnick to grasp multiple forms of martial arts, such as the Xingyi Boxing that carries out the mind's will and the Baxian (eight immortals) cudgel that combines rigidity and flexibility and enables him to catch rivals off guard.
"The martial arts have brought me great benefits, and the training is actually fun," Pinnick says.
"You can break down the moves, try to understand them, approach them differently, while the training keeps your mind very active and body very healthy," he adds.
Already being an experienced martial arts teacher himself, Pinnick has taken on an additional challenge of playing the Chinese bamboo flute in recent years.
His latest English-language book, introducing the history of the bamboo flute and the skills required to play it, has got raving reviews online.
"I found that many of my online followers were curious about the Chinese instrument after I uploaded my playing, so I thought I should publish an English tutorial so that my fans could learn along with me," Pinnick says.
He looked up a large volume of related Chinese books, extrapolated the key information and integrated his personal experiences.
It took him nearly a year to finish the book, which also covers 108 classic musical works for bamboo flute.
"I hope my book will enable foreigners online to understand the charm of the ancient Chinese traditional instrument," he says.