Railways help landlocked Laos embark a journey beyond borders
By Kouqing Li,Chanthevivanh Keobounphanh and Naoaki Inayoshi | China Daily | Updated: 2023-01-11 07:48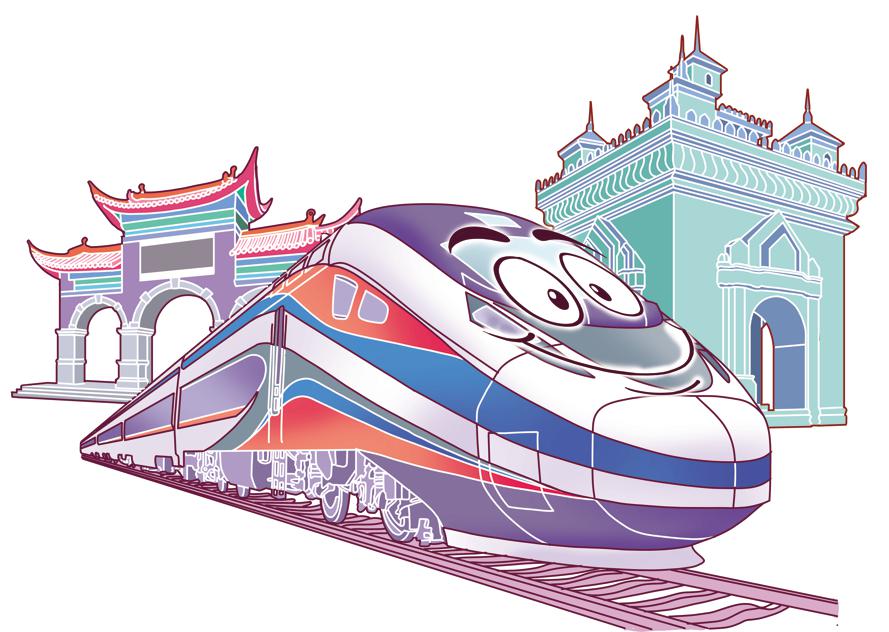 Laos is transforming. The country took a giant step toward becoming a regional transportation hub when the Laos-China Railway became operational on Dec 3, 2021.
One might wonder how the only landlocked country in the Association of Southeast Asian Nations could play such a pivotal role in regional transportation. Well, let us guide you through Laos's exciting transformation, based on our experience and observation while travelling on the railway.
The Laos-China Railway is the first railway system in Laos, covering a distance of about 400 kilometers between the Laotian capital of Vientiane and Boten, a city in northern Laos bordering China. Connected to the railway network in China, the $5.9 billion mega-infrastructure project was built in cooperation with China as part of the Belt and Road Initiative and is operated by the Laos-China Railway Company.
Until trains started running, roads used to play the most crucial role in transporting cargo and people in the country. In 2019, before the COVID-19 pandemic drastically reduced transportation in Laos, highways, expressways and roads in general accounted for about 90 percent of the freight traffic and 63 percent of passenger traffic while the rest was conducted through waterways and airways.
However, poor road quality has been a long-standing challenge for Laos. As of 2020, only 23 percent of Laos's roads were paved. Plus, they are still vulnerable to seasonal closures due to floods, landslides and poor drainage systems. In the 2018 Logistics Performance Index, Laos was ranked 82 among 160 countries for its performance in logistics. Across the ASEAN, this was the third-lowest position, followed by Cambodia and Myanmar.
The Laos-China Railway could help Laos overcome its logistics infrastructure challenges, especially because the new railway and infrastructure have significantly reduced transportation time and cost. For instance, the railway has reduced the travelling time between Vientiane and Luang Prabang — a UNESCO World Heritage Site — from six hours by road to two hours by train.
Now that the travel time between Vientiane and Luang Prabang has reduced, Laos can look forward to enjoying a tourism boom. Tourism is a pillar of the Laotian economy along with mining and electricity. It benefits other service industries such as restaurants and hotels and is a significant source of foreign-exchange earnings.
For tourists, general travellers and travel agencies, connectivity is an important factor. The Laos-China Railway has increased the options of tourists and travel agents to explore Laos, turning it into a major tourist destination in Southeast Asia. There is likely to be a big jump in the number of tourists from Vientiane visiting Luan Prabang and other scenic spots by train. Also, since the Laos railway is connected to the railway network in China, the number of tourists is likely to increase further now that China has reopened its borders after almost three years.
In the 10 months since its launch, the Laos-China Railway has carried about 8 million passengers and 5.7 million tons of cargo, including 1.4 million tons of cross-border cargo. During our trip last September, the train seats were fully booked for the round-trip between Vientiane and Luang Prabang. The sharp increase in rail transportation has greatly improved connectivity in Laos, because railways, unlike roads and other transport means, could be less vulnerable to weather disruptions and seasonal closures.
The railways have unlocked Laos's potential to become a regional transportation hub by changing the country's transportation landscape. Yet Laos should not be complacent due to the progress it has made in railway transport.
For instance, the ticketing system could be improved, making booking tickets easier. If people could book tickets online, or through travel agents, long queues at the ticket counter could be avoided.
The number of trains running daily could also increase to boost cargo and passenger transportation. Currently, there are only three trains carrying passengers, which can be expanded over time as demand increases.
The linkage with other logistics channels such as road networks, dry ports and airports could be strengthened. Optimizing and synergizing these channels could create a more convenient, faster, modern, efficient, and cost-effective transportation system.
Hard and soft infrastructures could be developed to enhance connectivity with the transportation networks in neighboring countries. The railway needs to be connected with the transportation network beyond Laos to sustain its key role in the region.
The investment climate could also be improved to attract more domestic and foreign investments along the railways, which in turn could improve the railway's usability and encourage further economic activity.
Laos may be the only landlocked country in Southeast Asia, but that does not mean it should remain isolated. Its location is strategic in terms of the region's transportation network. With the opening of the Laos-China Railway, Laos has embarked on a journey that will transport the country and the region beyond its borders.
The views don't necessarily reflect those of China Daily.
Kouqing Li is the director of the ASEAN+3 Macroeconomic Research Office (AMRO); Chanthevivanh Keobounphanh is an adviser to the AMRO's Strategy and Coordination Group; and Naoaki Inayoshi is Consultant in the Surveillance Group and Strategy & Coordination Group.
If you have a specific expertise, or would like to share your thought about our stories, then send us your writings at opinion@chinadaily.com.cn, and comment@chinadaily.com.cn.