Poetry emotions
By Zhao Xu | China Daily | Updated: 2023-01-12 08:31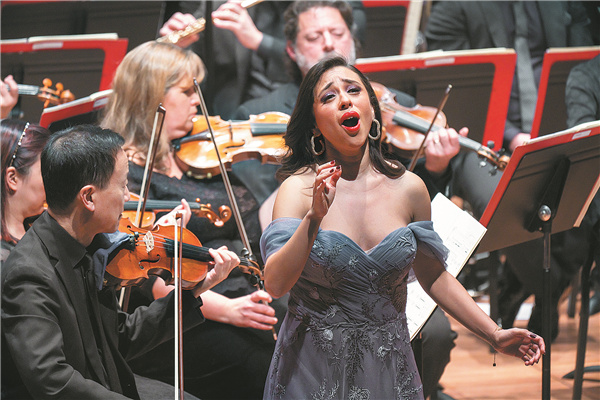 Pure theatricality takes hold in Mack's other work, composed for a poem written by Du Fu, a towering literary figure, who, instead of allowing his sorrows to be washed down by alcohol like Li Bai, chose to nurture them at a time when his beloved country was torn apart by rebelling warlords in the mid-eighth century. This particular poem, in which Du's emotions run the gamut from "grief to relief" to quote Mack, is actually an exception: the author, reveling in the news of the royal army's victory, looked at his wife and children with tears of joy in his eyes as he entertained the thought of returning home to recovered land.
"You really have the feeling how tight this man had been clenching, and how much he had been holding onto in the days and months leading up to that moment. So my idea was to create a little theatrical scene that captures this intense moment, a scene complete with two singers impersonating Du Fu and his wife," says Mack.
The pair's singing overlaid each other, before joining in unison, as they "discussed" the route back home. To treat the original text with what he called "utmost respect", the composer looked at the specific locations of those places mentioned by Du on a map, before overlaying his own "emotional map".
"Think of all the things someone would have to go through if they tied their fate to their country — those are the human emotions I went for," he reflects.
The same patriotism has coursed its way into another Tang poem, by Yang Jiong, a member of the literati who, by a stretch of imagination, envisioned himself forsaking "the life of a sheltered scholar" by "leading a hundred soldiers into war". It required another stretch of imagination for the American composer Nicholas Bentz, who, admittedly, was never one for "bombast", to come up with a score for what he dubbed "a war song".
"The poem's visceral imagery of burning flames, mounted soldiers, howling wind and roaring drums provided me with something that I could latch onto to craft a narrative, and to create an environment for the architecture which is the poem itself," he says. "I let the poem guide my music, written initially for one vocalist, but later adapted for three bass-baritones, to convey the feeling of a gathering of men."
Despite the seeming ferocity, Bentz, who associates his personal style with a "surgical introspectiveness", says that, in the line "Snow has dulled the bright pennants", he did find "a stillness over the battlefield and a moment of reflection" that gives the poem a resonance and draws the composer's heart closer to the man he intended to open a dialogue with.