Digital pathological diagnosis systems optimizing healthcare transformation
By ZHENG YIRAN | China Daily | Updated: 2023-01-12 08:59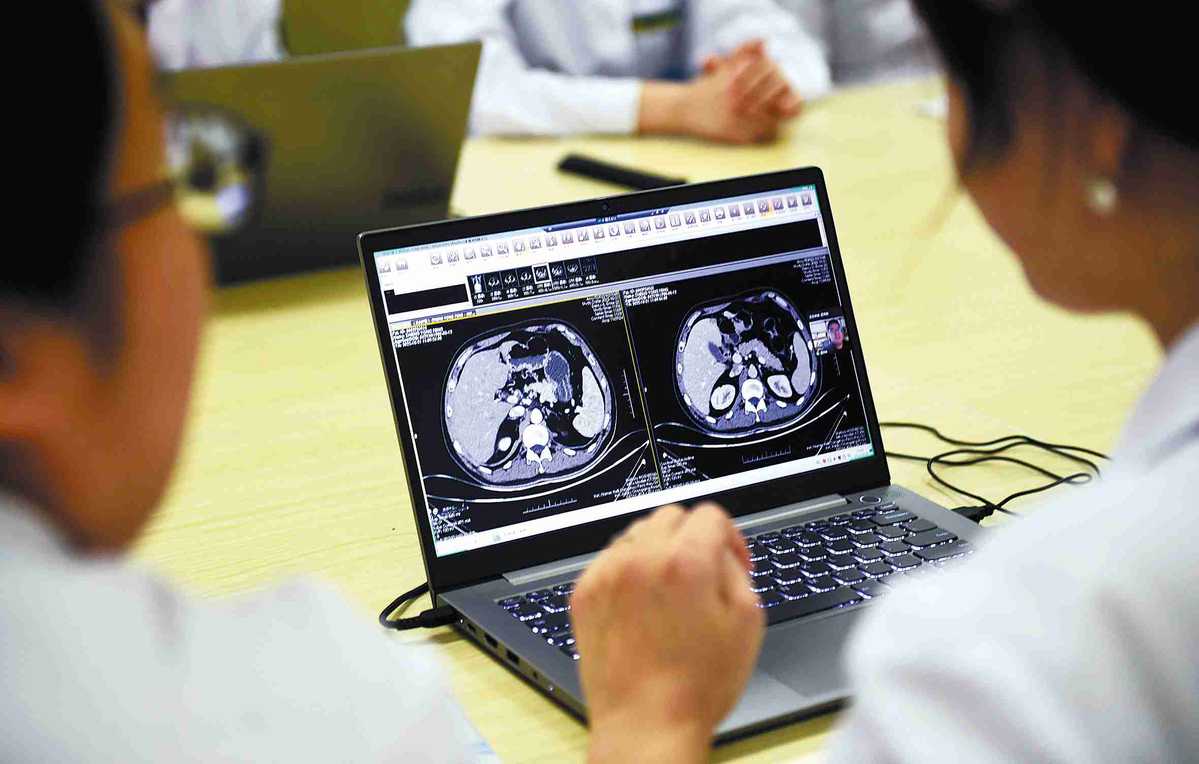 Pathological diagnoses of diseases are embracing more digital tools, with artificial intelligence playing a vital role in helping make more accurate and objective diagnoses.
Pathological diagnosis identifies diseases or conditions by examining cells and tissues under a microscope. Digital pathological diagnosis, or digital pathology, adopts intelligent algorithms to increase efficiency and accuracy, shorten the period of report generation and resolve hospital staff shortages.
According to the 2022 China White Paper on Digital Pathology issued by the Shanghai Digital Medicine Innovation Center and Beijing-based think tank Equal-Ocean, 80 percent of the surveyed pathologists think that digital pathology increases efficiency by 50 percent.
The white paper stated that 40 percent of the surveyed hospitals are building or have built a digital pathology system. Over half of them have spent more than 1 million yuan ($147,620) on the sector, with some investing more than 5 million yuan.
The system requires an accumulated investment of some 10 million yuan to build a complete digital pathology system and the construction period can be long, experts said.
In 2022, about 23 percent of remote clinical consultations were reported to have used digital pathology, the white paper said.
The nation is undergoing a transformation from traditional pathological diagnosis to digital pathology. For hospitals that have already established a digital pathology system, the application scenario and utilization rate has been increasing and the penetration rate of digital pathology is expected to further rise, said the white paper.
Most of the surveyed doctors praised the country's digital pathology system, stating that it greatly enhances the efficiency and accuracy of pathological diagnosis, optimizes the learning curve and shortens training periods, it said.
"With the development of digital technologies, digital pathology will become mainstream in the industry. Products such as digital pathology image browsers and AI-enabled diagnosis-assistance systems are expected to be applied widely," said Zhang Jing, a medical device expert at VBData.cn, a Chongqing-based healthcare service platform.
"Seeing opportunity in the blue ocean, several domestic startup companies are tapping into AI-enabled digital pathology products," Zhang said.
Guangzhou, Guangdong province-based med-tech company DM Intelligence has been focusing on digital pathology for years and is mulling a new round of investment.
The funds are for marketing existing products and clinical experiments of an AI-enabled diagnosis-assistance system for breast cancer.
"Digital pathology is deeply rooted in the country's healthcare system. The digital pathology system has become an indispensable tool for hospitals, third-party test centers, centers for disease control and prevention, and scientific research institutions," said Fan Yujun, founder of Jinan Danjier, a domestic enterprise of digital pathology.
In 2010, Fan introduced Hungarian company 3DHISTECH Ltd — the world's first self-developed digital pathology brand — to China. The movement greatly broadened domestic pathologists' horizons and stimulated their digital-thinking models.
Between 2013 and 2019, thanks to the development of related telecom solutions, it took less time for medical experts to open images during online consultations. During this period, China's digital pathology sector has seen leaps in development.
"There are more upgrades and transformations in the sector between 2020 and 2025. Intellectualization and full digitalization is becoming the mainstay," Fan said.
Tang Dajie, guest researcher at Wuhan University, said that the sector still contains much room for improvement.
"A universal platform to integrate medical big data is needed to boost the optimization of the AI-enabled digital pathology system. Laws and regulations should also be in place to avoid medical malpractice," Tang said.