Cooperation rings out in Davos call
By WANG MINGJIE | China Daily | Updated: 2023-01-17 07:03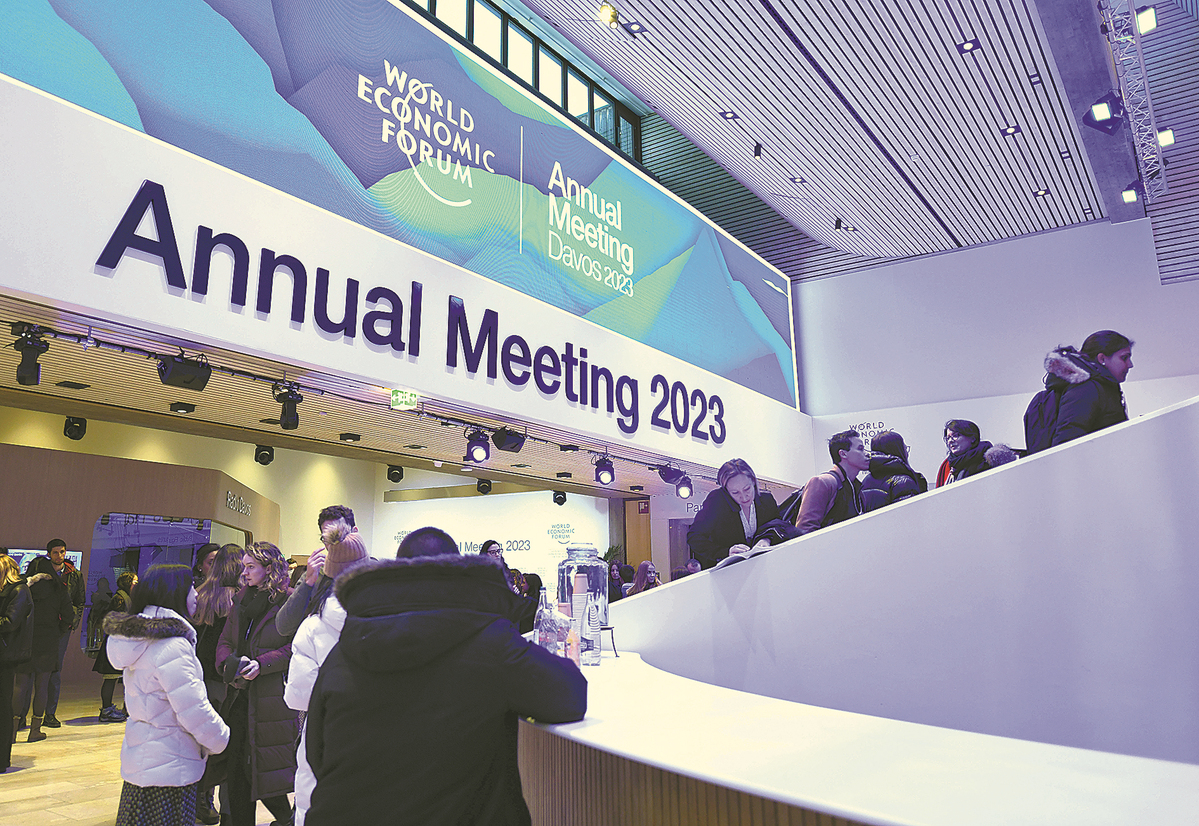 In 'fragmented world', joint response needed for solutions, WEF founder says
Cooperation in a "fragmented world", with multiple crises deepening divisions, has emerged as a rallying call at the World Economic Forum's annual meeting, which opened in Davos, Switzerland, on Monday.
With elevated inflation, higher interest rates, reduced investment and disruptions caused by the Ukraine-Russia conflict, the meeting, which runs until Friday, has brought calls for world political and business leaders to take collective action, engage in constructive dialogue and help find solutions through public-private cooperation.
"We see the manifold political, economic and social forces creating increased fragmentation on a global and national level," said Klaus Schwab, founder of the forum, during a media briefing before the opening.
"To address the root causes of this erosion of trust, we need to reinforce cooperation between the government and business sectors, creating the conditions for a strong and durable recovery.
"At the same time, there must be the recognition that economic development needs to be made more resilient, more sustainable and nobody should be left behind."
More than 2,700 leaders from 130 countries, including 52 heads of state and government, are participating this year. Among them are German Chancellor Olaf Scholz, European Commission President Ursula von der Leyen, UN Secretary-General Antonio Guterres and International Monetary Fund Managing Director Kristalina Georgieva. They have been joined by more than 600 CEOs from sectors such as financial services, energy, materials and infrastructure, information and communication technologies.
At the invitation of Schwab, Chinese Vice-Premier Liu He is also attending the meeting. He will be delivering a speech on Tuesday.
The meeting program features more than 450 sessions on accelerating progress on global challenges. The focus will be on advancing new systems for energy, climate and nature; investment, trade and infrastructure; private sector innovation and resilience; work, skills and care; and dialogue and cooperation in a multipolar world.
John Beirne, vice-chair of research at the think tank Asian Development Bank Institute, said: "Given the uncertain global economic outlook for 2023 related to ongoing geopolitical tensions coupled with debt sustainability risks in developed and emerging markets, this year's World Economic Forum takes place at a critical juncture.
"Mechanisms to tackle the cost-of-living crisis and alleviate macroeconomic instability will be key, as well as driving greater efforts on energy transition reforms."
Higher global interest rates and amplified economic uncertainty have hampered the growth outlook for 2023. In its latest forecast, the World Bank has cut projections for global growth to just 1.7 percent, down from 3 percent predicted in June last year.
"With investor sentiment projected to deteriorate and worsening risks of debt distress in developing economies, lower overall global growth can be expected compared to previous projections," Beirne said.
Christopher Bovis, international business law professor at the University of Hull in the United Kingdom, said: "The world leaders face a massive challenge in 2023. Not only geopolitics and economic headaches, but a consistent battle to raise productivity and bring on economic growth to their respective economies."