Hebei resort full of winter promise
By ZHANG YU in Shijiazhuang | China Daily | Updated: 2023-01-19 09:12
Since opening of ski facilities, former summer destination boasts all-year appeal
Zhou Fang has been wanting to travel with her family ever since China changed its COVID-19 control policies. And she has finally managed to do so while taking advantage of the recent boom in winter sports.
Based in Langfang city, Hebei province, Zhou and her husband chose to drive their three daughters to a ski resort in neighboring Laishui county in Baoding to indulge their passion for the sport, which has become increasingly popular since last year's Beijing Winter Olympic Games.
"I have been a ski enthusiast for 10 years, and I used to go skiing in nearby Beijing," Zhou said, adding that she chose Baoding this time because there's a resort there with entertainment facilities and themed hotels for children.
This is appealing to her daughters, who have been eager to enjoy themselves outdoors for a very long time, she said.
The Yesanpo Ski Resort in Zhaogezhuang township is about 100 kilometers southwest of downtown Beijing and 120 km from Zhou's home in Langfang. "We can cater to skiers with different facilities," said An Junliang, general manager of the resort, who added that Yesanpo has five pistes for primary, intermediate and advanced skiers, and 20 coaches to ferry tourists.
More importantly, there's a range of recreational facilities for children, including rainbow runs, snow diggers, snow tanks and snow pushers, An said, adding that the resort can accommodate up to 3,500 visits per day.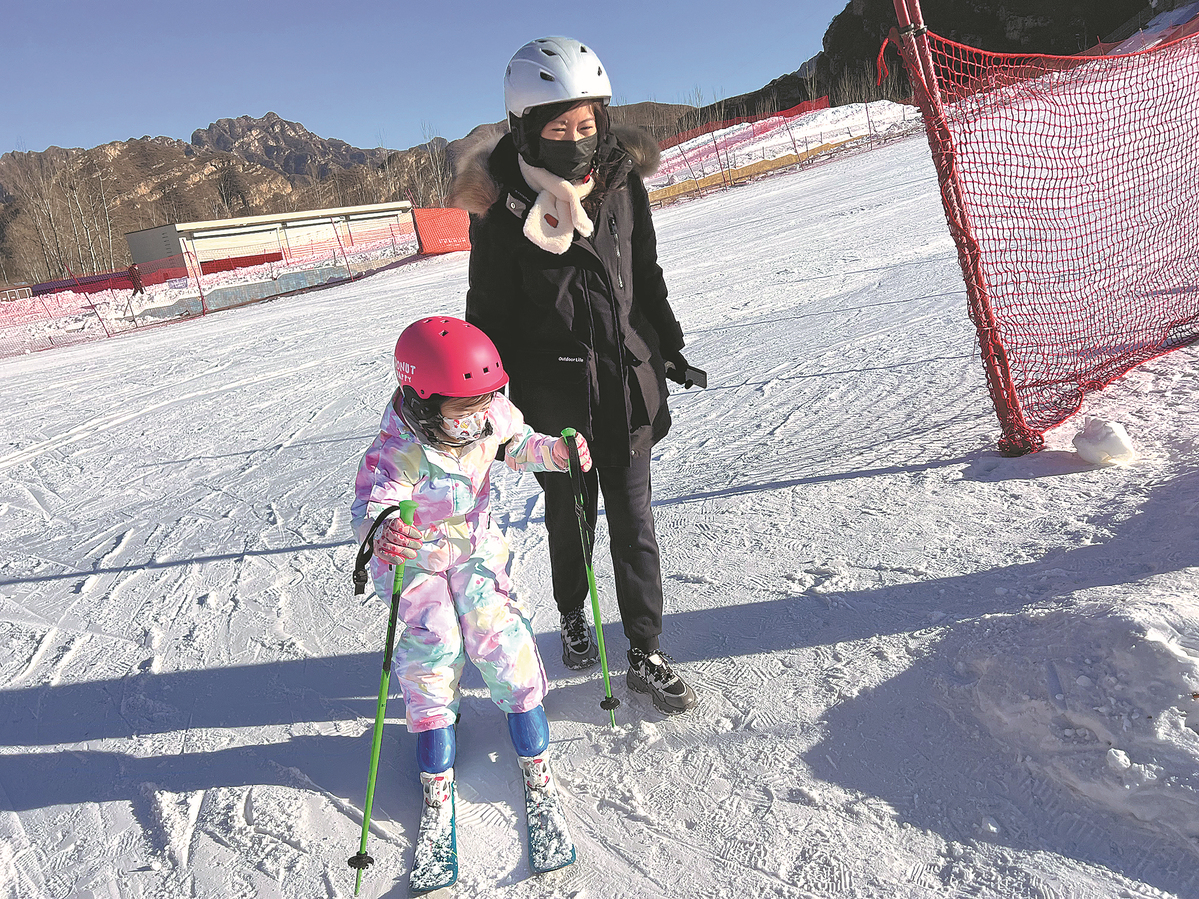 Since Yesanpo opened on Dec 17, it has sold more than 17,000 tickets, some of which have even been booked for February.
Visitors are mainly coming from neighboring cities, such as Beijing and Shijiazhuang, the capital of Hebei. What enticed Zhou most was the fairy tale-themed hotel close to the resort and the fact there are restaurants nearby that serve local specialties. "There are many entertainment facilities at the hotel, and during a walk around the resort, I bought many local specialties that I will take back home," she said.
It took the family two hours to make the trip to Yesanpo, and they stayed for two days in the resort and its surroundings.
"My youngest daughter, who is 4 years old, has learned to stand and walk on skis and has also learned some basic moves," Zhou said.
Tourists like her are helping promote the development of the local tourism industry, especially in winter. "Winter used to be an off-peak season because of the cold, but since the ski resort opened, it has helped fill in the blanks in winter tourism in our town," said Yang Meng, Party chief of Zhaogezhuang.
According to Zhao, the area is also a tourist spot in summer as Yesanpo itself is a well-known mountain scenic area. In recent years, residents have benefited from winter tourism, either by running or working at restaurants, hotels and other recreational facilities, Zhao said.
"We are happy to be busy with year-round tourism," he said.