Liu, Yellen meet for 'substantive', 'candid' talks
By WANG MINGJIE | China Daily Global | Updated: 2023-01-19 10:20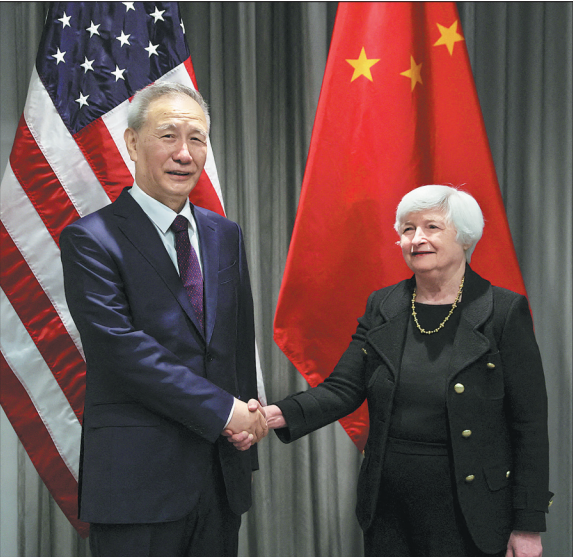 Vice-Premier Liu He met US Treasury Secretary Janet Yellen in Zurich, Switzerland, on Wednesday, in a talk that is seen to improve bilateral relations while finding ways to work together on pressuring global challenges.
Both countries agreed to enhance communication about macroeconomic and financial issues, according to a joint statement. The meeting, the first inperson between the two, was depicted as "substantive, candid and pragmatic".
The Two sides agreed to enhance cooperation on green finance on a multilateral and bilateral basis, such as within the framework of United Nations, G20 group, and APEC, the statement noted.
The Chinese side extended an invitation for Yellen to visit China this year and two parties agreed for their economic and trade teams to continue maintaining communication at all levels.
The meeting is a follow-up after President Xi Jinping and US President Joe Biden met in Bali, Indonesia in November, during which both leaders pledged to increase communication.
In a speech at the World Economic Forum annual meeting in Davos on Tuesday, Liu urged world leaders to abandon "cold war mentality" and reaffirmed China's commitment to international cooperation and all-around opening-up, adding "China's door to the outside will only open wider".
World economic growth is expected to slow sharply in 2023 in the face of rising inflation, higher interest rates, and supply chain disruption caused by the ongoing Russia-Ukraine conflict. In its latest forecast, the World Bank forecast the US growth to fall to 0.5 percent this year. In China, the growth was projected to grow at 4.3 percent.
Despite the tensions between China and the US in recent years, the total trade volumes between the two countries in 2022 could reach an all-time high, or at least come very close to, according to the latest US official data through November.
Christopher Bovis, a professor of international business law at the University of Hull in the United Kingdom, said: "The significance of the meeting between the Chinese vice-premier and the US Treasury Secretary is not to be underestimated.
"A face-to-face communication, in diplomatic terms, usually indicates the gravitas of the situation amidst the biggest picture of the international developments and the thematics of the 2023 Davos Economic Forum," he said.
Bovis believes the meeting sets up the agenda, which not only will dominate the Davos proceedings, but it will project the parameters of current and future cooperation between the two major economic drivers of the world.
While there are differences between the two biggest economies in the world, Bovis said: "The emphasis will be placed on collaboration and the avoidance of conflict and confrontation to settle disputes in trade and international matters. The world is moving towards a new era of cooperation with genuine foundations."