UK's Rwanda policy to face fresh legal challenge
By EARLE GALE in London | China Daily Global | Updated: 2023-01-20 09:45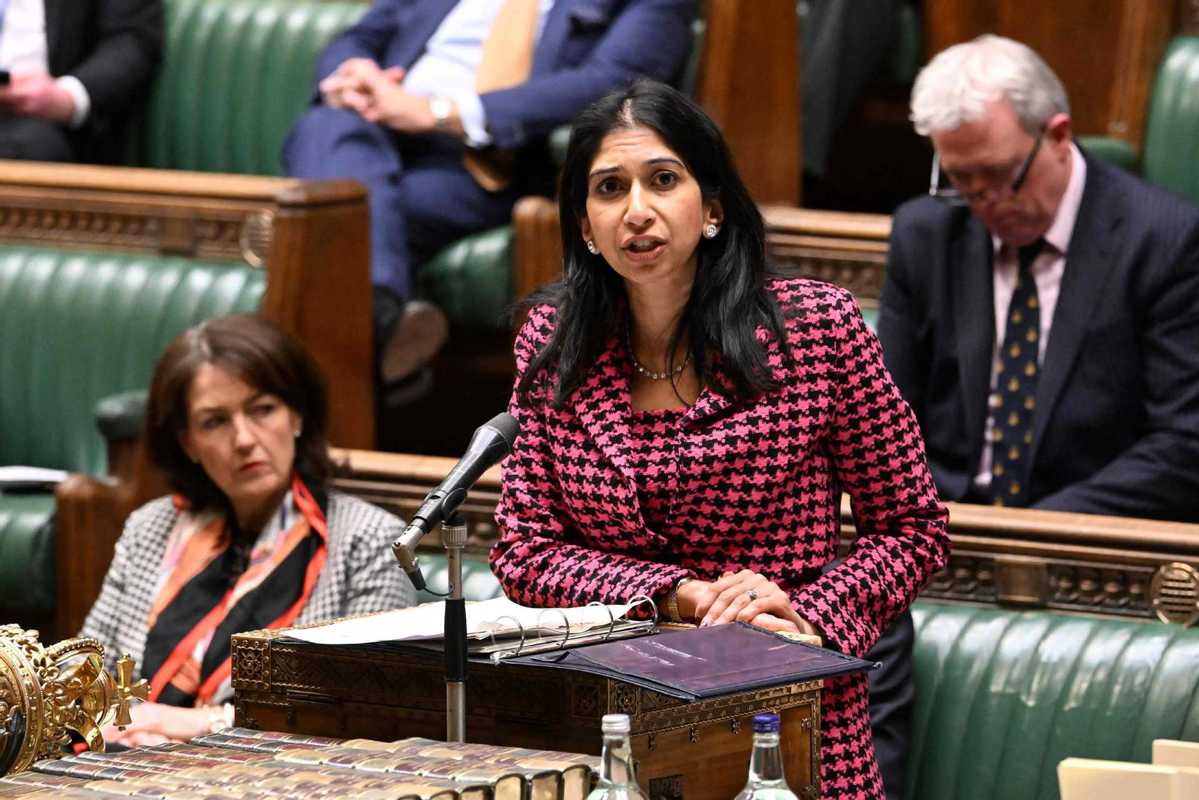 The legality of the United Kingdom's plan to send some people who arrive in the country illegally to landlocked Rwanda for processing will be challenged again in the British courts.
The UK government says its Rwanda policy will create a deterrent among migrants, by opening up the possibility that people arriving from so-called "safe countries" could be sent to Africa, instead of being allowed to remain in the UK while their claims are processed.
A British court declared the plan legal in December after an earlier challenge.
However, High Court justices Clive Lewis and Jonathan Swift said this week they will allow migrants and charities to challenge aspects of their decision in the Court of Appeal.
Home Secretary Suella Braverman, who strongly supports the Rwanda policy, said the UK government is ready to argue again that it should be declared legal and put into action.
"The government is clear that we support and are proud of the groundbreaking agreement and partnership that we have struck with Rwanda, so that we can deliver our plans to swiftly detain and remove those people who come here illegally," Sky News quoted her as saying.
The initiative was unveiled in April by Boris Johnson, UK's prime minister at the time, who said the first migrants could be sent overseas as soon as two months later. But the European Court of Human Rights stopped that from happening and said no-one should be deported until the legality of the plan was tested in court.
That set up December's challenge, mounted by eight asylum seekers and organizations including Asylum Aid, Care4Calais, the PCSU union, and Detention Action. While the High Court ruled against them, some of those involved in that case can now appeal parts of the decision.
The BBC said the charity Asylum Aid has already said it will appeal, and call on experts who will say the UK's decision-making process is systemically unfair.
The appeal will likely not be heard for several months, during which time the UK will not be allowed to send anyone to Rwanda. The case could then be referred to the Supreme Court for a further appeal.
The main bone of contention in upcoming appeals is likely to be whether migrants will have sufficient protection in Rwanda from "refoulement", or being forcibly relocated somewhere unsafe, The Guardian newspaper reported.
The paper quoted Clare Moseley, founder of Care4Calais, as saying: "Refugees will not be safe in Rwanda and this policy will not stop smugglers. Giving refugees safe passage is a kinder and more effective way forward."
The UK has been grappling with tens of thousands of people arriving in small boats from France each year, with many turning out to be economic migrants posing as asylum-seekers. The nation has said even genuine asylum-seekers should claim asylum in the first safe country they reach, and not travel on to the UK.