Skydiving, chopper rides create thrills, big biz
By Zhu Wenqian | China Daily | Updated: 2023-01-21 07:26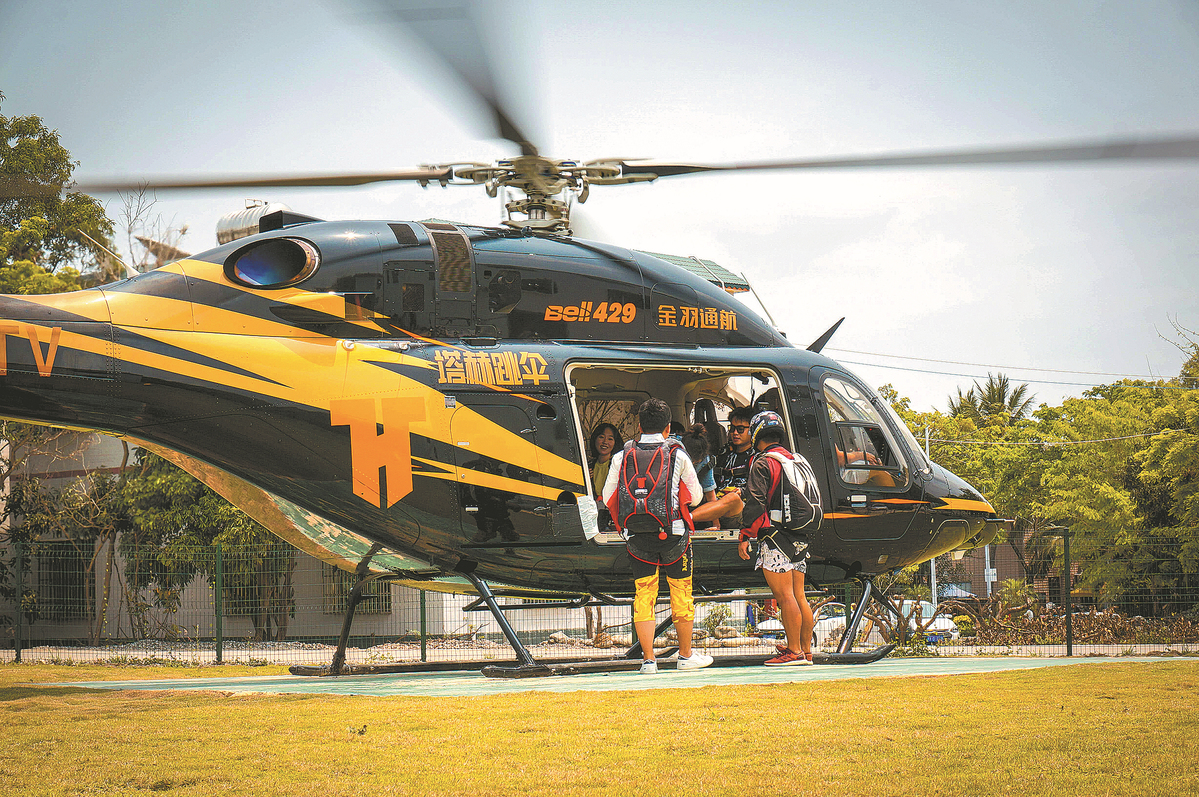 Fresh tourism formats for islands, low-altitude air travel, deserts tap 'experience market'
If thrill-seeking Chinese travelers have their way, staid journeys that don't create an adrenaline rush will soon become passe. Instead, a "journey" would mean a chopper flight that allows riders to take a giant leap of faith and dive, headfirst, secure in the knowledge that safety gear like parachutes will produce excitement next. Skydiving is fun - and a growing lifestyle business in China, part of a trend among consumers who are willing to spend big for stirring,unforgettable experiences.
And Sanya, a tourism destination in the tropical island of Hainan province in South China, is where most of such fun is unfolding these days.Fun-chasers pay for helicopter rides that equip them with parachutes and then dump them on the sea.
According to Beijing Jinyu General Aviation, the operator of the helicopters in Sanya, the Bell 429 model from US company Bell Helicopter Textron Inc has been selected for use in the skydiving program. The aircraft are specially configured for parachuting.
"This business has been better than expected. In the holiday season, customers would gather at our base at daybreak to catch the first flight. We are exploring more opportunities to build a new base in the near future to meet the growing demand," said Chen Wenlai, general manager of Beijing Jinyu General Aviation.
Barnabas Szilagyi, chief pilot at the firm, said the Bell 429 has the largest cabin in its class and can accommodate more customers.
Skydiving bases in China are located in Hainan, Guangdong,Jiangsu and Zhejiang provinces and in Shanghai. The May-October period serves as the peak season for parachute jumping in the country,industry reports said.
In July last year, the number of bookings for parachuting, which is bundled into travel products, rose nearly 20 percent over June. Per capita spending on parachuting also jumped 62 percent over June,according to Trip.com Group, China's largest online travel agency.
For instance, exclusive skydiving costs 2,880 yuan ($429) in Boao,Hainan. Some packages come with additional services. Skydiving combined with photography offered by the instructor would cost 3,680 yuan. Spectacular third-party photography involving another parachuting instructor doubling up as a photographer/videographer during the dive will cost 4,380 yuan.
The helicopters used are mostly leased at substantial cost from general aviation companies. A parachute base generally needs to be equipped with about 10 to 12 pairs of parachute bags costing 150,000 yuan each, according to an operator in Huizhou, Guangdong province.
In December, a guideline jointly released by the Communist Party of China Central Committee and the State Council, China's Cabinet, clarified about the long-term goals of growing domestic demand from 2022 to 2035.
The guideline said China would accelerate the development of tourism formats customized for islands,cruises, low-altitude air travel and deserts, in order to further unleash the consumption potential of the general aviation sector.
In China, much of the general aviation sector's operations tend to focus on flight training and tasks related to industries, agriculture and forestry. Consequently, the potential for public consumption has not been fully exploited.
The guideline said China would continue to promote the integration of general aviation with tourism,sports, the internet and the innovative economy, and fully exploit new consumption formats to drive the growth of general aviation.
By 2030, annual sales of China's general aviation sector are expected to reach 1.4 trillion yuan, registering a compound annual growth rate of 21 percent from 2020 to 2030,according to market research company Qianzhan Intelligence.
Prospects of such high growth rates encouraged Hunan Changde Wildlife World in Changde, Hunan province, to start operations in July last year. It offers visitors the opportunity to take short low-altitude helicopter rides. The park said that last summer, more than 500 people bought the package and showed that they valued new experiences.During the National Day holiday break in October, more than 700 people enjoyed the chopper rides.
"Riders can enjoy the sights of the wildlife park, Qingshui Lake, a golf park, and Dongting Lake in the region. Flights can last from five minutes to 20 minutes, and are available from 9 am to 6 pm," said Yang Yiwu,general manager of Hunan Tongfa General Aviation, the operator.
Data from the United Nations World Tourism Organization showed that the Guangdong-Hong Kong-Macao Greater Bay Area has been one of the fastest-growing segments of the domestic tourism market in China.
In October 2018, the Hong Kong-Zhuhai-Macao Bridge opened, helping further accelerate the integration of the GBA. It also created a landmark in terms of lovely scenery in one of the country's most dynamic economic regions.
With a base in Zhuhai, Guangdong province, the general aviation branch of China Southern Airlines operates dozens of helicopters in the GBA for multiple missions, including tourism flights over the new bridge.
Owing to the COVID-19 pandemic, the general aviation unit of China Southern suspended the program in 2022, and the company may consider resuming the program at an appropriate time at a later stage.
China Southern's unit uses the Bell 407 aircraft for training and utility missions. In 2018, Bell appointed China Southern general aviation as its authorized Bell 407 maintenance center.
As China continues to tackle growth challenges with its dual circulation development paradigm,the country has gained advantages with its huge domestic consumption market. The paradigm represents a major policy put forward by the central leadership in 2020, which takes the domestic market as the mainstay while letting domestic and overseas markets reinforce each other.
"The internal circulation of the domestic tourism market has been prosperous whereas international travel faced some curbs earlier due to COVID-19. General aviation segments such as low-altitude travel,air sports and short-haul transportation have embraced more growth opportunities," said Gao Yuanyang, a professor at Beihang University.
"The general aviation market in China needs to be further explored and stimulated, and general aviation business operators need to improve their ability to expand the market, innovate services, develop new business models and improve profitability," Gao said.