Is China really ill-prepared for its new phase of COVID response?
Xinhua | Updated: 2023-01-21 08:38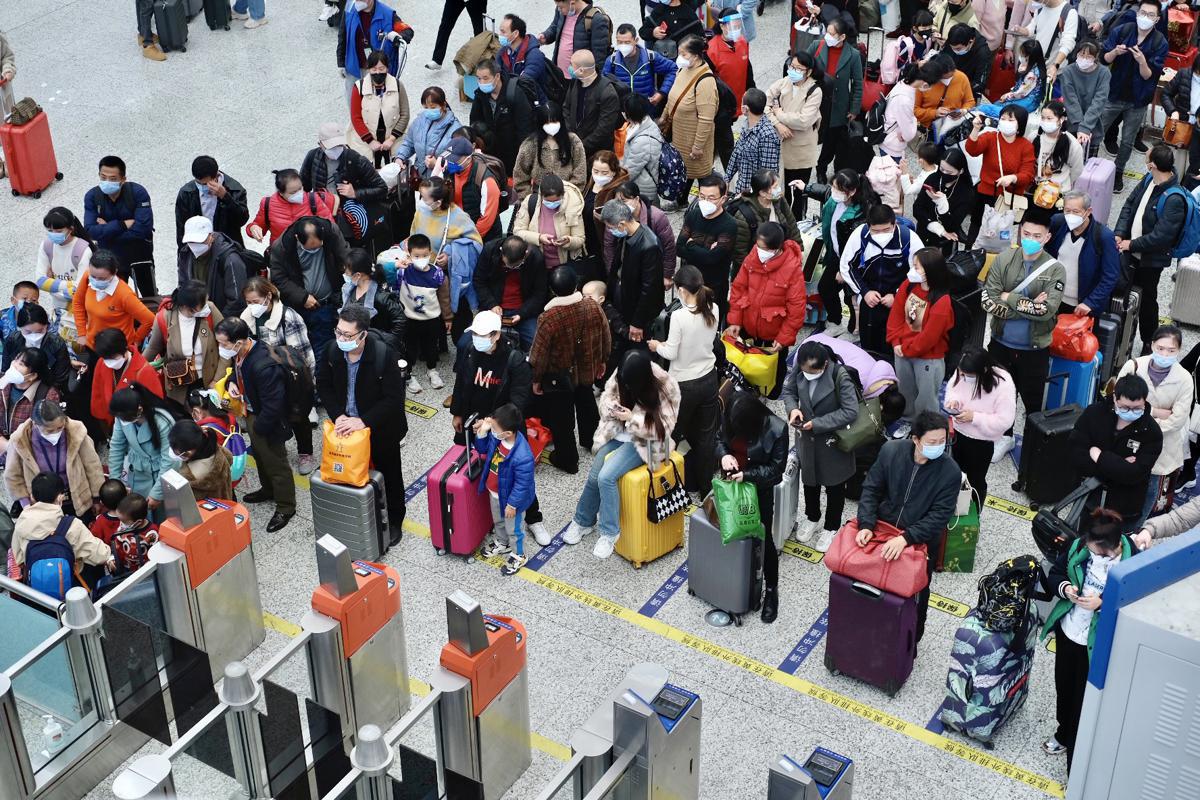 Has any battle ever been fought globally under risk-free, fully prepared conditions? Even the most erudite historian will struggle to find such an example.
The same is true of the fight against the novel coronavirus. In this battle against the elusive enemy, the only certainty is that you can never be "100 percent" prepared for it.
China decided at the end of last year to shift the focus of its COVID response from preventing new infections to medical treatment and moved to further downgrade response measures earlier this month after three years of stringent prevention and control measures.
Not surprisingly, some "know-it-all" Western media and politicians, blinded by their prejudices, impatiently heaped their accusations on China's policy shift -- "bad timing," "no clear exit plan," "a loss of faith," and "policy U-turn."
"China is ill-prepared for the policy shift." They tried to prove the assumption using their groundless analysis and modeling.
The fact is, China's policy shift is a choice shrewdly yet resolutely made during what it sees as a "window period" earned after three years of painstaking yet effective fight against COVID-19.
Why now?
In general, China's policy shift is based on several facts:
First, the Omicron variant is much less deadly. Warding off the much more dangerous virus strains with its prevention and control measures, China has chosen a less costly time to lift its COVID restrictions.
Second, the country has launched the world's largest vaccination campaign in scale to build a relatively strong immunity barrier among its citizens. More than 90 percent of the Chinese population is now fully vaccinated against COVID-19, and over 86 percent of people aged 60 or above are fully vaccinated.
Explaining why China has not chosen the summer of 2022 to lift the restrictions, a senior health expert advising the Chinese government said the elderly population was not adequately vaccinated at the time, without enough booster shots administered.
Third, the improvements in the medical treatment, prevention, and control capabilities in China's healthcare system and properly exercised public health measures across the society.
To use an expression popular among the Chinese: "The virus is weaker, but we are stronger."
China has been fine-tuning its response measures in light of the evolving situation, adhering to the principle of "seeking truth from facts" in its fight against the virus. The "dynamic zero-COVID approach," the "optimization of response measures," and "Class B management" are all decisions made after scientific analysis and shrewd calculation based on the evolving nature of the virus and to respond to people's demands. They are by no means impulsive decisions.
The past three years of prevention and control efforts have laid a solid foundation for China to make such a major policy shift and serve as a precondition for China to optimize its response measures more.
Leveraging its strong grassroots mobilization, organization, and governance capabilities, China has made strenuous efforts to prepare for its policy shift.
To address a temporary shortage of drug supply caused by a spike in infections and hoarding, the Chinese government has given support to pharmaceutical manufacturers to produce drugs or medical equipment at full steam to make sure the daily output of COVID test kits expand from 60 million to 110 million in a month. The daily output of painkillers such as ibuprofen has expanded over four times.
When the hospitals faced an influx of severely-ill COVID patients, China managed to increase its ICU beds by 20 percent.
The government has also made arrangements to swiftly increase the accessibility of medical services in rural areas, where fewer doctors and drugs make people more vulnerable during outbreaks.
There is no such thing as perfect timing, but there is good timing. China has chosen the time when it believes the situation can be controlled.
"To be fully prepared" is a mere pseudo-proposition. No one can claim to be fully prepared in the face of a virulent strain that is severely transmissible and mutable.
Of course, China does not deny that it is under pressure to tame the outbreak. The country has been upgrading its response plan while seeking to remedy the shortcomings.
The Chinese government and people are working together to "flatten the curve" to shorten the lines outside hospital emergency rooms and reduce the number of heartbreaking deaths.
Now, let's look at the question of "Is China prepared?" in another dimension: the results of China lifting restrictions.
It is not to use the ends to justify the means as Machiavellianism does. But before accusing China of being "ill-prepared," one should first check if the "dark COVID winter" and "COVID nightmare" predicted by the critics actually exist.
If you visit a Chinese metropolis now, you will see that masked commuters are packing subway trains, postponed travel plans are back on the agenda. And the lines at Disneyland are getting long.
Under the protection of the country, many Chinese people were exposed to the virus for the first time three years after the initial outbreak. After weeks of recuperating and social distancing during the first infection wave, life is gradually returning to normal for Chinese people.
Businessmen across the world have undoubtedly been "well-prepared." Many sectors in China are seeing a rebound. "What we can be sure of now is that the policy is going in the right direction," said Wang Dan, chief economist of Hang Seng Bank (China) Limited.
If China, as some Western media claimed, had chosen to optimize its COVID policies only because it had no alternative but to be forced to do so, the country of 1.4 billion people would not have been able to get back on track in such a short time and send such strong signals of economic recovery.
The ease of COVID policies will result in an exponential spike in infections, as has happened in any other country. But China has passed the infection peak, and its medical resources, including hospitals, hospital beds, medical workers and drug supply, are sufficient. The occupancy of ICU beds has not yet reached the critical mark of 80 percent.
China's transition to the new phase of the COVID response has been generally smooth. Is the "ill-prepared" accusation against China substantiated?
But for those China bashers, no matter when China chooses to optimize its COVID policies, it will always be a "bad choice," and China will always be "ill-prepared." It has nothing to do with facts and science. To them, China is a sin in itself, a "threat" -- no matter what.
However, the opposite is true. At the moment, hundreds of millions of Chinese are preparing for the Spring Festival holiday. It has been predicted that China will see over 2 billion journeys made during the holiday travel rush, up 99.5 percent from last year.