Her once-secret literary life opens up
By Chen Meiling/Liu Kun | chinadaily.com.cn | Updated: 2023-01-21 13:49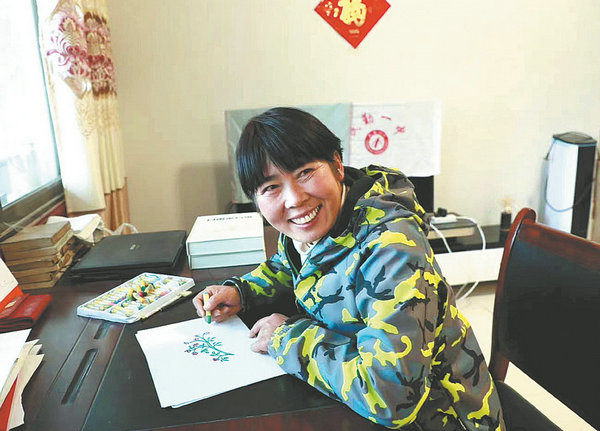 As a young woman, Pei Aimin, now 49, hid her natural gift for writing, hoping nobody in her farming village would notice and accuse her of a lack of devotion to work and family.
That was the way of things when Pei was young in Shangxin village in Minqin county of Wuwei, Gansu province, and in similar places in China. In the past, girls often dropped out of school at an early age to follow a long-established pattern: They married and settled in to the regular routines of rural life.
A few, like Pei, however, yearned for the beauty and breadth of a wider world and looked for ways to express themselves. She sought solace in literature and in the process discovered her own ability to write.
After her marriage, she had to create secret opportunities. Sometimes she would water useless land just so she could read or write outdoors without being observed. Sometimes she sat under a tree, expressing her feelings on a pad of paper about the running water and warbling birds - until somebody approached, and she would hurriedly hide the papers and pen.
"Few women in my village could read or write," Pei said. "All my family members thought it was a bad idea -a waste of time," Pei said. "People gossiped about me, saying the daughter-in-law of the Chen family is a nut."
After "sneaking around" reading and writing for years, Pei surprised everyone in September by publishing a book of her own work. She touched thousands of people with her simple words and drawings.
The book, Diary of Aunt Vole, is a collection of 365 short diary entries that describe the natural scenery of the northwestern Chinese countryside during the four seasons, the daily routine of the local people, interesting things that happened in the village or how life has changed.
A reader commented on Sina Weibo: "We finally have a book about farmers' life written by a farmer!"Another netizen, also a rural woman,commented: "I have many thoughts,but I cannot write. You wrote what I wanted to say but only kept in my mind."
Pei calls herself "Aunt Vole" because"both farmers and voles are busy working in the fields to feed their cubs". She read about voles in fairytales by Hans Christian Andersen, one of the few books she got at home. Her other readings include The Book of Songs (the oldest collection of Chinese poetry), the collected works of Indian poet Rabindranath Tagore and the textbooks of children.
Every time she discovers a new book, she is consumed with curiosity- to the point that she may burn the pot, forget to cook or get her clothes wet when watering crops.
"One time after I had stayed up late to read, I nodded off to sleep while weeding a cornfield. My mother-in-law sharply scolded me. I felt sad and ashamed," she said. "She hated my book reading, saying it would never bring water or bread. ...
"Her words crushed my confidence and I began to talk less. It's a pity for me that I left school. Every morning I went out to work in the fields and returned to cook for the children in the evening.
"But in the quiet deep night, by reading, I could forget the unhappiness of life, as I immersed myself in the freedom and beauty of words."
Pei began to write in middle school and frequently mailed her stories to prospective publishers. Two of them were published, one in a newspaper,another in a magazine. "I was thrilled to receive my first payment and the letters from readers," she said.
Opportunity always came by surprise. In 2011, a group of college students planting experimental crops in her village noticed that Pei was writing alone. They helped her register a Sina Weibo account, saying that more people would be able to read her work.
She upgraded the diaries with photos taken with her phone, and her account has grown to 79,000 fans. In the spring of 2022, Zhang Hua, an editor at Central China Normal University Press in Wuhan, Hubei province,visited Pei with an offer to publish her diaries and drawings.
Pei said she hoped the book would help readers understand that farm work consists of both toil and fun.
In a speech about the book in Minqin county in January, she expressed her particular gratitude for all the books she had read. "They showed me a broader world, and helped me awaken from a cowardly mindless little wife to an independent and dignified rural woman."
Now Pei's family no longer objects to her hobby.
"Although women in the village still don't read, many have changed their mind about it," Pei said. "Learning,after all, is useful."