Ambulance staff walk out as stand-off continues
By Julian Shea in London | chinadaily.com.cn | Updated: 2023-01-23 21:33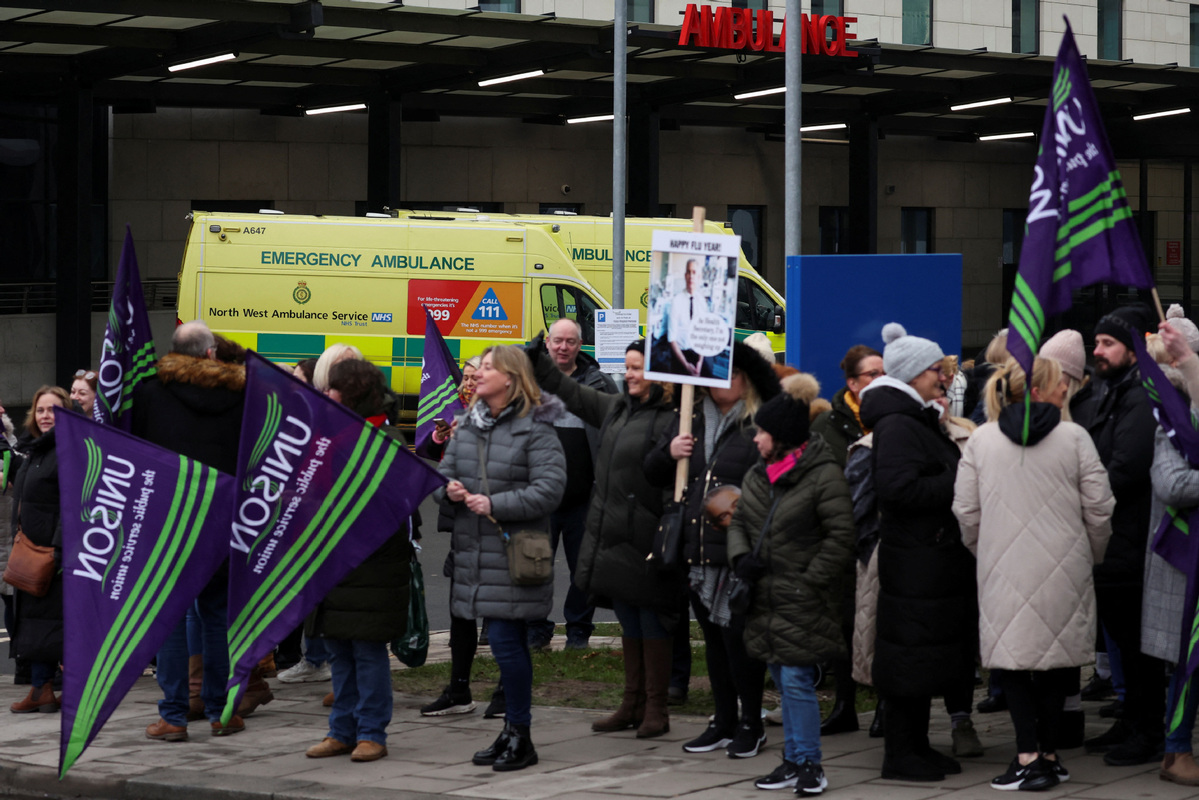 Government 'deliberately misleading', say unions
Ambulance workers in England and Wales took industrial action on Monday for the third time in five weeks with warnings of more strikes to come, as the long-running pay dispute shows no sign of easing.
The start time and length of the walkouts varied between the different regions affected, but in most cases lasted for 12 hours, involving emergency call handlers and control room staff as well as ambulance vehicle crews.
Life-threatening situations would still be attended but less serious cases may not be prioritized in the same way as usual.
The BBC reported that unions were asking for what it called above-inflation pay rises, without having set a figure.
Sharon Graham, general secretary of the Unite union, which represents thousands of ambulance staff, laid the blame for the industrial action squarely at the feet of the government.
"Rather than act to protect the NHS (National Health Service) and negotiate an end to the dispute, the government has disgracefully chosen to demonize ambulance workers," she said.
"Ministers are deliberately misleading the public about the life and limb cover and who is to blame for excessive deaths. Our members faithfully provide life and limb cover on strike days and it's not the unions who are not providing minimum service levels."
Christina McAnea, head of the Unite union, also said the deadlock was down to government inaction, saying it was linked to a wider dispute with NHS staff over wages which was leaving the health service understaffed and overstretched, and that as the former health secretary, Chancellor of the Exchequer Jeremy Hunt should understand the issues at stake.
"It's simple, all the chancellor needs to do is find the money to pay health workers fairly," she said.
"With more staff, ambulance response times would improve, and patient waits for treatment shorten. Everyone would be a winner.
"It's strange that it's the chancellor blocking progress. Jeremy Hunt knows the NHS better than anyone in the cabinet.
"As health secretary, he negotiated the wage deal to end the 2015 NHS strike and pushed for fair pay when Health Select Committee chair. But as Chancellor he's chosen to forget all that."
Stuart Richards, senior organizer of the GMB union, also blamed government inactivity for making the situation worse.
"While the NHS crumbles around our ears – despite ambulance workers' desperate efforts – we have been waiting two weeks today for another meeting with ministers," he said.
Responding for the government, Health and Social Care Secretary Steve Barclay called the continued action "hugely disappointing".
"While we have contingency plans in place to mitigate risks to patient safety, there will inevitably be further disruption," he added.