Box office gets a hopping start in Year of the Rabbit
By XU FAN | CHINA DAILY | Updated: 2023-01-26 07:14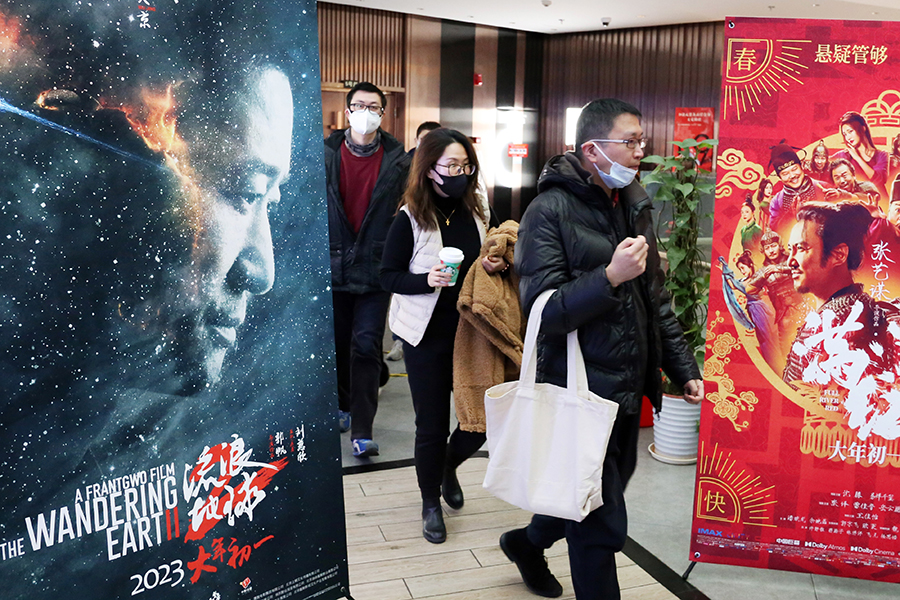 With box office receipts soaring during Spring Festival, long-anticipated prosperity has returned to Chinese cinemas,ushering in an inspiring start for the Year of the Rabbit.
As of Wednesday, the country has grossed a total of 5 billion yuan ($737 million) from seven new movies showing in more than 10,000 cinemas, according to the movie information live tracker Beacon.
Although The Wandering Earth II, the sequel to China's most successful sci-fi epic,topped the festival's box office charts on Sunday, the second day of the Spring Festival holiday,director Zhang Yimou's historical thriller Full River Red turned the tide by seizing the champion's seat on Monday.
The Wandering Earth II, which earned 8.3 points out of 10 on the review aggregator Douban, and Full River Red, which garnered 7.8 points, both received much praise,indicating the technical and storytelling leaps of China's film industry,according to some insiders.
Most critics and insiders contacted by China Daily said the festival's two highest-grossing movies have signaled that Chinese movies imbedded with traditional values and culture are increasingly appealing to domestic audiences, with the trendy rise of cultural confidence in recent years.
Ticket revenue for each of the two movies has surpassed 1.6 billion yuan, more than most Hollywood blockbusters released on the Chinese mainland in recent years,according to major ticketing websites like Maoyan.
Rao Shuguang, president of the China Film Critics Association, said The Wandering Earth II has explored a good direction for Chinese sci-fi films, with its intriguing interweaving of traditional Chinese values,shaped by the country's millennia-long culture, with a futuristic world that faces an unprecedented disaster.
Meanwhile, showcasing the diversity of genres, the animated feature Boonie Bears: Guardian Code ranked third for box office receipts,followed by the espionage thriller Hidden Blade in fourth place and the fantasy comedy Five Hundred Miles coming in fifth.
Director Tian Xiaopeng's long-awaited animated feature Deep Sea took sixth place in the festival charts,while the sports movie Ping Pong:The Triumph — released two days after the other six movies, all of which debuted on Sunday — placed seventh.
With most Chinese people recovering from the COVID-19 pandemic after the optimization of prevention measures, the domestic cinema market is witnessing a robust recovery.
Lian Xiaofang, a 38-year-old mother in Tianjin, said she was surprised to discover long lines at local cinemas, something not seen for a long time, which made her feel like being in a crowded railway station during the Spring Festival travel rush.
"My family hasn't gone to a cinema for almost a year due to worries about infection and lack of attractive blockbusters. This festival has a variety of acclaimed offerings. Although tickets for good seats were difficult to purchase, we are happy to see that life has returned to the normal hustle and bustle," Lian said.
Yu Chao, deputy general manager of Beijing's Capital Cinema, said festival movie ticket sales have exceeded the industry's original estimations,as most insiders initially thought that festival celebrations and a resurgence of tourism might reduce the number of theatergoers.
"However, the industry's long-term development cannot rely on a few blockbusters or a specific box office season like Spring Festival. We hope more quality films, especially those with small and medium-sized budgets, will be produced or released this year to fully boost morale," said Yu.