Berlin approves sending Leopard 2 tanks to Kyiv
China Daily | Updated: 2023-01-26 07:56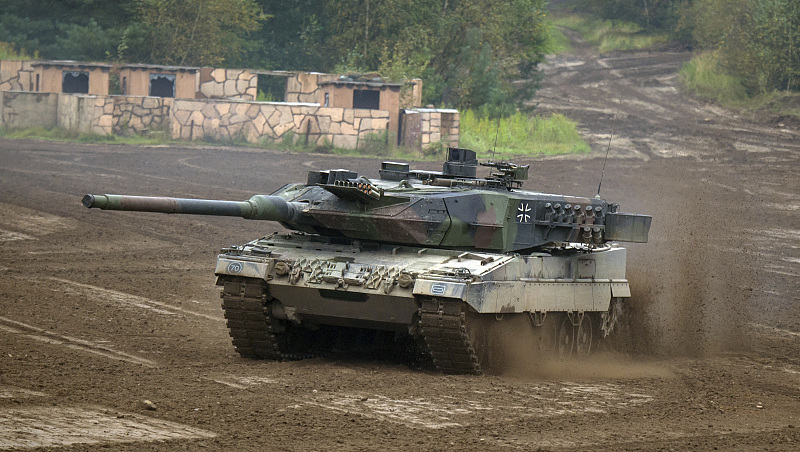 BERLIN/KYIV — Germany will supply its Leopard 2 tanks to Ukraine, it announced on Wednesday, overcoming misgivings about sending heavy weaponry that Kyiv sees as crucial. But Moscow cast the decision as a needless provocation.
Pressure has been building for weeks on German Chancellor Olaf Scholz's government to send the advanced tanks and allow other NATO allies to do the same ahead of expected spring offensives by both sides that could help turn the tide.
Germany's decision also paves the way for other countries such as Poland, Spain and Norway to supply their stocks of Leopard tanks to Ukraine, Reuters reported.
"This decision follows our well-known line of supporting Ukraine to the best of our ability. We are acting in a closely coordinated manner internationally," Scholz said in a statement.
The goal was to quickly establish two battalions with Leopard 2 tanks for Ukraine, the statement said, adding Germany would in a first step provide 14 Leopard 2 tanks from military stocks.
Twenty armies worldwide field Leopards, which Germany has made in their thousands. Poland and Finland have already pledged them once Berlin agrees, and several other countries are expected to follow swiftly. Britain has already offered a company of its comparable Challengers and France is considering sending its Leclercs.
Two sources in the United States said Washington would also provide dozens of its Abrams M1 tanks.
While there was no official confirmation, Ukrainian officials hailed what they see as a possible game-changer in a conflict that is now 11 months old — even if the rumored tank numbers, in the dozens, would be short of the hundreds they say they need.
Russia has warned that supplies of modern offensive weaponry to Ukraine would escalate the conflict, with some officials saying Kyiv's allies were leading the world into a "global catastrophe".
Kremlin spokesman Dmitry Peskov said any US tanks sent to Ukraine would "burn like all the rest".
Deliveries of tanks by the United States would be "another blatant provocation", said Anatoly Antonov,Russia's ambassador to the US, on Wednesday.
"It is obvious that Washington is purposefully trying to inflict a strategic defeat on us," he said.
"American tanks will be destroyed by our military in the same way all other samples of NATO equipment are being destroyed," he said.
Agencies Via Xinhua