Millions on journeys as break nears end
By Luo Wangshu and Du Juan | China Daily | Updated: 2023-01-28 07:16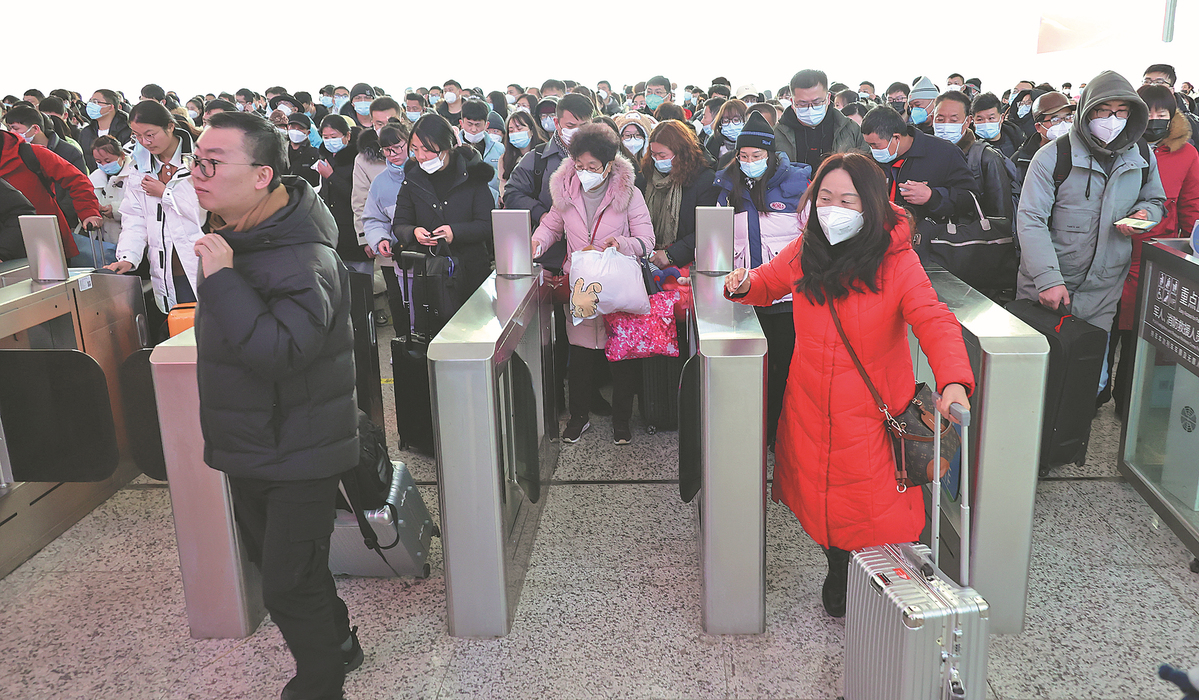 Halfway through the Spring Festival travel rush, the anticipated passenger flow surge has demonstrated Chinese people's strong desire to travel, the nation's robust consumption potential and its economic vitality, thanks to the optimized COVID-19 response management.
This year's 40-day Spring Festival travel rush started on Jan 7 and will end on Feb 15. From Jan 7 to Thursday - the first half of the travel rush - 143 million trips were made on the national railway network, up 35.6 percent year-on-year, China State Railway Group said on Friday.
On Thursday, the 20th day of the travel rush, 43.56 million trips were made across the country, a year-on-year increase of 85.9 percent, according to the Ministry of Transport.
Among them, 10.29 million, 30.72 million, 978,000 and 1.58 million trips were made via rail, road, waterways and air, up 54.3,102, 99 and 58 percent year-on-year, respectively.
As the first Spring Festival travel rush since the country optimized its COVID-19 response management this month and relaxed travel restrictions last month, people have shown a strong desire to travel.
Travelers no longer need negative nucleic acid test results or health codes, are not required to undergo nucleic acid testing or health inspection upon arrival, and will not have their temperatures checked.
Earlier estimates showed that about 2.1 billion passenger trips are expected to be made during the period, a year-on-year increase of 99.5 percent.
The national railway network has seen a surge in passenger flow and freight transport remains at a high level.
According to China State Railway Group, the national railway operator, nearly 110 million passenger trips were made from Jan 7 to Jan 21, a year-on-year increase of 27.3 percent.
During the period, the railway network transported 155.92 million metric tons of cargo, maintaining a high-level of freight transport.
China Railway Beijing Group is expected to see nearly 21.6 million journeys during the period.
About 11.1 million trips were made with the regional operator from Jan 7 to Thursday, halfway through the travel rush, which was in line with expectations.
As the main weeklong holiday will come to an end on Friday, the return peak has been seen in big cities and transportation hubs.
Beijing's transportation commission has taken several steps to cope with the growing wave of travelers returning to the capital in recent days.
China Railway Beijing Group expects more than 601,000 passengers to arrive by train on Friday.
To ensure passengers can get back to their homes smoothly, the city's buses, subways and taxis will all extend operations, starting on Friday, according to the commission.
The commission also encourages passengers to share taxis for trips home to cut waiting times.
Lin Fan, who will arrive in Beijing on Friday night from Taiyuan, Shanxi province, said he reserved a taxi using an online platform to ensure he gets home in the capital.
"It's all right to get in some traffic jams, since people from all over the country are coming back to Beijing. It was still worth the trip since Spring Festival means a lot for family reunions," Lin said.
Shi Jing in Shanghai contributed to this story