Cities resume search for new talent
By CHENG SI | China Daily | Updated: 2023-01-30 09:00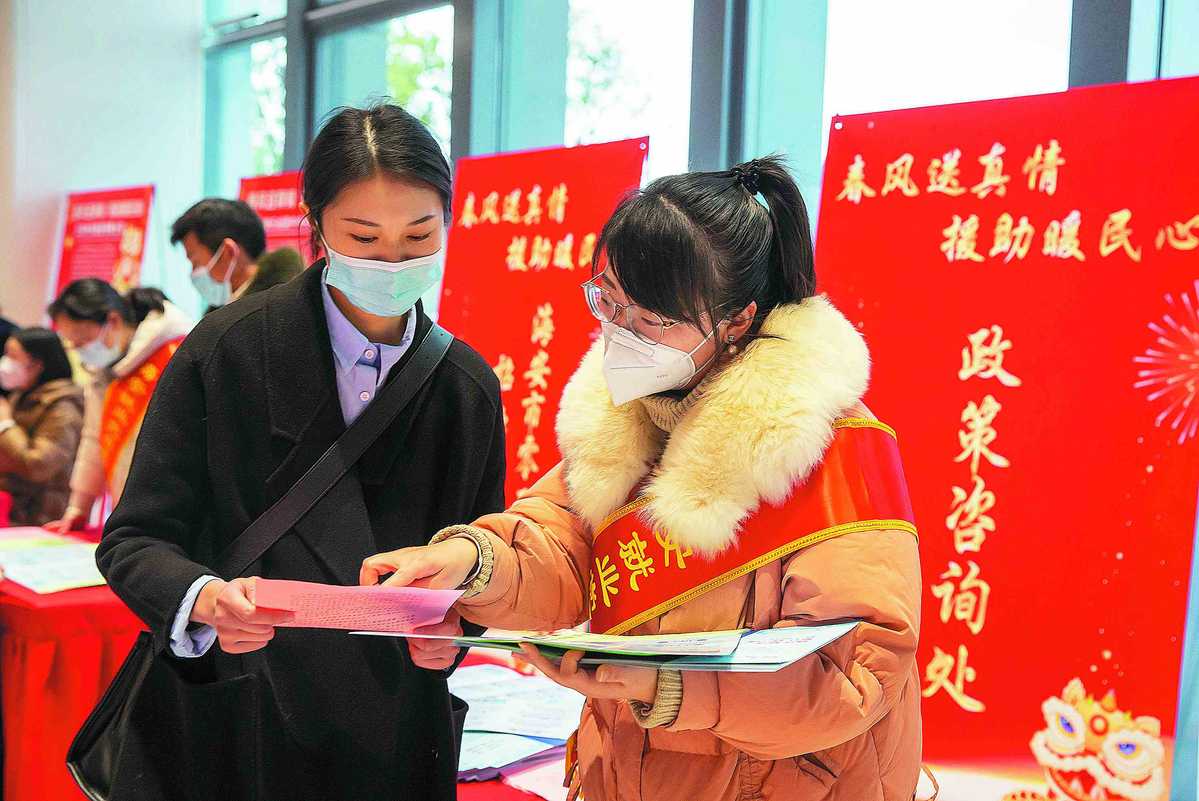 Extensive perks being offered to lure professionals to switch jobs
Talented individuals are once again choosing to seek new lives in big cities as epidemic controls have eased, with most flocking to places like Beijing, Shanghai, and Shenzhen in the Greater Bay Area, attracted by their economic and commercial environment.
A recent report by Zhaopin, an online recruitment agency, and financial analyst Zeping Hongguan, shows that cities in the Yangtze River Delta area such as Shanghai and Hangzhou in Zhejiang province attracted roughly 24 percent of the talented individuals from elsewhere in the country in 2022.
The Greater Bay Area and cities in the Beijing-Tianjin-Hebei region are also proving attractive, welcoming 16.4 percent and 12.9 percent of talented new arrivals respectively last year, the report said.
The cities were also engaged in a tight race to attract college graduates last year. According to the report, five municipalities and provinces — Guangdong, Zhejiang, Jiangsu, Beijing and Shanghai — accounted for the employment of 47 percent of the 9.09 million college graduates in 2021, and over one-third of 2022 graduates were very interested in jobs in the Beijing-Tianjin-Hebei region, a rise of two percentage points year-on-year.
The report estimates that about 42 percent of talented individuals will leave their workplaces for new ones in 2023, which will help vitalize human resources and energize economic development.
"These attractive cities offer good support policies for talented individuals and the kinds of jobs and sectors that attract such people," said Guo Sheng, CEO of Zhaopin.
"More importantly, they genuinely value talented individuals, and it is not just empty words. They have continuously worked to build up their own life circles for talented individuals and channeled resources into improving infrastructure such as hospitals and schools, even gyms, bookstores and cafes, which are especially attractive to younger people," he said.
For example, Guangzhou, capital of Guangdong province, released a guideline in 2021 for attracting talented individuals. Under the guideline, those with doctorates who choose to settle in the city can receive an allowance of up to 180,000 ($26,900) yuan per year, a one-time research bursary of 200,000 yuan and a housing allowance of 300,000 yuan.
Those with doctorates who are under 35 can receive a housing fund of 200,000 yuan and benefit from other forms of support in terms of salary, transportation and career promotion.
Guo added that finding and retaining talented individuals and preventing them from moving on is also very important.
"For example, some cities organize blind dates for such individuals, as marriage may give them a stronger reason to stay longer," he said.