Undercover video about Pfizer vaccine process causes stir
By HENG WEILI in New York | China Daily Global | Updated: 2023-01-30 11:20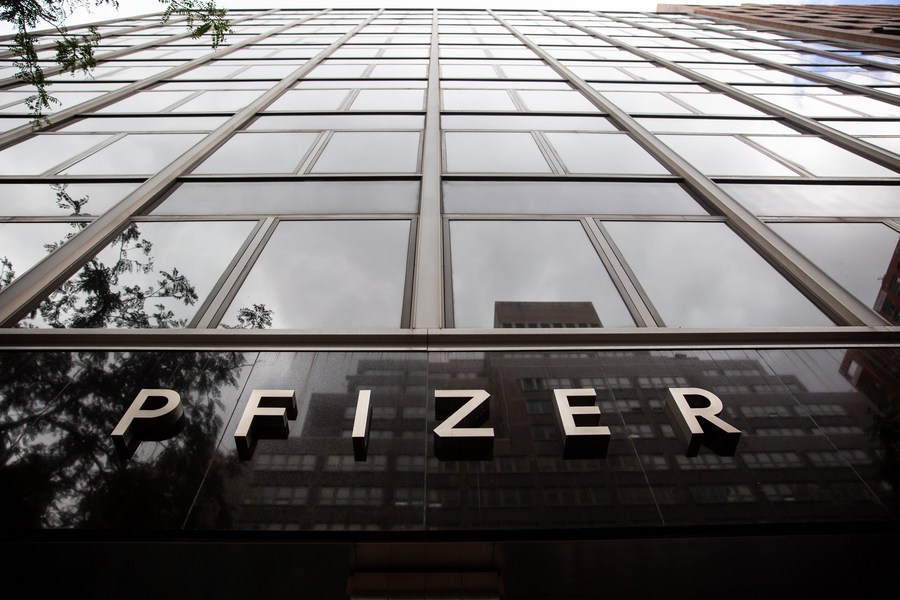 A viral undercover interview has focused attention on the process that Pfizer Inc uses to update its COVID-19 vaccines.
The video of the interview, conducted by Project Veritas, a journalistic outlet known for undercover tactics, was published on Jan 25 on social media channels such as Twitter, where it had been viewed more than 25.8 million times as of Sunday evening.
It shows a conversation between an unidentified Project Veritas reporter and a Pfizer employee identified as Jordon Trishton Walker, director of research and development-strategic operations and mRNA scientific planning. Walker said later that he believed he was on a date with the person who interviewed him.
"One of the things we're exploring is like, why don't we just mutate it [COVID] ourselves so we could create — preemptively develop new vaccines, right? So, we have to do that. If we're going to do that, there's a risk of like, as you could imagine — no one wants to be having a pharma company mutating f------ viruses," the 5-minute, 31-second video shows Walker saying to the reporter at a New York City restaurant.
"Don't tell anyone. Promise you won't tell anyone. The way it [the experiment] would work is that we put the virus in monkeys, and we successively cause them to keep infecting each other, and we collect serial samples from them," he said.
"You have to be very controlled to make sure that this virus [COVID] that you mutate doesn't create something that just goes everywhere.
"From what I've heard is they [Pfizer scientists] are optimizing it, but they're going slow because everyone is very cautious — obviously they don't want to accelerate it too much," Walker said. "I think they are also just trying to do it as an exploratory thing because you obviously don't want to advertise that you are figuring out future mutations."
A second video shows Project Veritas founder James O'Keefe confronting Walker after the interview.
"You work for Pfizer," O'Keefe says, sitting down at a table across from Walker. "My question for you is why does Pfizer want to hide from the public the fact that they're mutating the COVID viruses?"
Walker becomes visibly upset and responds that he was "literally trying to impress a person on a date by lying".
"Why are you doing this to someone who's just working at a company to literally help the public?" Walker asks. He then made a call to the NYPD and is seen in a scuffle with the Project Veritas camera crew in an attempt to stop their recordings.
Walker's position at Pfizer is mostly involved with business development, according to the techarp.com website, which posted a job description, and not vaccine processes.
On Friday, O'Keefe tweeted that YouTube had taken down the video, which at that point had 800,000 views.
The Project Veritas story has received scant coverage in US mainstream media despite the buzz it has generated.
Pfizer released a statement at 8 pm on Friday but did not mention the Project Veritas video or Walker's role at the company: "In the ongoing development of the Pfizer-BioNTech COVID-19 vaccine, Pfizer has not conducted gain of function or directed evolution research. Working with collaborators, we have conducted research where the original SARS-CoV-2 virus has been used to express the spike protein from new variants of concern.
"This work is undertaken once a new variant of concern has been identified by public health authorities. This research provides a way for us to rapidly assess the ability of an existing vaccine to induce antibodies that neutralize a newly identified variant of concern. We then make this data available through peer reviewed scientific journals and use it as one of the steps to determine whether a vaccine update is required."
The Pfizer statement, however, said that "in a limited number of cases when a full virus does not contain any known gain of function mutations, such virus may be engineered to enable the assessment of antiviral activity in cells".
The company added that "in vitro resistance selection experiments are undertaken in cells incubated with SARS-CoV-2 and nirmatrelvir in our secure Biosafety level 3 (BSL3) laboratory to assess whether the main protease can mutate to yield resistant strains of the virus".
Some Republicans in Congress are calling for an investigation of the New York-based pharmaceutical giant, alleging that it is engineering "mutations" of the coronavirus for future financial benefit.
US Representative Marjorie Taylor Greene of Georgia, who is a member of the House Select Subcommittee on the Coronavirus Pandemic, called for an investigation.
"The Pfizer Director...is caught on video discussing mutating the virus to change the vaccines & how Covid is a cash cow!" Greene tweeted Tuesday. "Pfizer took BILLIONS of federal [dollars]. Our Covid Select Subcommittee MUST investigate!"
Another member of the House COVID committee, Representative Ronny Jackson, a Texas Republican and former White House physician in the Obama and Trump administrations, called for an investigation.
"CLEAR YOUR CALENDAR @pfizer!" Jackson tweeted. "I'm sure the committee to investigate Covid will have questions on this!!"
On Thursday, Senator Ron Johnson, a Wisconsin Republican, posted on Twitter: "Federal health agencies have been captured by Big Pharma and grossly derelict in their duties throughout the pandemic. It's time for Congress to thoroughly investigate vaccine manufacturers and the entire COVID vaccine approval process."