Xpeng gains green light for X2 flying car
By LI FUSHENG | China Daily | Updated: 2023-01-31 07:03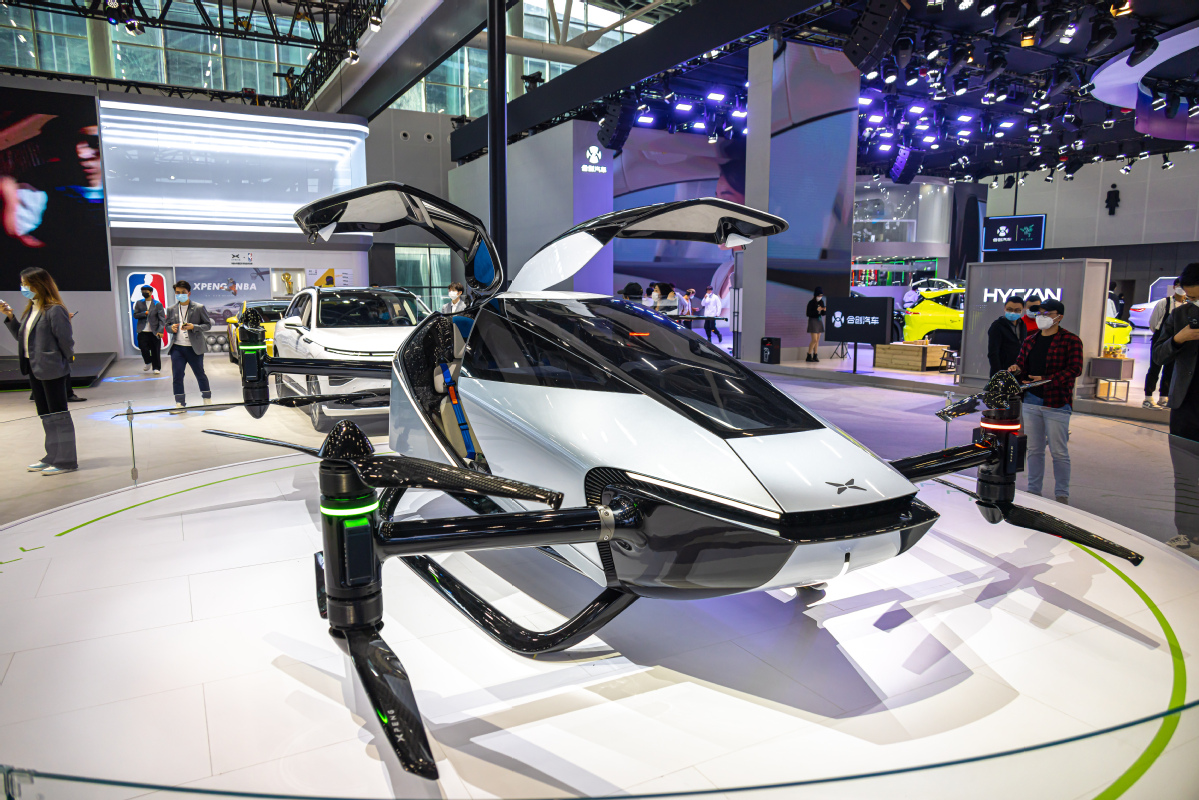 Xpeng Aeroht, electric vehicle maker Xpeng's flying car unit, said on Monday its X2, a two-seater EV, has received a special flight permit.
With this, the X2 has become the first of its kind in China to have an official certification for flight safety.
Typically, the permit, issued by the Civil Aviation Administration of China, certifies that a certain aircraft is capable of carrying out safe flights under stipulated conditions.
Xpeng Aeroht said the X2 is the first electric flying car model to apply for the permit in China and also the first one to receive it.
Flying cars, usually powered by batteries, have less complicated parts than airplanes and helicopters and can offer quicker and cheaper point-to-point personal travel.
They are usually known as eVTOL vehicles, with the acronym standing for electric vertical takeoff and landing.
"The X2 winning the special flight permit marks an accelerating development for flying cars and will propel the whole eVTOL sector forward," said the company in a statement.
The X2, the fifth-generation model of Xpeng Aeroht, has finished over 3,000 experiments and test flights since its debut in July 2021.
Designed for low-altitude urban scenarios, it weighs 560 kilograms and can fly up to 35 minutes, with a maximum flight speed of 130 kilometers per hour. It can be flown manually or on autopilot mode.
"It will be suitable for future low-altitude city flights and is perfect for short-distance city journeys such as sightseeing and medical transportation," said the company.
Last year, it finished the first overseas test flight in Dubai, the United Arab Emirates, after receiving a special flight permit in the country.
Xpeng Aeroht said it is working on its sixth-generation model, which can run on roads as an ordinary car as well as fly as an eVTOL vehicle. Like the X2, it will have both manual and autonomous modes.
Xpeng Aeroht is Asia's largest manufacturer of flying cars and employs over 800. According to McKinsey, more than 250 companies worldwide are developing and producing flying cars, and the list is growing.
Last year, Volkswagen Group China unveiled a flying car prototype, powered by eight rotors for vertical lift and two propellers for horizontal propulsion.
It said that the vehicle is likely to be pitched initially as a premium product for high-net-worth individuals and tech-savvy Chinese customers using VIP air shuttle services.
China is gradually opening up its lower-altitude airspace for civilian use, and is thus seen as a market with big potential for flying cars.
According to a guideline released by the Ministry of Transportation, research and development of flying cars is listed as one of the industry's major tasks from 2021 to 2035.
The flying vehicle sector is gradually being viewed as a serious solution to urban traffic congestion, said Xiang Changle, an academician of the Chinese Academy of Engineering, at an industry forum in December.
Global financial services company Morgan Stanley expects the global flying car market value to reach $1.5 trillion by 2040, with China seizing a 28 percent share.