Carving out a niche
By WANG RU | China Daily Global | Updated: 2023-01-31 08:22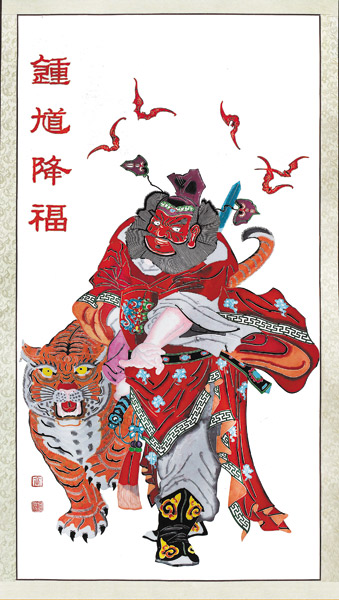 Opera was once a highlight of life in Yuxian, and thanks to a local handicraft, the memory is being protected.
In the early 20th century, highly anticipated events for people in most villages of Yuxian county, Hebei province, were the opera performances to celebrate the harvest or festivals.
"Back then, most villagers didn't have the chance to receive an education, but they could learn about life through stories told in operas," says Gao Tianliang, a paper-cutting artisan in Yuxian.
Since local people loved opera so much, but were not wealthy enough to watch it often, many villagers who were good at paper-cutting attempted to re-create opera characters and their distinctive masks themselves, and pasted them in their windows. "In this way, people could see opera every day," says Gao.
That has made opera an important aspect of Yuxian paper-cutting, a national-level intangible cultural heritage. Gao, 57, a provincial-level inheritor of the craft, has been dedicated to it for decades, and has tried to imbue the craft with new connotations.
Yuxian's paper-cutting has a history stretching further than the Ming Dynasty (1368-1644). The art form developed from the tradition of pasting up paper-cuts to bring good fortune to the family, as well as to decorate windows.
People often hang paper-cuts during Lunar New Year and change them at Mid-Autumn Festival since frequent rain in the summer often damages the paper. Such a turnover ensures a busy market for exponents of the craft.
In the 1970s, when Gao was a child, he started to learn the skill from his parents, not out of interest or curiosity, but to help make a living for his family.
In 1984, he established the Danhou Paper-cut Factory with his brother, and organized local villagers to learn and produce paper-cuts.
Two years later, he went to Beijing to sell his paper-cuts and became one of the first artisans to promote the Yuxian art form outside the county. In the 1990s, his works were used as national gifts for visiting dignitaries by the Ministry of Foreign Affairs.
According to Gao, there are more than 30,000 people working in paper-cutting in Yuxian.
Since 2012, supported by the local government, paper-cutting has gradually developed into a cultural pillar industry of the local economy, with an annual output valued at more than 500 million yuan ($74 million).
Different from many other paper-cutting techniques, which mainly use scissors, the Yuxian type is made by carving. At first, the craftsman draws patterns on a piece of rice paper, and then starts to carve.
Artisans are required to carve a smooth and clean line. "When we carve an opera mask design, like the one of Guan Yu, a general in the late Eastern Han Dynasty (25-220), we are required to carve each hair of the beard as thin as one millimeter. This can hardly be accomplished by a machine," says Gao.
"For us, the carving tools are like paint brushes. With sophisticated skills, one can carve a strong three-dimensional effect, and thus enrich the visual result," he adds.
After creating the patterns through carving, the craftsman dyes the pieces different colors. Dyeing materials and skills have been improved continuously, and now they can ensure the colors do not fade, even after many years.
As well as opera, other popular patterns include flowers, birds, insects and fish. "Yuxian paper-cutting reflects people's love for life and eagerness for beautiful things," says Gao.
He re-creates famous paintings, like the 12th-century scroll artwork, Along the River During Qingming Festival, using the paper-cutting technique.
Gao's version depicts the several hundred people found in the original painting. Although each figure seems small, their expressions are displayed vividly thanks to Gao's skills.
Gao Yang, son of Gao Tianliang, learned the craft when he was a primary school student, and is working to promote it. He regards his father as his role model, and says the diligence, perseverance and integrity his father has demonstrated have exerted a great influence on him.
Gao Tianliang helped to establish a school to cultivate more talented people to become qualified craftspeople, all while continuing to develop new patterns with his team.