UK braces for coordinated strike action
By JONATHAN POWELL in London | China Daily Global | Updated: 2023-01-31 10:05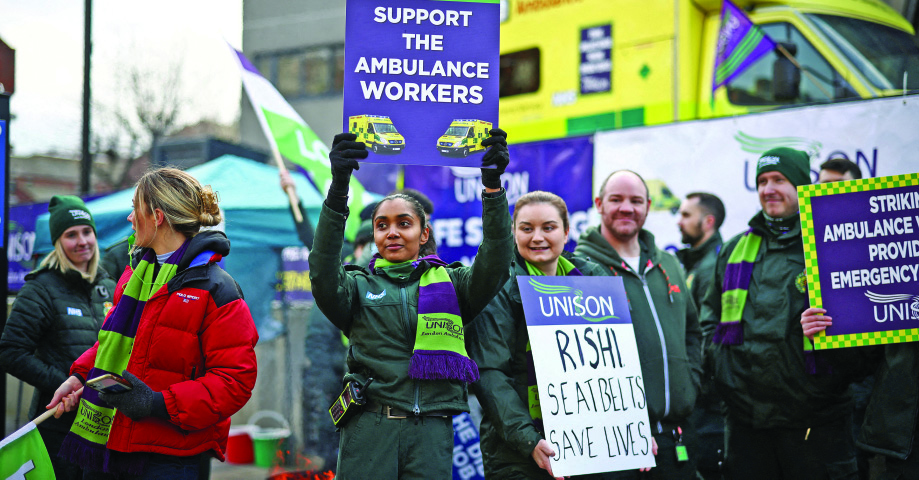 The United Kingdom will be hit by one of its biggest ever days of coordinated industrial action on Wednesday when up to half a million workers across the country protest against the government's proposed anti-strike legislation and its refusal to fund public sector pay rises.
The Trades Union Congress, or TUC, which represents the majority of unions in England and Wales, has labeled the day of action as the "national right to strike day", saying the proposed law attacks a "fundamental British liberty" and is "almost certainly illegal".
A bill introduced to Parliament on Jan 9 means unions representing key workers, such as those in the health, fire and rescue sectors, as well as in nuclear decommissioning and border security sectors, will have to agree to minimum levels of safety and services when their members go on strike.
School and university classes will be severely disrupted as around 100,000 teachers plan to join the strike. Train drivers, civil servants, university lecturers, bus drivers, and security guards from seven trade unions will also walk out, reported ITV News.
It said picket lines will be held outside schools, train stations and government departments and rallies will be held across the country.
The latest strike action mounts pressure on Prime Minister Rishi Sunak's government, which is facing a wave of further industrial unrest, including by National Health Service workers, in the coming weeks.
The Financial Times noted that the government does not intend to reopen talks on public sector pay deals, which average about 4 to 5 percent, meaning most workers are suffering real-term pay cuts as inflation remains in double digits.
The TUC described the anti-strike legislation as "draconian", and claimed the government had provided "no evidence" to prove it was necessary.
Paul Nowak, TUC general secretary, said Chancellor of the Exchequer Jeremy Hunt failed to mention public sector pay as he set out the government's strategy for economic growth on Friday, noted the FT.
"Jeremy Hunt and Rishi Sunak are key to unlocking the current industrial disputes," he added.
The iNews website said that Wednesday's action would be the closest thing to a general strike the UK has seen since the 1970s, and noted that more industrial action by health, teaching, rail, and other unions is planned in the weeks ahead.
It said polling by Ipsos a week ago revealed more than 50 percent of the public support striking health workers, and only a third believe "trades unions have too much power today".
Nowak said the anti-strike legislation would "tilt the balance of power even more in favor of bad bosses and make it harder for people to win better pay and conditions".
He added: "We will hold events across the country against this spiteful new bill — which is unworkable and almost certainly illegal."