Migrant workers return to jobs in free chartered transport
By Qiu Quanlin | chinadaily.com.cn | Updated: 2023-01-31 20:37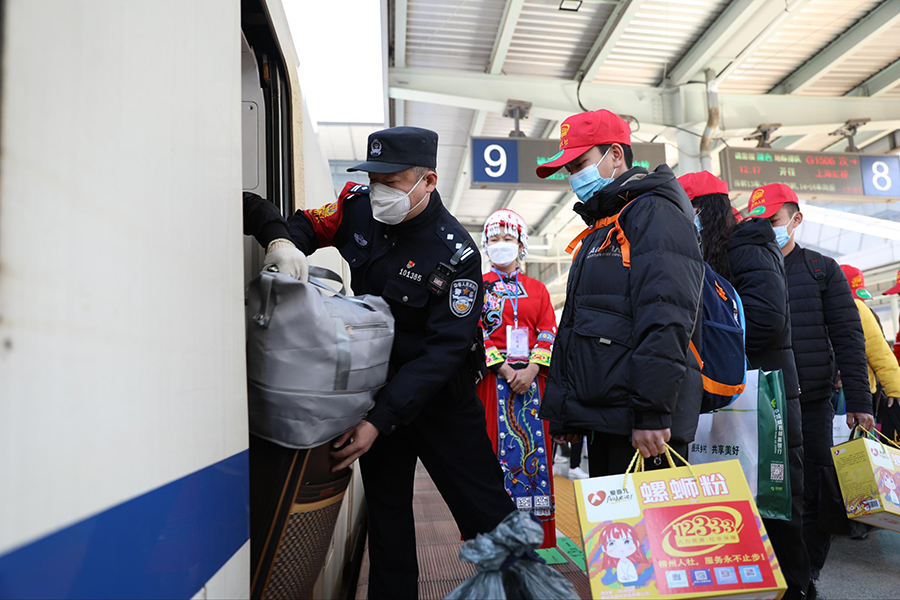 A chartered high-speed train arrived at Guangzhou South Railway Station on Tuesday afternoon carrying more than 610 workers from Bijie, Guizhou province. They were returning to work in Guangdong province.
It was one of 14 chartered trains organized by human resources authorities in Guangdong to help workers return to their jobs in the Guangdong-Hong Kong-Macao Greater Bay Area.
With the trains as well as 380 chartered buses and three chartered flights, 25,000 workers would be organized to return to work in Guangdong after the Spring Festival holiday, according to the Guangdong Human Resources and Social Security Department.
"I am eager to return to work after the long holiday - I do wish to make more money in the new year," said Lan Yan, 48. After arriving in Guangzhou, Lan, together with his 20-year-old son, will take a bus to Dongguan, where he works for an electronics component company.
Employment in Guangdong after the holiday has been generally stable and orderly, with the proportion of migrant workers returning to work and key monitoring enterprises resuming operations at 50 and over 60 percent, respectively.
On Monday, 544 workers from 10 counties of Liuzhou in the Guangxi Zhuang autonomous region returned to work in Guangdong by taking a chartered train.
The local government picked up workers from their homes, usually in rural areas with limited transportation, and sent them directly to Liuzhou railway station to catch the train.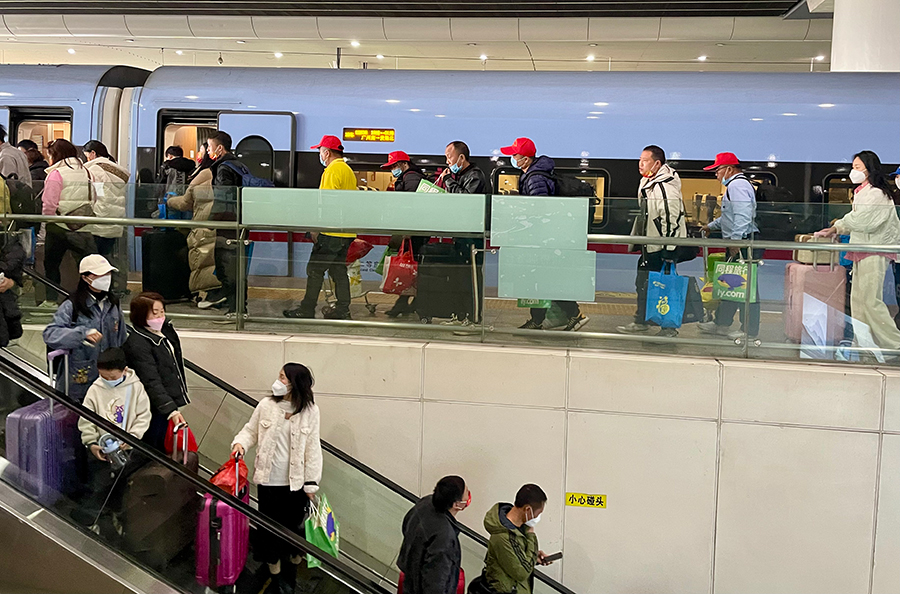 As soon as workers arrived in Guangzhou, the province's human resources and social security department will send them to their factories 14 different cities.
Each year, there are over six million workers from Guangxi employed in neighboring Guangdong. In order to facilitate the employment of migrant workers and help enterprises ease their labor shortages, Guangxi and Guangdong collaborate by offering free chartered transport for workers.
According to the Human Resources and Social Security Department of Guangxi, more than 10 chartered trains will help get 5,000 workers to Guangdong after the Spring Festival holiday.