'Talent supermarket' gives graduates chance to select their careers
XINHUA | Updated: 2023-02-01 08:37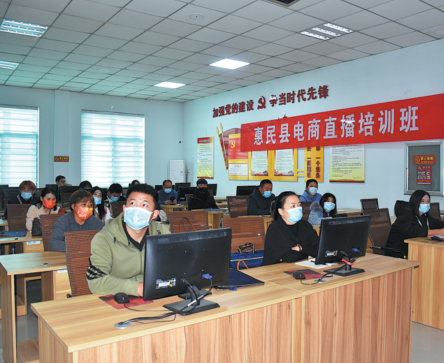 JINAN — Before Spring Festival this year, Hu Tao, as a representative of successful entrepreneurs, conducted an e-commerce training seminar in his hometown of Huji, Binzhou city, East China's Shandong province, sharing his experience in entrepreneurship and e-commerce development.
Hu took up a small business online while still in college. After graduation, the 27-year-old returned to Huji.
He officially started his own business with the help of a service platform called "talent supermarket "initiated by the township.
"At first, I operated the online shop from my attic. The office environment there was not very good and made it difficult to manage my team," Hu says.
"Later, thanks to the 'talent supermarket', I settled in the township's e-commerce workspace, from where I could develop the business more orderly," Hu adds.
Now, Hu's business mainly involves computer screen protectors, laptop sleeves and keyboard covers, with daily sales hitting around 10,000 yuan ($1,481).
Through the "talent supermarket" platform, which integrates the local human resources and social security department, economic commission and other authorities, Huji has established a database.
It is capable of linking job seekers and entrepreneurs with enterprises, providing two-way services for both.
In China, an increasing number of college graduates are pursuing careers in their hometowns.
The "talent supermarket" has not only attracted more young people to return home to start businesses and find jobs, but also boosted local economic development and injected new vitality into rural vitalization.
Li Jingxin, a student at the Beijing Institute of Technology, plans to return to his hometown after graduation. During this winter break, he worked as an intern in the local government of Chishang township, Boshan district, Zibo city.
Li often went to the township's "talent supermarket for rural vitalization" after work. Xiang Qilong, a service provider there, would recommend suitable jobs and explain supporting policies to Li.
Xiang says undergraduates can enjoy a living allowance of 1,000 yuan a month, a 25 percent discount on the market price for apartments, and a one-time family subsidy of 10,000 yuan.
Through the "talent supermarkets for rural vitalization", Boshan has coordinated job demands and supporting policies of more than 180 enterprises in the district.
In 2022, eight such special markets helped 930 college graduates return to their hometowns to find jobs or start businesses and employ locals.
Zhao Shengjian, general manager of a tourism company in Boshan, says, "Through the 'talent supermarket for rural vitalization', we have introduced a team of 63 people, with an average age of 26, responsible for management and operation of the company.