7th officer disciplined over brutality
China Daily | Updated: 2023-02-01 10:15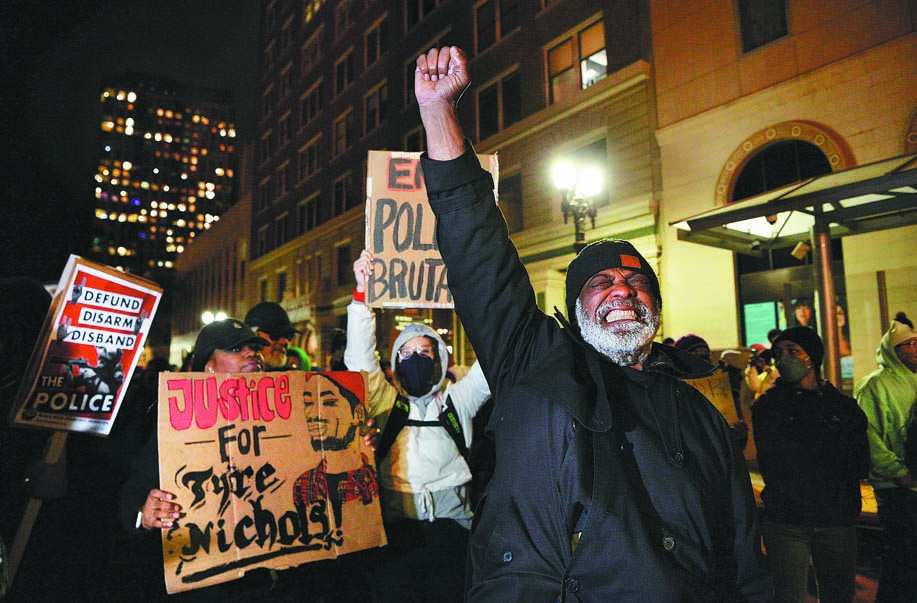 Circle of punishment widened as black man's death in Memphis outrages nation
MEMPHIS, Tennessee — Two more Memphis police officers have been disciplined in the arrest, beating and death of Tyre Nichols, officials said on Monday, widening the circle of punishment for the shocking display of police brutality after a video showed many more people failed to help the black man beyond the five officers accused of beating him to death.
Nichols, 29, was beaten by police after a traffic stop on Jan 7 in Memphis, Tennessee, where they allegedly stopped him for "reckless driving".He died at a hospital three days after the confrontation, during which he was punched and kicked while being restrained. He pleaded to go home and kept yelling "mom".
"What happened here does not at all reflect proper policing. This was wrong. This was criminal," said David Rausch, director of the Tennessee Bureau of Investigation, who told reporters on Friday that he saw the video before it was released to the public and found it "absolutely appalling".
Preston Hemphill, who is white, was relieved of duty shortly after Nichols' arrest, the police department said on Monday. Later in the day, it said another officer had also been relieved, but without naming the person or specifying what role the person played in the incident.
That brought the total number of Memphis officers who have been disciplined to seven, including the five black officers who were fired and charged last week with second-degree murder and other offenses in Nichols' beating and death.
The video released by Memphis police in Tennessee has sparked nationwide protests about the use of force by police, especially against people of color.
On body camera footage from the initial stop, Hemphill is heard saying that he stunned Nichols and declaring: "I hope they stomp his ass."
Memphis Police Department officers used a stun gun, a baton and their fists as they pummeled Nichols during the nighttime arrest. Video shows Nichols running away from officers toward his house after he was pulled over. Nichols was seen struggling with his injuries as he sat helpless on the pavement, video footage released on Friday showed.
The five officers chatted and milled about for several minutes as Nichols remained on the ground, but there were other authorities on the scene. Two Shelby County sheriff's deputies have been relieved of duty without pay while their conduct is investigated.
The five fired officers and Hemphill were part of the so-called Scorpion unit, which targeted violent criminals in high-crime areas. Memphis Police Director Cerelyn "CJ "Davis said on Saturday that the unit has been disbanded.
Hemphill was the third officer at a traffic stop that preceded the violent arrest but was not at the scene where Nichols was beaten, his lawyer Lee Gerald said. Hemphill turned on his body camera, in line with department policy, he added.
Nichols' funeral service is scheduled for Wednesday at a Memphis church.
Culture of violence
Lawyers for the Nichols family questioned on Monday why the department did not disclose Hemphill's discipline earlier and why he has not been fired or charged.
On Saturday, Nichols' stepfather, Rodney Wells, told The Associated Press that the family was going to "continue to seek justice and get some more officers arrested".
Commenting on the tragedy, Robert Sausedo, the head of Community Build Inc, a Los Angeles-based nonprofit organization, said it is not racism but culturism driving this, it is a culture in law enforcement where it is OK to be aggressive to those they are supposed to serve.
"No race or ethnic group has a monopoly on violence. No group is immune to our society's obsession and love affair with guns. No group is exempt from mental health challenges or despair," said Naomi Ishisaka, The Seattle Times' assistant managing editor.
"We have to talk about this institutionalized police culture that has this unwritten law," Ben Crump, the lawyer for Nichols' family, said in a television interview.
Agencies, Xinhua and Ai Heping in New York contributed to this story.