US domestic politics 'blocking' tariff relief
By LIA ZHU in San Francisco | China Daily Global | Updated: 2023-02-02 09:31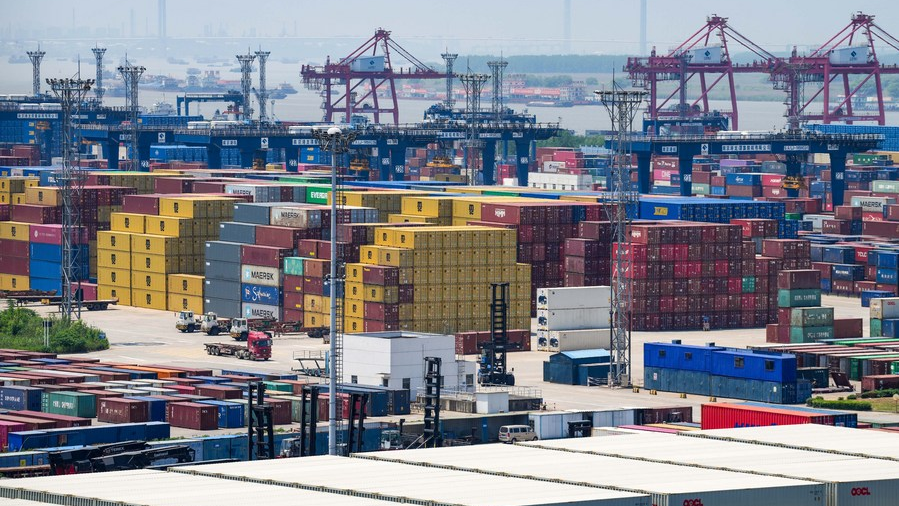 Businesses in the United States have been urging the US government to remove Trump-era tariffs on Chinese goods, but domestic politics is obstructing efforts to address these trade tensions.
The US Chamber of Commerce is calling for tariff relief, while the Information Technology Industry Council is seeking a complete rollback of the duties. But the administration of US President Joe Biden is considering a formal extension on the hundreds of billions of dollars in levies.
In November, the Biden administration asked for comments on the effectiveness of the duties as part of its broader analysis of the tariffs, which were imposed by former president Donald Trump in 2018.They were due to expire in 2022.
The US Chamber of Commerce said in its comment that untargeted punitive tariffs "undermine US competitiveness and impose undue economic hardships on US businesses, workers and families".
"If anyone is waiting for the tariffs to be lifted, I would say don't hold your breath. I think they are here to stay for the foreseeable future," Wendy Cutler, vice-president of the Asia Society Policy Institute, said during a recent conference hosted by Asia Society Northern California.
Last year, there were efforts by the Biden administration to start considering rebalancing the tariffs, but those deliberations never reached a conclusion, she said.
The efforts were blocked by Congress, she said, because it has become "very critical of even rebalancing tariffs", let alone lifting them.
Republicans who control the US House of Representatives are trying to point to the Biden administration as being soft on China if it does not keep these tariffs in place.
"So that's the kind of policy environment that the administration finds itself in. And it is unfortunate because many of these tariffs, frankly, are hurting the US either more or as much as China," Cutler said. "These tariffs will remain in place up until the next presidential election."
The nature of US domestic politics and how it deals with trade issues have also provided "an enormous opportunity" for China to collaborate with countries in the Indo-Pacific region, as these nations do not want to be allies of the US, Cutler said.
"They're going ahead and working with China on business deals and supply chain cooperation," she added.
On the trend of shifting supply chains from China, Cutler said the change took place before the pandemic and it does not mean that all companies are leaving China.
"In fact, when you look at the surveys of companies in China, it's clear that while more are contemplating moving, many are committed to staying in China," she said.
"It (China) does offer enormous benefits to companies with respect to supply chains. There's a reason it's the hub for supply chains. As companies tell me, all the great infrastructure, the workers and the parts suppliers in different communities make it a great place to do business."
Cutler said the bilateral cooperation currently stays "low-key, under the radar", but she expects to see some success in the relationship and cooperation this year.
The Asia-Pacific Economic Cooperation summit, which will be held in San Francisco in November, is expected to provide important opportunities.
"We have overlapping interests, particularly with respect to matters such as food security, preparing for the next pandemic and climate issues," she said.
"There are areas where we see eye to eye with China, and we are working with it together."