Protests against pension reform gain momentum
By CHEN YINGQUN | China Daily | Updated: 2023-02-02 09:39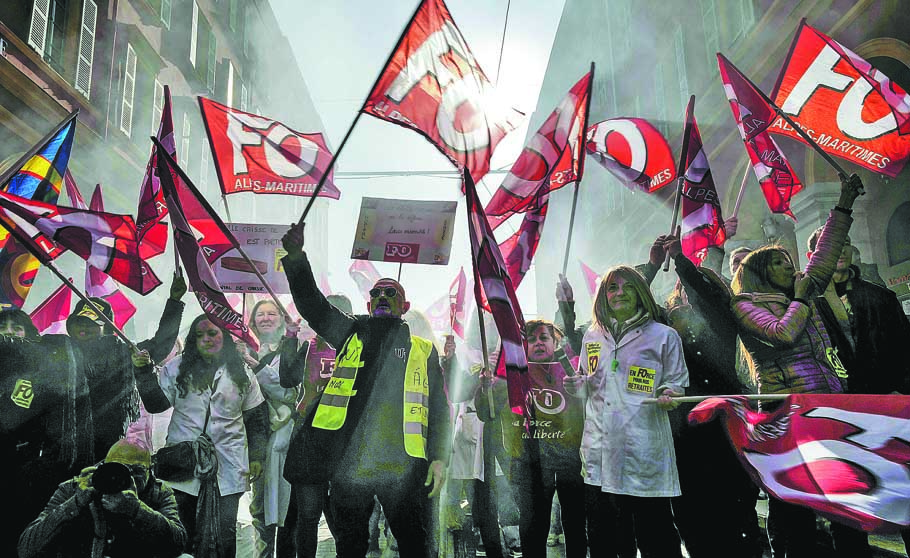 Around 1.27 million people took to the streets in France on Tuesday to protest against French President Emmanuel Macron's pension reform plan, the Interior Ministry said.
Macron's plan would progressively raise the legal retirement age by three months a year from 62 to 64 years by 2030, and put in place a guaranteed minimum pension. Macron defended on Monday that the pension reform is "essential "given forecasts for deficits in the coming years.
The number of striking workers on Tuesday was slightly more than the first nationwide demonstration on Jan 19. They had disrupted public transport, schools, and other public services around the country.
French daily Le Figaro reported that clashes took place between some demonstrators and police in Paris, with tear gas and smoke bombs fired.
Police confirmed that 23 people were arrested during the demonstration in Paris for attacking security forces.
French unions on Tuesday called for two more days of strikes and protests on Feb 7 and 11, to try to force the government to retract its pension reform plan announced earlier this month.
"The government must hear the massive rejection of this project and withdraw it," Patricia Drevon from the Force Ouvriere union said on Tuesday evening.
Prime Minister Elisabeth Borne said on social media that she had heard the "questions and doubts "of those who reject the reform, but insisted on the government's "responsibility" to carry out the changes.
While speaking on TV channel France 2, Minister of Public Action and Accounts Gabriel Attal also ruled out suspending the pension reform project.
"If we do nothing, we will have a big problem paying pensions in the years to come. There will be 20 million pensioners to pay," he said.
Wang Shuo, a professor at Beijing Foreign Studies University's School of International Relations and Diplomacy, said the aging population is becoming Europe's "unbearable weight", which has led to increased fiscal burdens in many European countries with high welfare.
Direct way
As it is not realistic to solve the population problem by increasing the fertility rate, raising the retirement age has become one of the most direct means to deal with the aging problem, he said.
"The reform in France is hard indeed. The French public, though largely convinced of the need for necessary reforms, are prone to violent confrontations when their own cheese is touched," he said, adding that with only 4.5 years left in his second term, Macron will naturally need to press ahead with reforms if he is to achieve his political ambitions.
According to data from the Organisation for Economic Co-operation and Development, France currently has the lowest qualifying age for a state pension among major European economies.
But a poll by OpinionWay showed on Monday that 61 percent of French people support the protest movement.
He Yun, an associate professor at Hunan University's School of Public Administration, said the French pension system is believed to be unsustainable. Not only does the government channel lots of public funds to keep it running every year, the continual aging of society means that by 2040, there will only be 1.3 workers available to finance one pensioner.
"Macron tried to reform the pension system three years ago but failed. Now, it is Macron's second and final term. It will be his last opportunity to push the pension reform through. That's why he is not backing down, at least not before the bill was voted on in the parliament," she said.
However, she is pessimistic that the reform will be pushed through.
"The French people have fought for other work-related rights since the French Revolution in 1789, and will continue to do so today," she said. "So we are expected to see more and larger protests in the coming weeks."
Xinhua and agencies contributed to this story.