Special train gets migrant workers back to business
By TAN YINGZI and DENG RUI in Chongqing | China Daily | Updated: 2023-02-02 09:47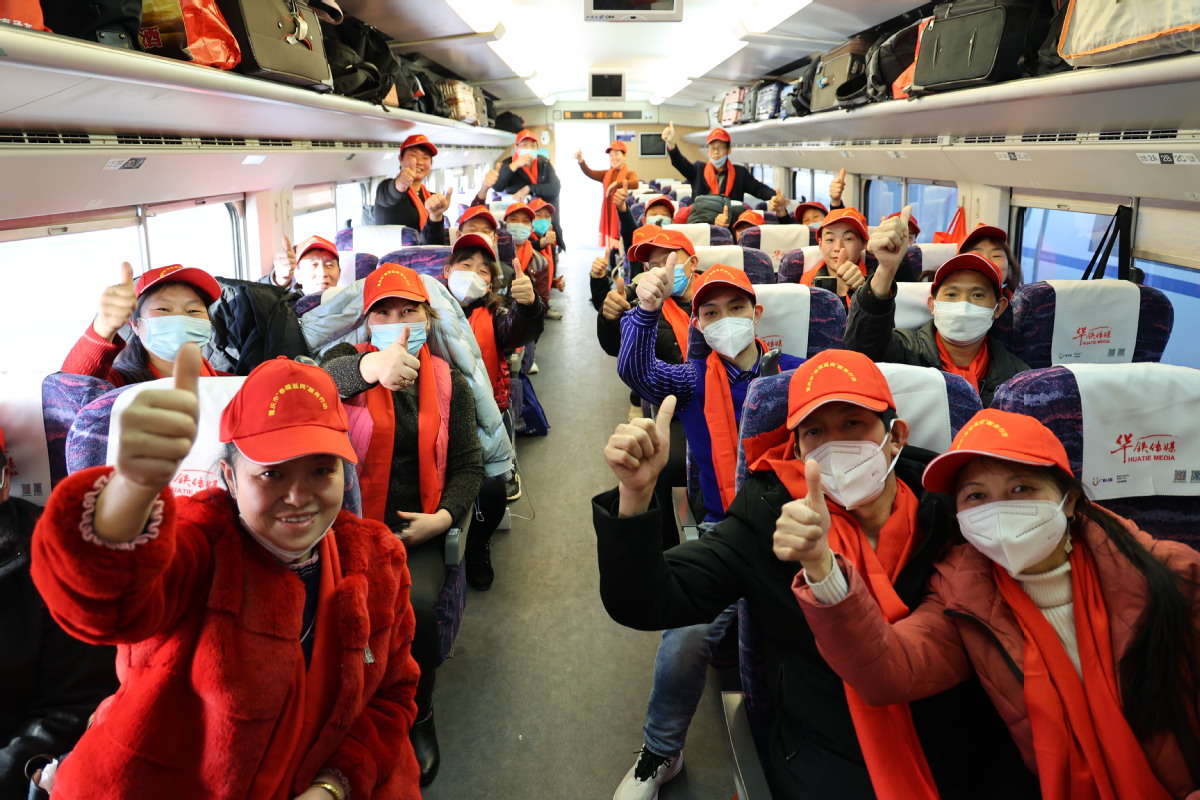 The first chartered train of the year carrying 890 migrant workers from Chongqing to Guangzhou in Guangdong province set off on Monday, to be followed by some 500 more chartered buses and trains to different destinations.
The special trains are part of measures to provide better services for workers and facilitate the resumption of production after the Spring Festival break.
"The return trip is straight from my home in Chongqing to my factory in Guangzhou," said Yang Hui, from Chongqing's Hechuan district, who has been working in Guangzhou for 15 years. He said the local governments also arranged for cars to take him and his wife from home to the train station in Chongqing, and from the train station in Guangzhou to their factory.
On Monday, Yang boarded the D4881 bullet train along with 889 other workers who were mainly from Sichuan province and Chongqing.
"The train had got a quick pass all the way to Guangzhou," said Zhang Zhengqiang, head of Chongqing Railway Station. "Every year, our station coordinates with local governments to better adjust transportation plans and arrange chartered trains for returning workers."
China Railway Chengdu Bureau Group, which coordinates trains in Southwest China's Sichuan province and several neighboring regions, has formulated holiday travel plans based on the number of migrant workers and their destinations, aiming to help the resumption of work and production in an orderly manner.
Since Friday, Chongqing has provided transportation services for some 1.1 million migrant workers, most of whom were heading to Guangdong, Zhejiang, Sichuan, Fujian and Hubei provinces, according to Xinhua News Agency.
The Chongqing Municipal Human Resources and Social Security Bureau said the city will continue arranging special trains and buses for workers. The number of estimated chartered train and bus journeys will surpass 500, transporting nearly 30,000 workers to their destinations.
Li Yong, head of the bureau, waved goodbye to the migrant workers at Chongqing West Railway Station on Monday.
With COVID-19 restrictions eased and the infection peak passed, hundreds of millions of people have joined the country's Spring Festival travel rush by setting out on long overdue trips to reunite with families or take vacations.
According to the group in Chongqing, it had carried 6.45 million passengers during the weeklong Spring Festival holiday from Jan 21 to 27, an increase of over 197,600 from the same period of 2019.