Tyre Nichols' funeral celebrates his life
By BELINDA ROBINSON in New York | chinadaily.com.cn | Updated: 2023-02-02 12:05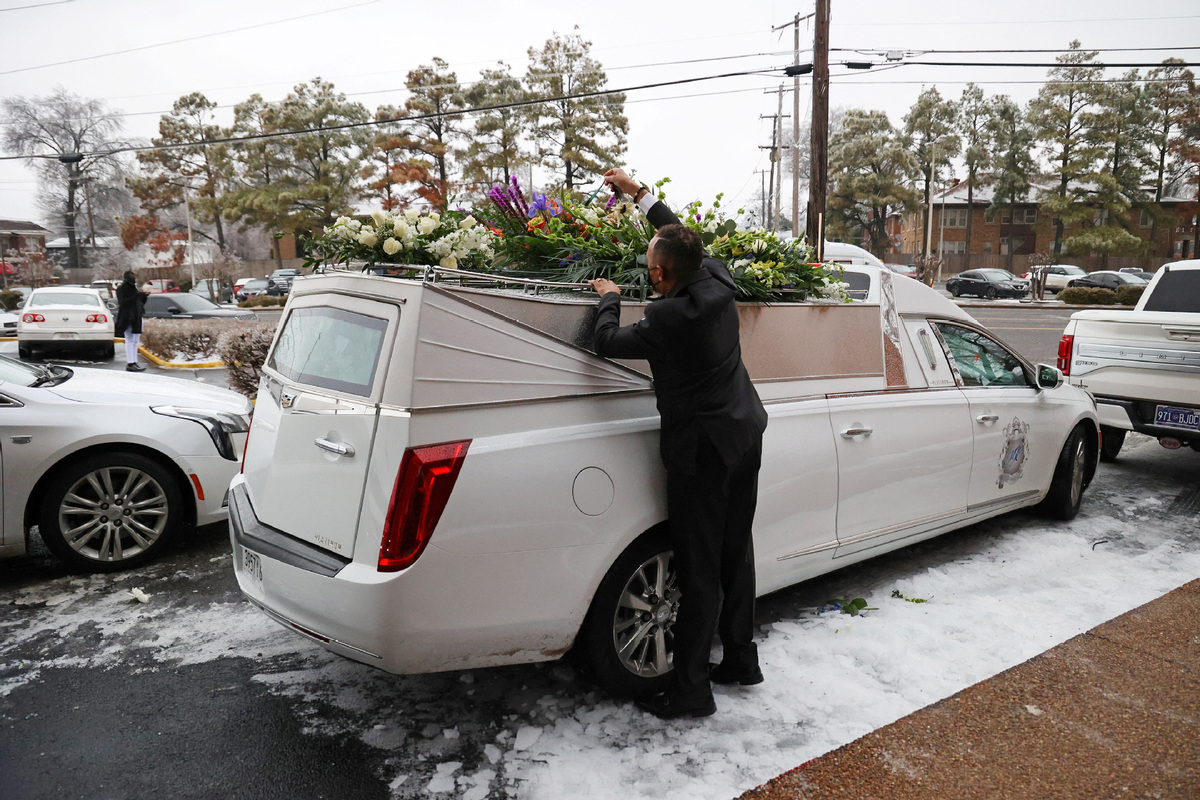 The family and friends of Tyre Nichols, who died after being beaten by Memphis police officers, attended an emotional funeral for him Wednesday that combined a celebration of the young man's life with calls for police reform.
With civil rights leaders and US Vice-President Kamala Harris in attendance, the funeral for the 29-year-old took place at Mississippi Boulevard Christian Church in Memphis, Tennessee.
Nichols' mother RowVaughn Wells said through tears: "Tyre was a beautiful person. For this to happen to him is unimaginable. The only thing that's keeping me going is that I really, truly think my son was sent here on assignment from God. I guess his assignment is done and he's on his way home."
More than 2,000 people attended the service, including Congresswoman Sheila Jackson Lee, a Texas Democrat; former mayor of Atlanta Keisha Lance Bottoms; and film director Spike Lee. The vice-president could be seen in the pews hugging Nichols' mother.
Before the Reverend Al Sharpton, the veteran civil rights leader and head of the National Action Network delivered the eulogy, he invited Harris on stage to give an impromptu speech.
Harris said: "We are here to celebrate the life of Tyre Nichols. Mrs Wells, Mr Wells, you have been extraordinary in terms of your strength, your courage and your grace. We mourn with you, and the people of our country mourn with you."
As a senator, Harris was a co-author of the George Floyd Justice in Policing Act, a package of police reforms that included a national registry for police officers disciplined for misconduct, a ban on no-knock warrants and other measures. It passed in the Democrat-controlled House in 2021 but failed in the Senate.
She urged Congress to pass it, saying President Joe Biden would sign it. "We will not be denied," she said. "It is not negotiable."
Sharpton admonished the black officers who beat Nichols to death and have been charged with second-degree murder. He said that he visited the Lorraine Motel, where the Reverend Dr Martin Luther King Jr was assassinated in Memphis in 1968. He said that the officers wouldn't have been allowed on the force if not for King's fight for equal rights.
"That ain't the police, that's punks!" Sharpton said of the officers' actions. He said they were a "disgrace" and must be held accountable. He urged police reform.
Sharpton added: "If that man had been white, you would not have beat him like that, that night. We're not asking for anything special; we're asking to be treated fair."
Police body-cam footage showed Nichols being pummeled, kicked, and pepper sprayed by five black Memphis Police Department officers after an alleged traffic stop on Jan 7. He died in the hospital on Jan 10.
The officers were quickly fired. Two more officers have been disciplined, and three emergency responders were fired in connection with his death.
Nichols' funeral showed his amateur photography. He enjoyed chasing sunsets. He loved his mother, stepfather and family. He was so close to his mother that he had her name tattooed on his arms. He was her last child.
Nichols grew up in Sacramento, California. He was an avid fan of the San Francisco 49ers football team. He had traveled to Memphis just before the coronavirus pandemic and got stuck there.
The skateboarder who worked at FedEx was remembered by his "heartbroken" older sister Keyana Dixon, who noted he was polite even when being beaten up by police.
Nichols' brother James Dupree said his brother was "robbed of his life", adding: "My brother touched a lot of lives. He was very peaceful. Very respectful."