Advanced fields ready to create job opportunities for high-end tech talent
By FAN FEIFEI | China Daily | Updated: 2023-02-03 09:07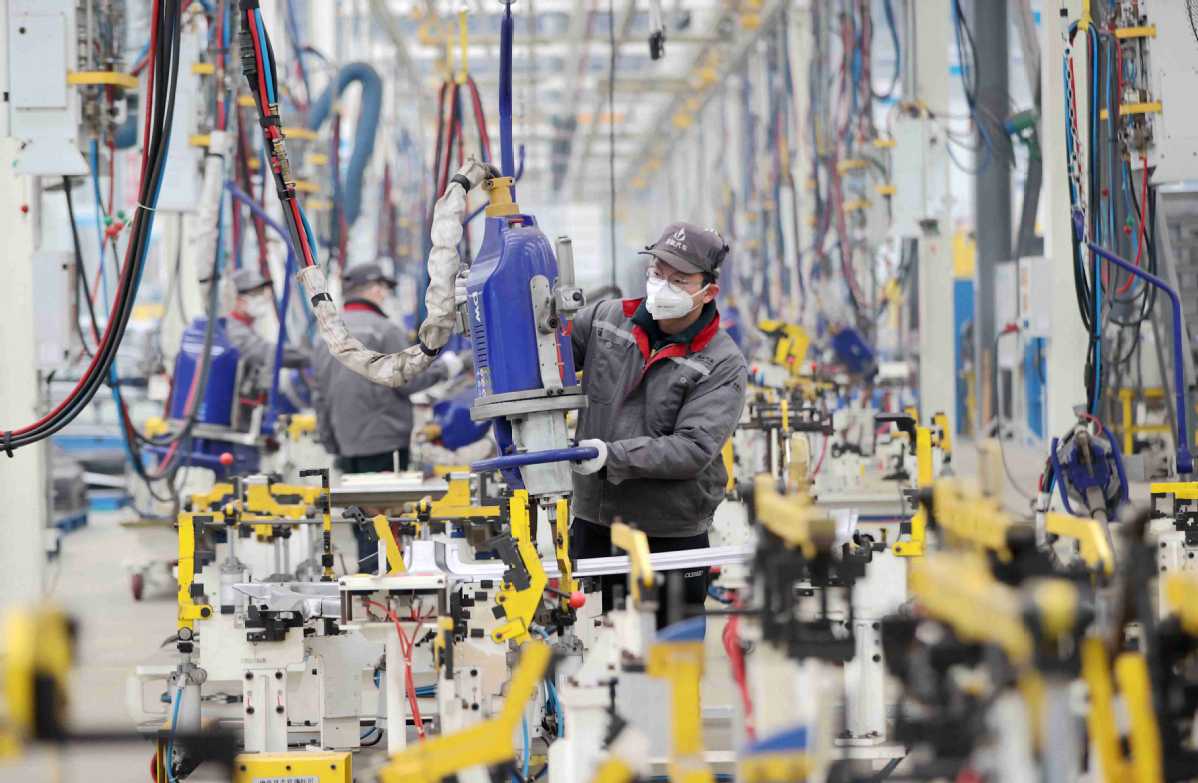 China's manufacturing sector is expected to expand in 2023, creating more opportunities for top tech talent, fueled by the country's significant COVID-19 policy adjustments at the end of 2022 and its emphasis on economic development, said a report released by Hays, a global professional recruiting group.
"China is the global leader in manufacturing. We believe that a series of favorable policies recently released by the Chinese government will boost high-end manufacturing and green industry, thus bringing more opportunities to talent in the field," said Jessica Wang, managing director of Hays China.
"Compared with the traditional manufacturing sector, advanced fields like intelligent vehicles, industrial equipment, medical devices and advanced manufacturing develop rapidly, which leads to an increasing demand for talent," Wang said.
She said the advanced manufacturing industry is in urgent need of tech talent with overseas educational backgrounds and work experience. As China's advanced manufacturing is still in the early stage of development, there is a significant imbalance of talent supply and demand.
Experts said talent plays a decisive role in bolstering technological innovation of advanced manufacturing. Nowadays, enterprises have raced to provide better welfare packages to attract more talent, Hays said.
Data from the Ministry of Industry and Information Technology showed that China accounted for nearly 30 percent of global manufacturing output in 2021, up from 22.5 percent in 2012, maintaining its title as the world's largest manufacturing country.
The tone-setting Central Economic Work Conference that ended on Dec 16 said China will enhance the global competitiveness of traditional industries and speed up the R&D and application of frontier technologies such as new energy, artificial intelligence, biological manufacturing, green and low-carbon development, and quantum computing.
The report to the 20th National Congress of the Communist Party of China stressed the need to advance new industrialization and accelerate steps to boost China's strength in manufacturing, product quality, aerospace, transportation, cyberspace and digital development.
China will move the manufacturing sector toward higher-end, smarter and greener production, the report said.
"New industrialization is an important strategy for China to be on par with a mid-level developed country, while the development of advanced manufacturing serves as the key to achieving that goal," said Wang Jinzhao, head of the industrial economics research department of the Development Research Center of the State Council.
Talent is crucial to the scientific and technological innovation of industries, Wang said, adding it is necessary to speed up training of talent, offer them more incentives, attract overseas experts, and support enterprises to recruit and reserve global talent.
The salary of senior talent tops the charts in China's advanced manufacturing industry. According to the Beijing Municipal Human Resources and Social Security Bureau, the median annual salary of talent engaged in the intelligent and advanced manufacturing industry ranked second among all job categories in managerial personnel, reaching 553,300 yuan ($81,888) in 2022.
In addition, multinationals remain bullish on the Chinese market with increased localization efforts, the report said.
In the last three years, due to the impacts of COVID-19 and geopolitical tensions, some multinational companies adjusted their business strategies in China. Hays considered such a phenomenon temporary turbulence, as China has the most comprehensive supply chain in the world and such an advantage couldn't be easily replaced.
Wang said multinational enterprises will be more confident in the Chinese market in 2023, and recent policy development indicated that China will actively expand its markets, strengthen the protection of intellectual property rights and foreign investment, and grant national treatment to foreign enterprises.
"Since some production lines transferred to Southeast Asia are mainly labor-intensive industries, relevant technical and managerial talent still need to be dispatched from China to guide operations, which reflects the advantage of hiring seasoned talent from China's manufacturing sector," she added.
Zhang Fei, associate director of the Chinese Academy of International Trade and Economic Cooperation's Institute of Foreign Investment, said China possesses great advantages to attract foreign investors. In addition to strengths in supply chain and huge market size, the country is attractive for its efficiency in public service, ongoing optimization of the business environment and well-trained and seasoned talent like skilled workers, engineers and researchers.