Workers brave odds, find joy in projects during holiday
By ZHUANG QIANGE | China Daily | Updated: 2023-02-03 09:10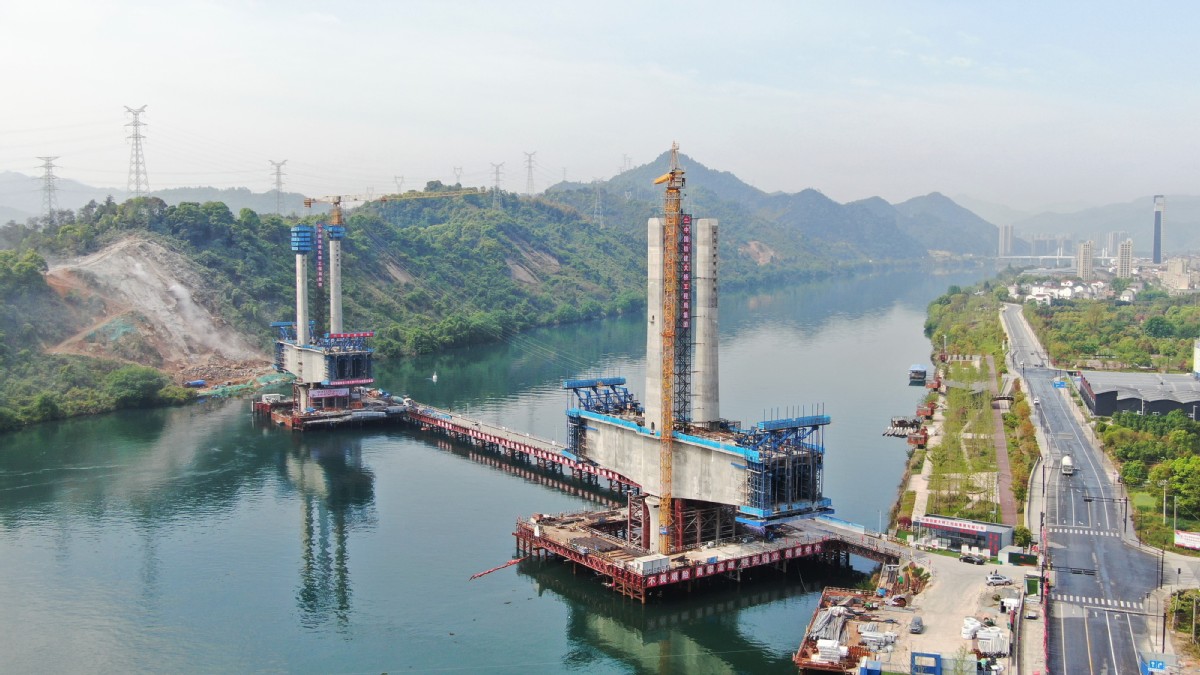 China's infrastructure upgrade sees works progressing rapidly amid recovery hopes
During the weeklong Spring Festival holiday in late January, when hundreds of millions of Chinese crisscrossed the vast country to head home from their places of work for customary family reunions, Wang Ao and his team of four construction workers toiled away inside a tunnel, helping build a new railway line in eastern Zhejiang province.
Noise at the site was deafening, work arduous, and the realization of being away from family during Spring Festival dispiriting, but the small team drew energy from the fact that their work was going to be instrumental in China achieving one of its national goals — rapid infrastructure upgrade.
On the eve of the Chinese Lunar New Year on Jan 21, as they stepped out of the noisy tunnel, more noise — of the joyful kind — greeted them. From Lijiashan Tunnel site along the future Wenling-Yuhuan Railway line, they could see colorful and loud fireworks afar. That lifted their spirits.
More joy was to fill their hearts. Their employer, China Railway 24th Bureau Group Corp Ltd, a unit of the centrally administered State-owned enterprise China Railway Construction Corp, sprang a pleasant surprise. A partial builder of the line, CR24 made special arrangements to bring family members of the team to the tunnel site.
So, there were family reunions, after all, but with a novel touch — and complete with a feast of sorts that included dumplings. A father of a 2-year-old boy, Wang's joy knew no bounds on meeting his family at the site. "This is the happiest Spring Festival ever in my life," he said as emotion and the attendant tears overcame him on hugging his son.
Lijiashan Tunnel is a tough and urgent project. The fact that it is part of a new line that will link Yuhuan county in Taizhou, Zhejiang province, with the local rail network, made it significant too.
"The 5.56-kilometer tunnel runs through four fracture zones, and the stability of surrounding rocks is poor. On top that, we faced a tight schedule. All our experience was needed to prevent any potential risks like rock bursts or a collapse that would hamper progress," Wang said.
"Our small team wasn't pushing for early completion of the project. Our aim was more about keeping the site safe and in order."
There were more such dedicated teams across China that stayed committed to work during the holiday period.
Lu Chenghua, manager of a bridge project undertaken by CR24 in Zhejiang province, said: "There's no time for the blues. The foreman at work energizes and motivates our team to complete the project as fast as possible, in the best possible manner."
The bridge is on the 64.51-km Jinhua-Jiande High-speed Railway that connects the three cities of Jinhua, Lanxi and Jiande with China's major railway network. The line, which is scheduled to open before October 2025, is expected to provide a faster link between Zhejiang and inland provinces.
The cities along the route boast many tourism attractions, so the line has acquired added significance as a crucial infrastructure project that can spur development in central China.
Lu's 35-strong team could not visit their hometowns during Spring Festival in 2021 and 2022 either. Yet, despite transport systems returning to normal this year, they chose to stay put at the site, to ensure that the project "progresses at the right pace".
"It took the project team and invited experts quite a while in the past to come up with a construction plan. We had built up a nice rhythm and momentum that we didn't want to lose."
That resolve meant the bridge is shaping up nicely and fast with pillars and platforms above the Xin'an River already in place, laying a solid foundation for the rest of the work.
Besides enhancing infrastructure, projects like these also improve livelihood, as envisaged in the nation's 14th Five-Year Plan (2021-25).
According to the National Bureau of Statistics, China's fixed-asset investment rose 5.1 percent year-on-year in 2022 to reach 57.21 trillion yuan ($8.51 trillion), compared with a 4.9 percent rise in 2021. Investment in infrastructure climbed 9.4 percent last year.
China is ramping up efforts to build or complete infrastructure projects that can strengthen weak links in areas related to people's livelihoods and individual incomes, so as to accelerate economic recovery and boost consumption, said Guo Liyan, director of the Comprehensive Situation Research Office of the Academy of Macroeconomic Research.