Beautiful blooms bring shops New Year boom
China Daily | Updated: 2023-02-03 09:17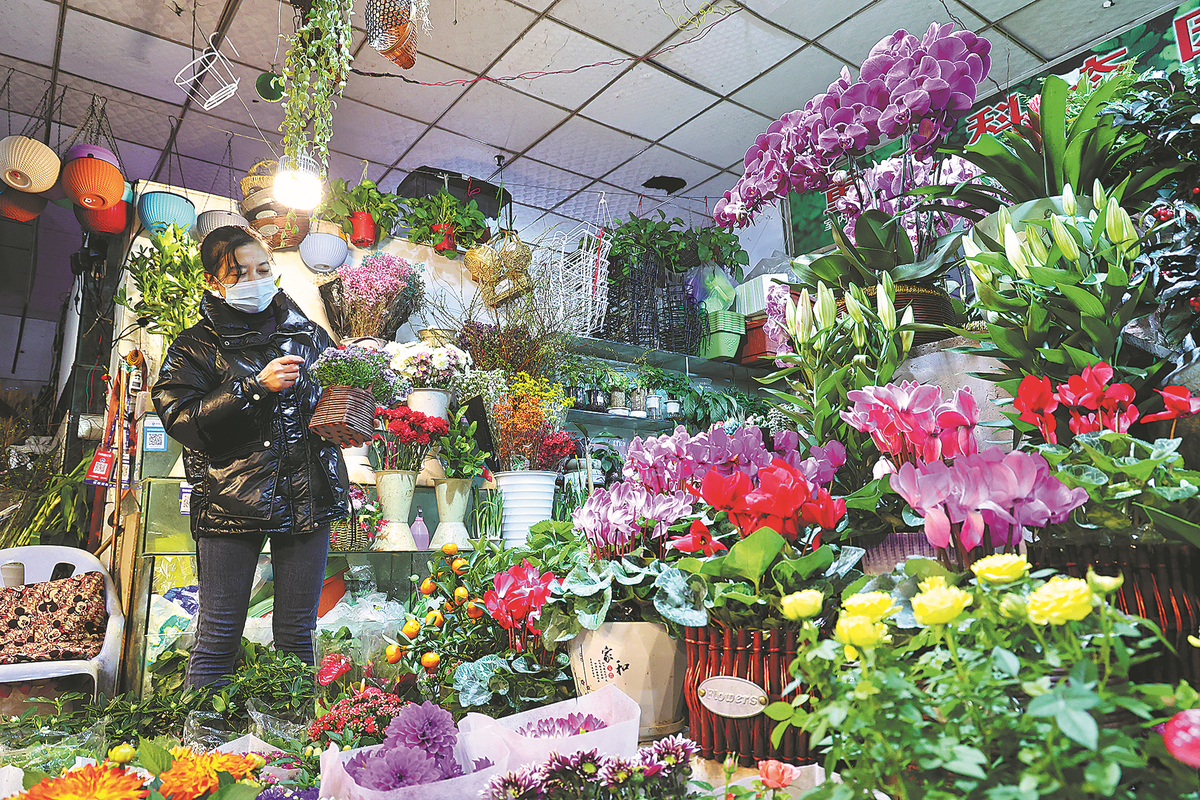 CHONGQING — As Chinese New Year got underway, people swarmed the Wanghai Flower Market in Chongqing's Jiangbei district in search of New Year flowers, which are considered an auspicious offering. When foot traffic was busiest, people lined up for more than 10 minutes to enter.
Wanghai, the municipality's largest urban flower market, sells flowers, bonsai and small pets. The street outside is lined with colorful plants, making it into a kind of central garden in the city.
"Following the optimization of COVID-19 measures, the market has received a large influx of buyers keen to buy flowers, and the Spring festival is fueling interest," one of the market's shop owners said, adding that they had replenished stocks to meet the overwhelming demand.
The Chinese call flowers sold around the Spring Festival period New Year flowers, and they often feature auspicious colors like purple and red.
Jia Simin was among those visiting the market recently, walking hand-in-hand with her mother as they carried pots of purple moth orchids. Named for its butterfly-like appearance, the moth orchid, or phalaenopsis, symbolizes good luck and fortune and is one of the most popular purchases.
"We bought them to decorate our rooms to make them look more festive and usher in a good New Year atmosphere," Jia said.
The moth orchids can flower for two or three months, allowing the festive atmosphere to linger long after New Year ends, she added.
In the Guoliang Flower Shop, there are blooms everywhere as florists work hard trimming and beautifying flowers for customers. The number of visitors coming to the market has exceeded expectations.
"Florists help make flowers more consistent with the aesthetic standards of customers," said Feng Xiaoxue, owner of Guoliang. "My parents have managed this shop for more than 20 years. At first, Chongqing residents weren't especially keen on buying New Year flowers, but in recent years, there has been a rise in the desire for the good life, and the demand for flowers has risen as well."
The celebratory flowers range from a few yuan to more than 1,000 ($150), so everyone is able to find blooms that are suitable.
"Many people buy flowers not only for decoration, but also as gifts," Feng said. "Many companies place large orders for flowers as presents for their employees, bringing florists tens of thousands of yuan."
In 2020, there were over 1.5 million hectares of flower plantations in China, and annual sales exceeded 250 billion yuan, making the country the world's largest producer of flowers.
"Holly had to be imported before, but now it is being grown all over China, so prices have dropped," Feng said.
According to the National Forestry and Grassland Administration and the Ministry of Agriculture and Rural Affairs, China's annual flower sales should be worth 300 billion yuan by 2025.
Xinhua