Survey: Nation shows signs of notable recovery
By OUYANG SHIJIA | China Daily | Updated: 2023-02-04 07:00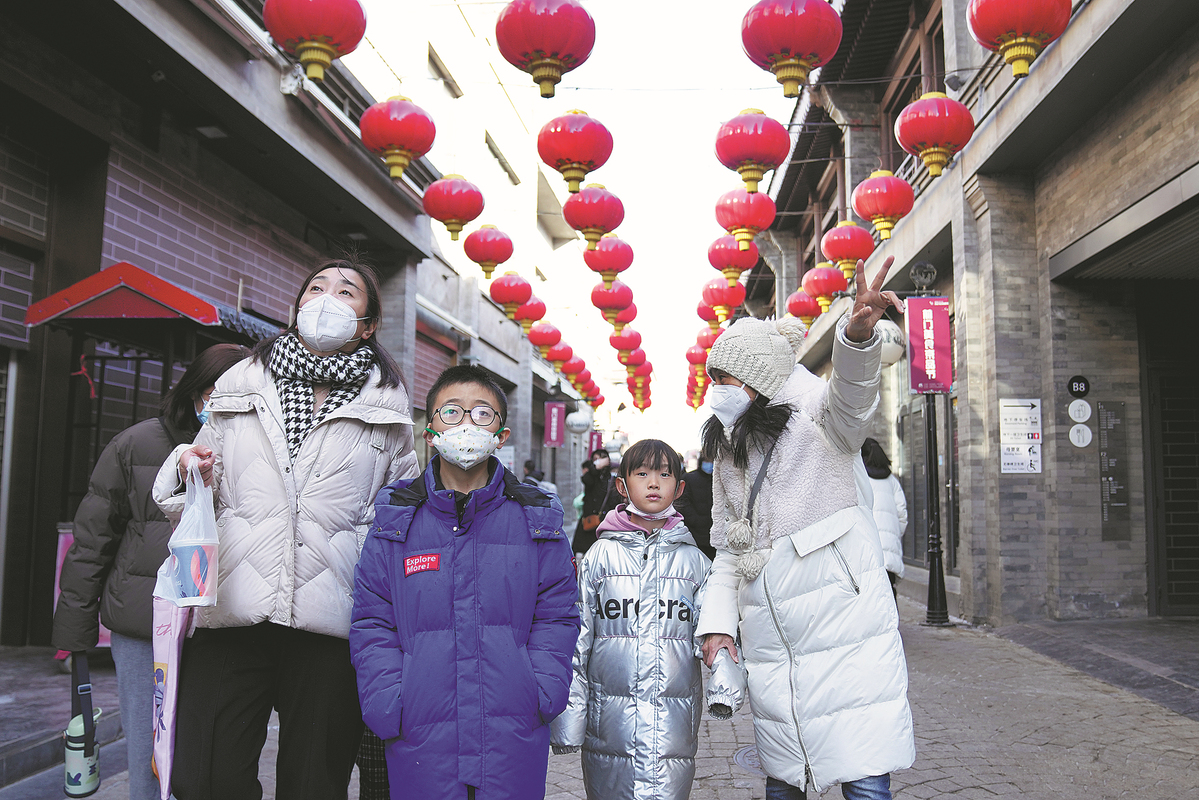 Caixin reports services PMI rise over 50 points, ending four-month contraction
China's services activity expanded for the first time in five months, pointing to signs of a notable recovery in economic activity since the country optimized its COVID-19 control measures, a private survey showed on Friday.
The Caixin China General Services Purchasing Managers' Index rose to 52.9 in January, up from 48 in December, above the 50-point mark that separates growth from contraction, media group Caixin said in the report.
"Services activity experienced a boom, as both supply and demand expanded," said Wang Zhe, senior economist at Caixin Insight Group."Although COVID infections remained high, the easing of related containment measures stimulated supply and demand in the sector."
The gauges for business activity and total new business both came in at above 50 in January, marking an end to a four-month contraction. Easing of travel restrictions also boosted services exports, with the subindex for new export orders climbing into expansionary territory, the report said.
Notably, business confidence strengthened during the month, as the optimized COVID-19 containment measures are widely expected to boost activity over the whole year. Business optimism rose to its highest since February 2011.
Owing to the improvement in activity, Caixin's composite PMI, which includes both manufacturing and services activities, improved to 51.1 from 48.3 in December, the report said.
The latest data from the National Bureau of Statistics also offer an official snapshot of the improving operating conditions of both the manufacturing and services sectors.
The official PMI for China's manufacturing sector bounced back to 50.1 in January after reaching 47 in December, and China's non-manufacturing PMI came in at 54.4 in January, up from 41.6 in December, the NBS said on Tuesday.
The official PMI for the services sector jumped to 54 in January from a record low of 39.4 in December, when sweeping COVID infections led to a sharp drop in mobility.
"The strong rebound was mostly driven by the release of pent-up demand for in-person services, including tourism, hospitality and entertainment, which were hit the hardest by the pandemic over the past three years, as people flocked to scenic spots, watched fireworks shows and crowded into restaurants and hotels," said Lu Ting, chief China economist at global financial services provider Nomura.
Citing data from the Ministry of Transport, Nomura said in a note that there was a daily average of 36.8 million passenger trips from Jan 7 to 25, the first 19 days of the 2023 Spring Festival travel rush. On a lunar calendar basis, it was 50.8 percent above the same period in 2022, but still 47 percent below the 2019 pre-pandemic level.
Thomas Chong, an equity analyst at Jefferies Hong Kong Ltd, voiced optimism for a robust 2023, as a number of data across different sub-sectors, such as tourism and logistics, during the Spring Festival holiday showed signs of continued recovery.
During the seven-day Spring Festival holiday, there were 308 million domestic tourist visits, up about 23.1 percent year-on-year, recovering to about 88.6 percent of the 2019 level. Domestic tourism revenue reached about 375.8 billion yuan ($55.8 billion), up 30 percent year-on-year, recovering to 73.1 percent of the 2019 level, according to the Ministry of Culture and Tourism.
Looking ahead, Wang from Caixin Insight Group said the primary focus of economic work should be on accelerating economic recovery and promoting normalized production and social order after being hit by the latest wave of COVID-19 infections.
"Improving expectations, restoring confidence, increasing incomes, expanding consumption and stimulating domestic demand will be among the priorities," Wang said.