Pork, milk price fluctuations harmful for rice bowls
By Fan Shenggen and Gao Haixiu | CHINA DAILY | Updated: 2023-02-04 08:51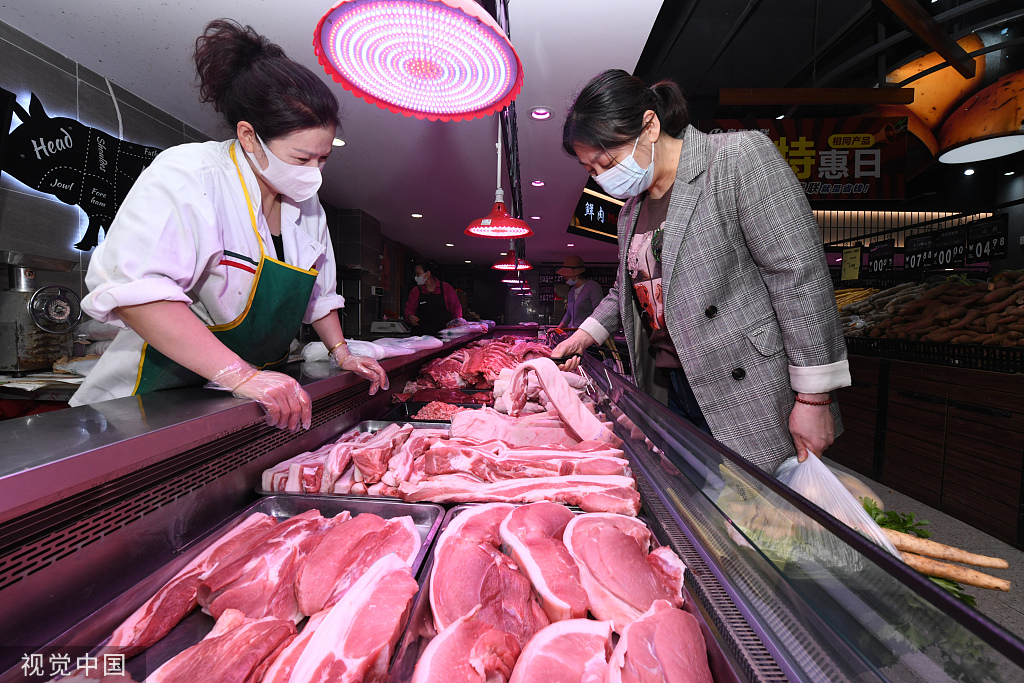 Pork and milk play an important role in many people's diet, and their production and sale benefit both producers and sellers. However, the recent fluctuations in pork and milk prices have affected both producers and consumers. The biggest challenge faced by producers is the uncertainty in the price, which prevents them from planning their investments and production properly. This, in turn, exacerbates price fluctuations at times.
For consumers, wild fluctuations in price make it difficult for them to prepare the household budget and ensure a healthy diet for the family at an affordable price. And since milk is particularly important for children and the elderly, urgent policy measures should be taken to stabilize the price of milk, along with that of pork.
Pork and milk prices across the country have been declining, and some pig and dairy farms appear to be in the red, spreading panic in the market.
According to the Ministry of Agriculture and Rural Affairs, the average price of live pigs in 30 provincial-level regions during the second week of January was 16.29 yuan ($2.41) per kilogram after falling for 11 consecutive weeks, and the average price of pork was 29.97 yuan per kg after falling for 10 weeks.
During the same period, the average price of milk in 10 major producing provinces and regions, including Hebei and Shandong provinces, and the Inner Mongolia autonomous region, was 4.11 yuan per kg, down 0.2 percent from the previous week and 3.7 percent year-on-year.
In a recent price coordination meeting, Hebei authorities set a reference price for fresh milk at 4.10 yuan a kg, with the lowest being 3.93 yuan a kg. But farmers' association members voluntarily proposed that the minimum price be lowered to 3.85 yuan a kg, which showed farmers were willing to sell milk at a price lower than the local government's reference price due to surplus production. And the Shandong provincial government set the reference price of fresh milk at 3.85-4.10 yuan a kg for the first quarter of 2023.
This shows the domestic dairy industry is facing a serious production and marketing challenge.
Also, there are many factors behind the falling pork prices, with the main problem being an increase in pig supply at a time when consumer demand is weak.
In December, for example, some large pig farms accelerated the pace of selling, with some farms stepping up the sale of both early pigs and secondary fattening commercial pigs. And data show the output of live pigs in December increased by 18.3 percent month-on-month, and 7.3 percent year-on-year.
The fact that China imported about 200,000 tons of pork in December, up 25 percent from October, and the lingering pandemic forced people to avoid group dining and business gatherings, and the demand for cured pork in South China is yet to pick up has also caused the decline in pork prices.
Different from the decline in pork prices, milk prices have been falling because of both domestic and international factors. The COVID-19 pandemic and slow economic growth have prompted people across the world to reduce the consumption of milk products, and a large number of dairy farms have lowered the prices of their products to increase sales.
Data show the price of milk in China has been declining after reaching a record high of 4.38 yuan a kg in August 2021. To make matters worse for dairy farmers, the production cost (mainly forage grass and feed) has been rising, further squeezing the profit margin of small and medium-sized dairy farms.
Also, the economic problems created by global monetary expansion have affected the industry because dairy cows have a long breeding cycle, which could lead to overcapacity.
To stabilize pork and milk prices and facilitate the development of the dairy industry, the authorities should consider taking the following measures.
First, digital platforms should be used to establish information-sharing mechanisms and prevent information asymmetry. This is not difficult to do because Chinese livestock and poultry departments have detailed livestock production and market data.
But many livestock farms, especially small and medium-sized livestock farms (households), cannot access important information on time due to their limited knowledge. So related departments should consider using short videos and official WeChat accounts to disseminate information among livestock farmers in a timely manner.
The proper analysis and interpretation of information, and industrial policy and data will help farmers to prepare in advance to deal with emergencies and plan their production in accordance with market changes.
Second, there is a need to establish a benefit-sharing mechanism between processing enterprises and livestock farms, so as to reduce transaction costs and stabilize the supply chains. Perhaps the enterprises and farmers should consider signing long-term cooperation contracts and build long-term benefit link mechanisms so they can better tackle emergencies.
And third, the government should use loans, insurance, and other means to support private enterprises, particularly small and medium-sized farms, to smooth their operations against price shocks. For example, price insurance can be used to guarantee livestock producers' income when prices go down below the cost of production.
Finally, the government should use the pork and milk powder reserves to ensure smooth market operations. For example, when prices increase too high, the government can release pork or milk from reserves to protect the interests of consumers. And when prices fall too low, the government could purchase these products as reserves.
Fan Shenggen is the dean and Gao Haixiu is a post-doctoral fellow at the Academy of Food Economics and Policy, China Agricultural University. The views don't necessarily reflect those of China Daily.
If you have a specific expertise, or would like to share your thought about our stories, then send us your writings at opinion@chinadaily.com.cn, and comment@chinadaily.com.cn.