As travelers mark national holiday, hotels booked up
By YUAN SHENGGAO | China Daily | Updated: 2023-02-04 15:58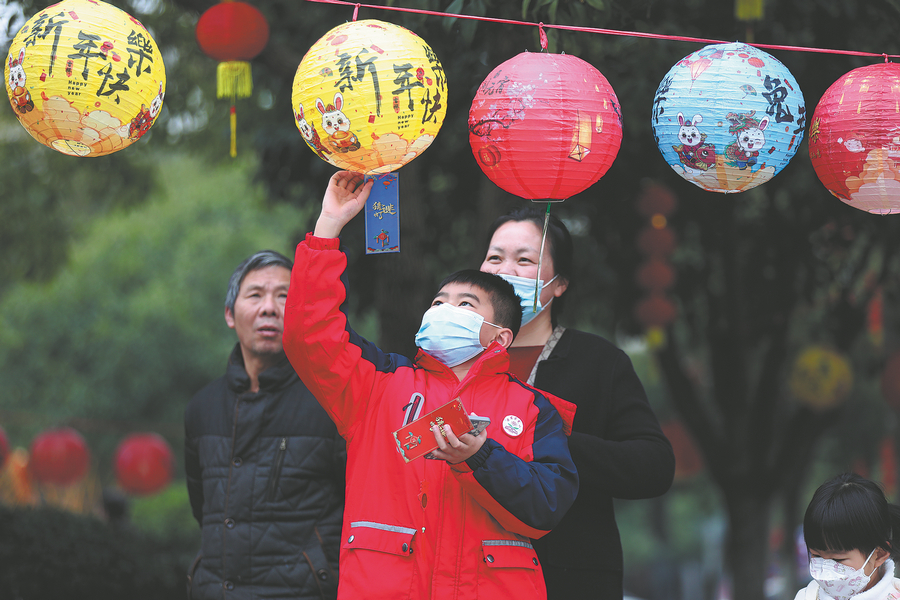 The occupancy rates of multiple hotel companies had returned or almost returned to pre-pandemic levels during the Spring Festival holiday from Jan 21 to 27. It was the first public holiday since China downgraded its COVID-19 management measures from Class A to Class B.
The weeklong break recorded 308 million domestic tourist trips, up 23.1 percent year-on-year, figures from the Ministry of Culture and Tourism show. It represents 88.6 percent of the 2019 amount. This year's trips generated 375.84 billion yuan ($55.78 billion) in revenue, representing a 30 percent year-on-year rise. It also represents 73.1 percent of revenue generated by the holiday in 2019.
According to figures from online travel platform ly.com, the first three days of the vacation saw domestic hotel bookings go up by 56 percent over the same period of 2022.
Fosun Tourism Group told the 21st Century Business Herald newspaper on Sunday that its China business performed well during the holiday.
Club Med, a brand of Fosun, saw occupancy rates in many of its resorts surpass 90 percent during the vacation. The total revenue doubled compared with the same holiday of 2022 and outstripped the 2019 figure by around 30 percent.
The average daily occupancy rate of Club Med Lijiang, in Southwest China's Yunnan province, was 96 percent. Those of Club Med Joyview Anji and Club Med Joyview Thousand Island, both located in the eastern province of Zhejiang, were close to 95 percent.
Ski resorts such as Club Med Beidahu and Club Med Yabuli, both located in Northeast China, saw their average daily occupancy rates exceed 85 percent, 21st Century Business Herald reported.
Atlantis Sanya in South China's Hainan province, an upscale hotel operated by Fosun, also delivered strong business results.
"During the Spring Festival holiday, the average daily occupancy rate of Atlantis Sanya was close to 100 percent," Xu Xiangyu, a senior executive with the marketing and public relations department of the hotel, told news portal people.com.cn.
The resort received more than 200,000 guests during the seven days, outperforming the same holiday in 2022 and 2019 in terms of revenue, Xu said. She added that the good start has given them confidence, according to the people.com.cn report.
Hotel chain Huazhu Group saw revenue per available room increase by more than 120 percent year-over-year during the holiday, 21st Century Business Herald reported.
Huazhu told the newspaper that nearly 20 percent of its properties were fully booked during the holiday and the peak came on the fourth and fifth days, which was similar to what happened in 2019.
Qunar, an online travel platform, found that hotels became a popular destination during the holiday. Many families chose to vacation in a well-appointed hotel or minsu (a Chinese-style bed-and-breakfast). Family-friendly hotels, hotels with hot springs and urban retreats were among the most popular choices, according to an article by Lin Ye published on meadin.com, a commercial property information provider.
According to hotel industry insiders, as cited by the article, most hotels with hot springs, resorts and minsu generally boast fine views, which provides urbanites an opportunity to get close to nature and enjoy some peace and quiet during this long-awaited hiatus.
To vie for tourists, hotels had come up with various ideas to enhance their attractiveness during the holiday.
Guangcheng Hotel, in the city of Pingliang in Northwest China's Gansu province, offered free family photos for diners and prepared rabbit-themed bedding for its guests as the year 2023 is the Year of the Rabbit, meadin.com reported.
Jinjiang Hotels China Region, joining hands with companies including JD Logistics and Tianjin Airlines, offered gifts such as air ticket coupons and delivery service coupons for consumers.