Students get ready to go back to school
By Cang Wei in Nanjing | China Daily | Updated: 2023-02-06 09:14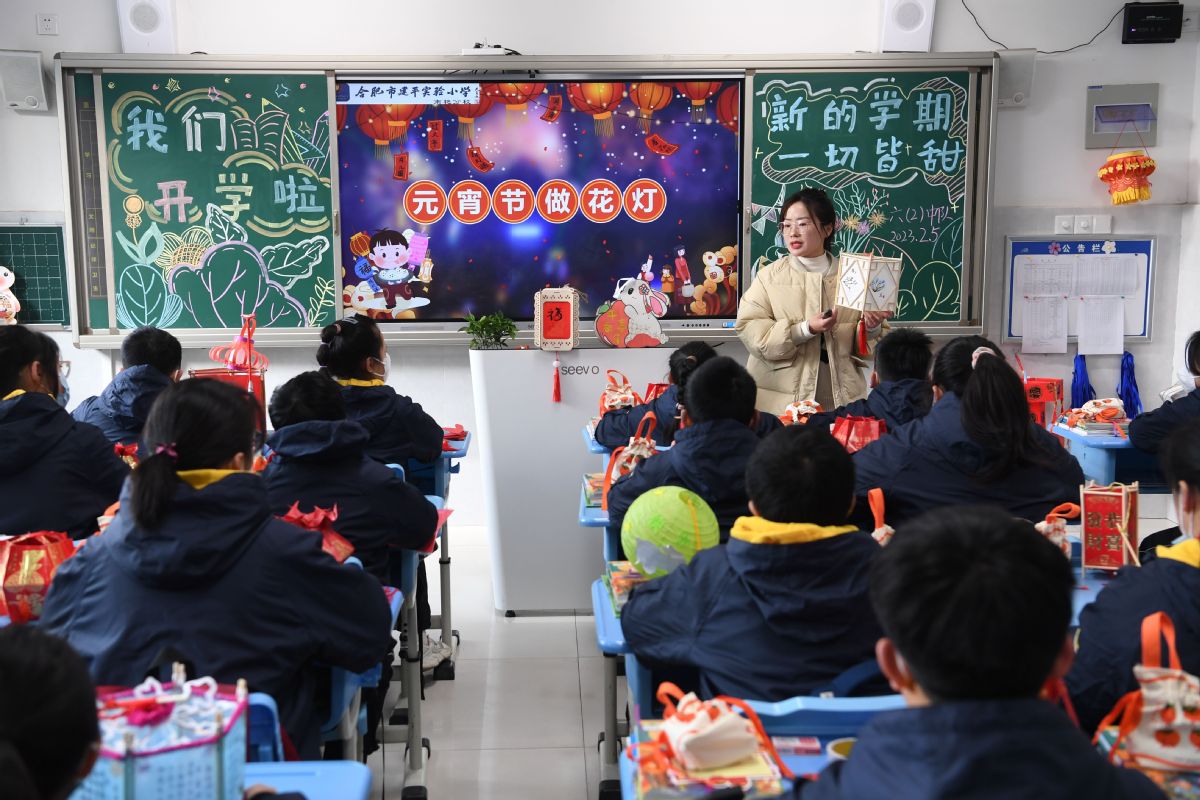 Children rush to finish homework before beginning of new semester
Many Chinese students managed to pull off a miracle on Saturday night — finishing their winter break homework before registration for the new semester on Sunday.
Sun Yan was one of the many parents who witnessed the feat, joking about it on social media.
"It's funny to see my son staying up to finish homework in a hurry," said the father of a fifth grader in Huaian, Jiangsu province. "But he needs to get more organized and diligent for school."
After a long winter break that lasted nearly two months, the new semester will officially begin on Monday in Jiangsu. Many students and teachers were excited by the changes to COVID-19 prevention measures, upgraded cafeterias and new decorations at schools.
Many schools have abandoned daily PCR tests for students and staff members. They only ask that parents guarantee that students have been in good health for at least seven days before the start of the semester.
Shi Qinmeng, principal of Fuxijie Primary School in Nanjing, the Jiangsu capital, said that the school is encouraging students to stay home if they feel unwell.
"We disinfect the school regularly and have set up an observation room for students who feel under the weather," he said. "Their health is the top priority."
As many pupils at Fuxijie are children of migrant workers, Shi and his colleagues encouraged students to bring back souvenirs, including flowers, grasses or even a handful of soil, to remind them of their homes.
Due to COVID-19 prevention and control measures over the past three years, many children weren't able to return to their hometowns for family reunions during Spring Festival.
Ai Jing, a doctor at the Institute of Acute Infectious Diseases at the Jiangsu Provincial Center for Disease Control and Prevention, suggested that if students and staff show symptoms such as fever, fatigue or sore throat, they should stay home to avoid infecting others.
"Temperatures should also be checked before entering school," she said. "Those who feel sick should go to the observation rooms."
Compared with normal winter breaks, which usually last less than a month in Jiangsu, this year's break started in mid-December in many of the province's schools due to an outbreak of COVID-19 that led to many calling in sick.
To allow the children to adapt to the coming days, many schools are running special activities and will send students home early for the first week.
"We will mainly hold safety education sessions and organize interesting activities during the first week," said Shi, "so that the children get used to being back at school days, quickly and joyfully."
Guo Jun contributed to this story.