Demand for better homes key to sector's recovery
By Qin Hong | China Daily | Updated: 2023-02-06 09:17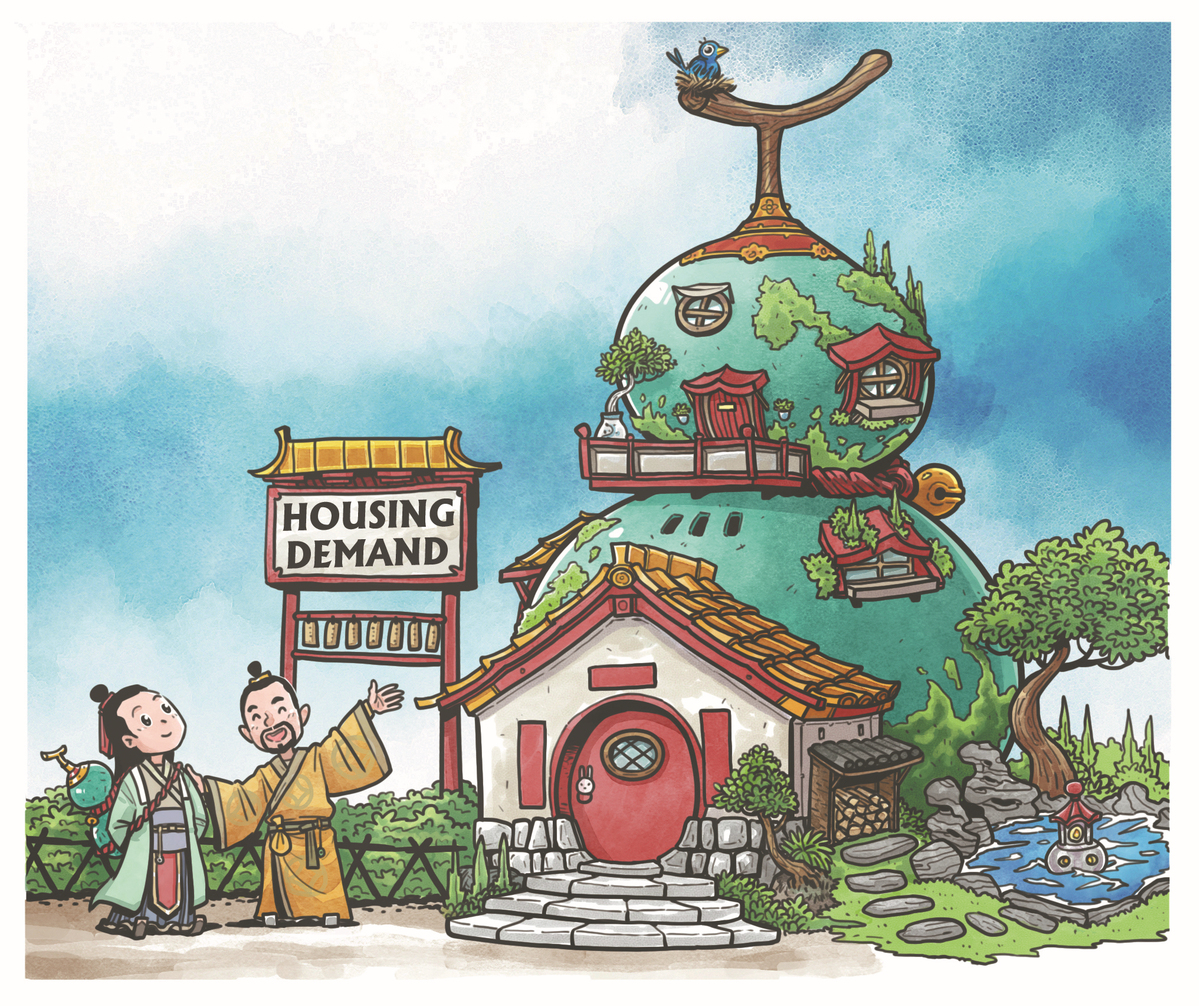 It is fair to say that the development of China's real estate sector, which has been important to China's economic growth, is even more crucial this year, evidenced by recent economic plans from many local governments. What matters most to the sector's development now, as we see, is still a better way to tap both inelastic housing demand and the desire for better residential properties.
Buoyed by government support, including optimized COVID-19 control measures and recovering market confidence, the Spring Festival holiday — normally a slow season for home sales in China — saw residential property transactions pick up, especially for pre-owned homes, in some major cities.
In the 50 key cities tracked by the Beike Research Institute, the trade volume of existing homes soared 57 percent year-on-year during the holiday, and sales in terms of traded area recorded in the first 27 days of January approached that of the previous month, according to the research institute of KE Holdings Inc, a housing transaction and services platform.
Among them, transactions in four major cities situated in the Beijing-Tianjin-Hebei region — Beijing, Langfang, Tianjin and Shijiazhuang — saw steady recovery after December, with total sales already surpassing December's total, the institute said.
Similar recovery signs appeared in terms of visits made by potential homebuyers checking out apartments for themselves. Beike said visits made to existing homes rose 28 percent in the 50 cities. Visits in Chengdu, Sichuan province, and Chongqing increased by 1.5 times and 100 percent, respectively, while those in Shenzhen, Guangdong province soared 86 percent.
However, the new home sector has yet to show signs of a nascent recovery. New home transaction volume remained at a low level during the week between Jan 21 and Jan 27, down about 21 percent from the same period last year, although visits made to home projects in major cities including Beijing, Hangzhou in Zhejiang province, Xi'an in Shaanxi province, and Chengdu saw year-on-year growth, according to market information from the China Index Academy.
Echoing the nation's call to shore up the real estate sector, the central government in recent months has launched a wide range of policies one after another covering credit, bonds, presale supervision funds, mergers and acquisitions of real estate developers among others to ensure the property market's stable and healthy development.
In addition, the nation's financial regulators earlier in January released an action plan that mainly focuses on 21 tasks to enhance the operating cash flow of prime developers, guide their balance sheets back to a safe range and promote a steady transition of the sector to a new development mode.
In view of the latest characteristics reflected by real estate transactions, it's not hard to draw the conclusion that tapping demand for better houses will be a better growth driver for a certain period, considering its pull effect — both in terms of strength and efficiency. Therefore, further unleashing reasonable demand for better residential properties should be a major task while stabilizing the real estate market and expanding domestic demand remain key priorities.
As we see this, there are three major points key to developing and addressing reasonable demand for better houses.
First, local governments should ramp up efforts to effectively implement policies that have been introduced to support demand for better living spaces. Many regional markets, such as Guangdong and Hebei provinces, have adjusted their real estate purchase policies to this end and eased their grip over loans. The Ministry of Finance has also issued some policies on tax rebates for housing replacement. For policies that have been launched, it is of great significance to have them well implemented in time.
Second, various efforts should be made to further reduce costs for potential homebuyers, such as further reducing lending interest rates. Many households are suffering difficulties brought by family budgets damaged by the COVID-19 pandemic over the past three years. Therefore, it will make a difference for them to further reduce interest rates and at the same time reduce some taxes and fees in the process of housing replacement.
Third, numerous cities nationwide have made some adjustments to their restraining policies over housing purchases and loans. However, for some first-tier cities like Beijing, the threshold for buying a better house is still high, with down payments necessary for second home purchases in the capital as high as 80 percent of the total housing price. There is room for further adjustments in some cities.
Looking at future demand for real estate in China, total volume will simply not shine as bright as in the past. Generally, the shortage of housing in China has basically been resolved. Now, the nation has entered a new stage of real estate development, with the key mission being to meet rising demand for better homes.
With the optimized COVID-19 control measures pulling the development of various industries back on track, some major risks that real estate faced last year, such as funding woes haunting housing developers and worries among buyers over housing investment, will gradually ease this year. The government has also been injecting impetus to support the sector. Therefore, there's more than a puncher's chance we'll witness a faster-than-expected recovery of real estate in China.
The views don't necessarily reflect those of China Daily.
The writer is a senior researcher at the National Academy of Development and Strategy.