Regional FTAs, shrinking negative lists bode well for trade activity
By Chen Jianqi | China Daily | Updated: 2023-02-06 09:26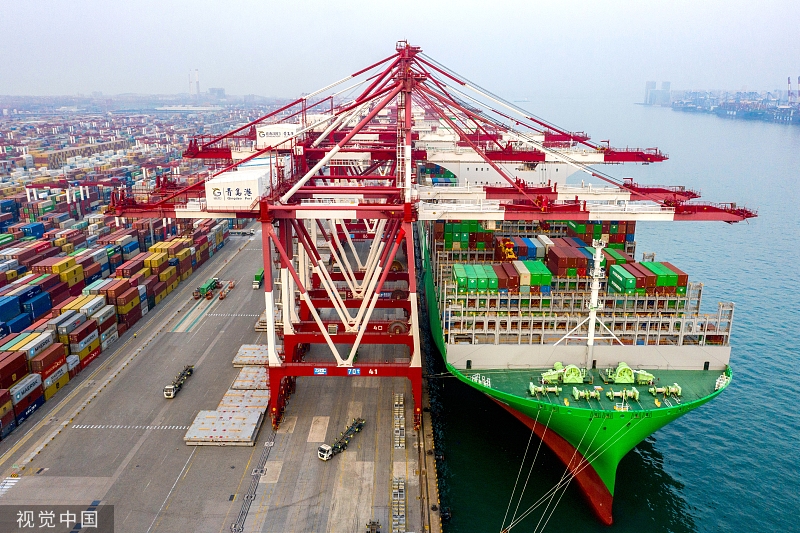 Since entering into force at the start of last year, the Regional Comprehensive Economic Partnership agreement, which spans 15 economies in the Asia-Pacific region, has been accelerating regional economic integration on multiple fronts including spurring trade and investment growth along with stabilizing regional industrial and supply chains.
During the first 11 months of 2022, China's exports to other RCEP member countries hit 6 trillion yuan ($889.9 billion), rising 17.7 percent year-on-year, or 5.8 percentage points higher than the overall growth rate of China's exports. Total import and export value between China and other RCEP member countries was 11.8 trillion yuan during the period, increasing 7.9 percent on a yearly basis.
China's nonfinancial outbound direct investment in other RCEP member countries was $16.43 billion during the period, surging 20.7 percent year-on-year. China's actual use of foreign direct investment from other RCEP members was about $21.9 billion, up 40.2 percent year-on-year. In particular, FDI in actual use from South Korea and Japan increased 122.1 percent and 33.1 percent year-on-year during the period, respectively.
Thanks to its new standards such as cumulative rules of origin, the RCEP agreement creates an important institutional environment for members to deepen cooperation in industrial and supply chains, which enables them to give full play to their comparative advantages, promotes the improvement of the international division of labor, and stabilizes regional industrial and supply chains.
The agreement also helps deal with the "spaghetti bowl effect "caused by various overlapping free trade arrangements in the region and provides a basis for Asian economic integration.
As a modern, comprehensive, high-quality, mutually beneficial and large-scale regional free trade agreement, the RCEP features high-level provisions in areas such as intellectual property rights, e-commerce and government procurement. China's participation in the RCEP indicates the country's adoption of relatively high-level openness with regards to rules and standards.
Under the RCEP framework, tariff levels will be significantly lowered. More than 90 percent of trade in goods covered will eventually see zero tariffs, and more importantly, such tariff eliminations will be completed immediately or within 10 years, which means the FTA will achieve complete liberalization of goods trade in the region in a relatively short period of time.
The 15 RCEP member economies have all adopted a negative list approach and made relatively high-level openness commitments regarding foreign investment access in five non-service industries of manufacturing, agriculture, forestry, fishery and mining, which has greatly improved the policy transparency of all parties.
For the first time, China made investment openness commitments in the form of its negative list under an FTA, which is of great significance for the country to improve its foreign investment management system based on the pre-establishment national treatment plus the negative list model — all as part of efforts to expand market access for foreign investment.
However, as China actively seeks to join the high-standard economic and trade agreements, such as the Comprehensive and Progressive Agreement for Trans-Pacific Partnership, the country is setting higher openness goals.
Compared with the RCEP, the CPTPP involves higher-standard openness in sectors including State-owned enterprises and designated monopolies, labor, transparency and environmental standards.
The CPTPP provisions also lead to higher levels of tariff liberalization and have more restrictions on subsidies. There are also differences in provisions of the two agreements involving intellectual property rights, e-commerce and the rules of origin.
Based on the openness achievements China has made through implementation of the RCEP, the country's next-phase high-level opening-up will likely focus on pursuing high-level tariff reductions and elimination. It may also extend the applications of the negative list-based approach to open up more industries, sectors and economic activities that are not stipulated on negative lists to foreign businesses, which will not only raise openness in trade in goods, but also increasingly improve openness in the services and investment sectors.
China will also likely include new FTA provisions on issues that have not been extensively covered in the FTAs it has already inked. These issues could include the digital economy, environmental protection, labor standards, competition policies and anti-corruption measures.
The country is also expected to deepen domestic reforms to align with high-standard international economic and trade rules.
Facing the complexities and challenges in global situations, China must raise its openness levels in trade and investment with its trading partners to accelerate the establishment of the new dual-circulation development pattern, which takes the domestic market as the mainstay while letting domestic and foreign markets reinforce each other.
However, China must better implement the negative list system while reducing the number of items on such lists.
In 2013, China launched its first negative list for foreign investment with around 190 items in the China (Shanghai) Pilot Free Trade Zone. Since then, items on the negative list for FTZs have been cut to 27 in the latest version after seven rounds of reductions, while that on the national negative list has been reduced from 93 to 31.
In addition, the FTZ negative list has no items regarding foreign investment access to the manufacturing industry and the country has also launched the first negative list for cross-border services trade at Hainan Free Trade Port.
China should also keep deepening reform and expanding opening-up. More work should be done in the FTZs to explore innovative achievements that can be replicated and promoted, and lay a solid foundation for high-level opening-up.
So far, more than 3,400 pilot reform measures have been carried out in the FTZs, forming an important mechanism for mutually promoting reform and opening-up. A total of more than 1,700 institutional innovations have been replicated and promoted in the FTZs, and 278 institutional innovations have been replicated and promoted at the national level.
The country's standards on economic and trade cooperation are expected to constantly improve, as China has signed 19 FTAs with 26 countries and regions and implemented the new Foreign Investment Law.
The views don't necessarily reflect those of China Daily.
The writer is a professor at the Party School of the Central Committee of the Communist Party of China (the National Academy of Governance).