Zhejiang cities in recruitment drive to fulfill factory orders
By Ma Zhenhuan in Hangzhou | China Daily | Updated: 2023-02-06 09:31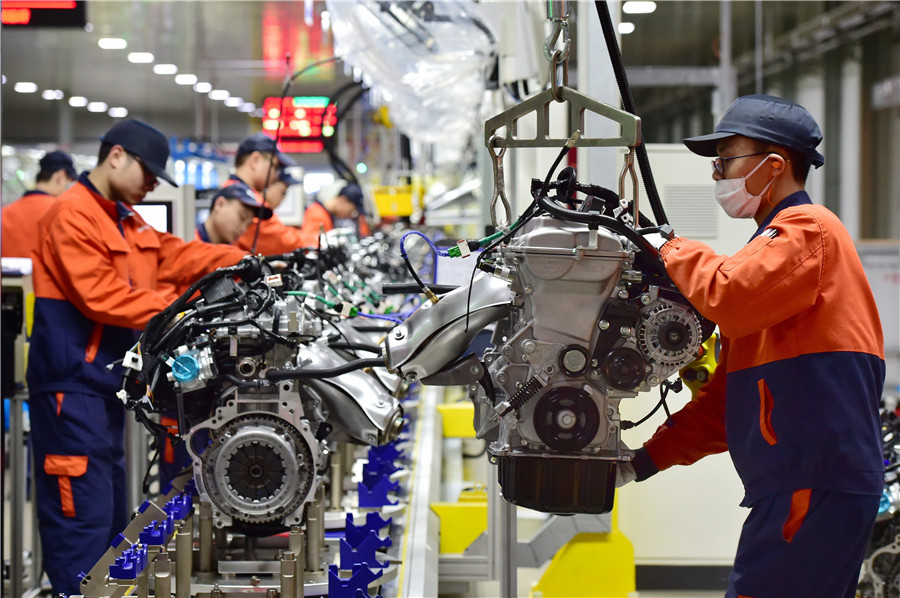 Only 80% of workers expected to return to their posts after holiday, survey says
Cities in Zhejiang are working hard to entice workers from outside the province through the launch of a series of recruitment activities following Spring Festival.
The cross-provincial recruitment drive highlights government recruitment policies, business requirements and efforts to improve the working environment, to present Zhejiang as one of the most popular choices for workers and graduates.
In Ningbo, the local government arranged for 11 key foreign trade enterprises to go to Guizhou province on the last day of the holiday, in a bid to alleviate employment shortages, according to the Ningbo bureau of human resources and social security.
"We want to recruit more capable front-line laborers," said Shu Xiaoyu, assistant to the general manager of Ningbo Deye Technology.
The company is principally engaged in large-scale technology manufacture integrating R&D, design, production, sales and services, with solar inverter systems.
"We estimate that there will be a 15-fold increase in orders this year," Shu said, adding that this would require an additional 200 front-line workers. The company's foreign trade orders have been booked up until March 2024.
While nationwide efforts are being pooled to develop the economy following the easing of epidemic controls, the shortage of employees is one of the most important challenges facing companies preparing to restart production after Spring Festival.
Before the holiday, a survey was conducted by the Ningbo human resources bureau of 3,147 key companies, especially foreign trade companies.
The results showed that the return rate of employees after the holiday was expected to be around 80 percent, hinting at a potential shortage of employees at some enterprises with large bulk orders.
"We have sent five teams this year to Hunan, Anhui and Guizhou provinces to conduct recruitment," said Shen Yihui, deputy director of the employment center in Cixi, a county-level city administered by Ningbo.
In the provincial capital Hangzhou, collaboration between Hangzhou and Guangyuan in Sichuan province is part of national strategies of collaboration and paired assistance between China's eastern and western regions.
The two cities deepened collaboration before this year's Spring Festival, to involve sectors such as machinery manufacturing, biomedicine, logistics, housekeeping services, food processing and hotel management. This plays an important role in promoting coordinated regional development and common prosperity.
Zhejiang Zhaodi Prefabricated Construction Technology took part in the East-West Labor Service Cooperation Special Recruitment Fair, which was held recently at the Guangyuan Human Resources Service Industrial Park.
"We will provide free board and lodging to workers, plus major social security benefits and housing funds. And of course, we pay a full attendance bonus," explained Li Sen, the company's recruiting director.
Zhejiang Zhaodi arranged for employees in 200 different positions ranging from mechanics and cage-weaving workers to participate in the fair. Li added that the salary offered was between 8,000 yuan ($1,184) to 11,000 yuan, for which a minimum of a junior high school education was required.
On the same day, a team from Zhejiang's Quzhou city was dispatched to the human resources and social security bureau in Loudi in Hunan province to recruit workers and graduates, said Tan Xinzhong, deputy director of the talent office of Quzhou's Party committee.
Quzhou plans to set up designated labor recruitment workstations in Dingxi and Baiyin in Gansu province and carry out recruitment activities in Xiangxi Tujia and Miao autonomous prefecture in Hunan province and Lianyuan, a county-level city in Loudi.
In Quzhou, the local government sent 15 recruitment teams between Jan 24 to 30 and hopes to recruit around 5,000 people in the first quarter of this year.
The local government in Taizhou plans to visit seven provinces including Yunnan, Guizhou and Sichuan to recruit. The team from Keqiao traveled to Sichuan and Guizhou in search of workers for 800 positions.
Fang Xiaoying contributed to this story.