Turkiye mobilizes after deadly earthquake kills over 900
Xinhua | Updated: 2023-02-06 18:36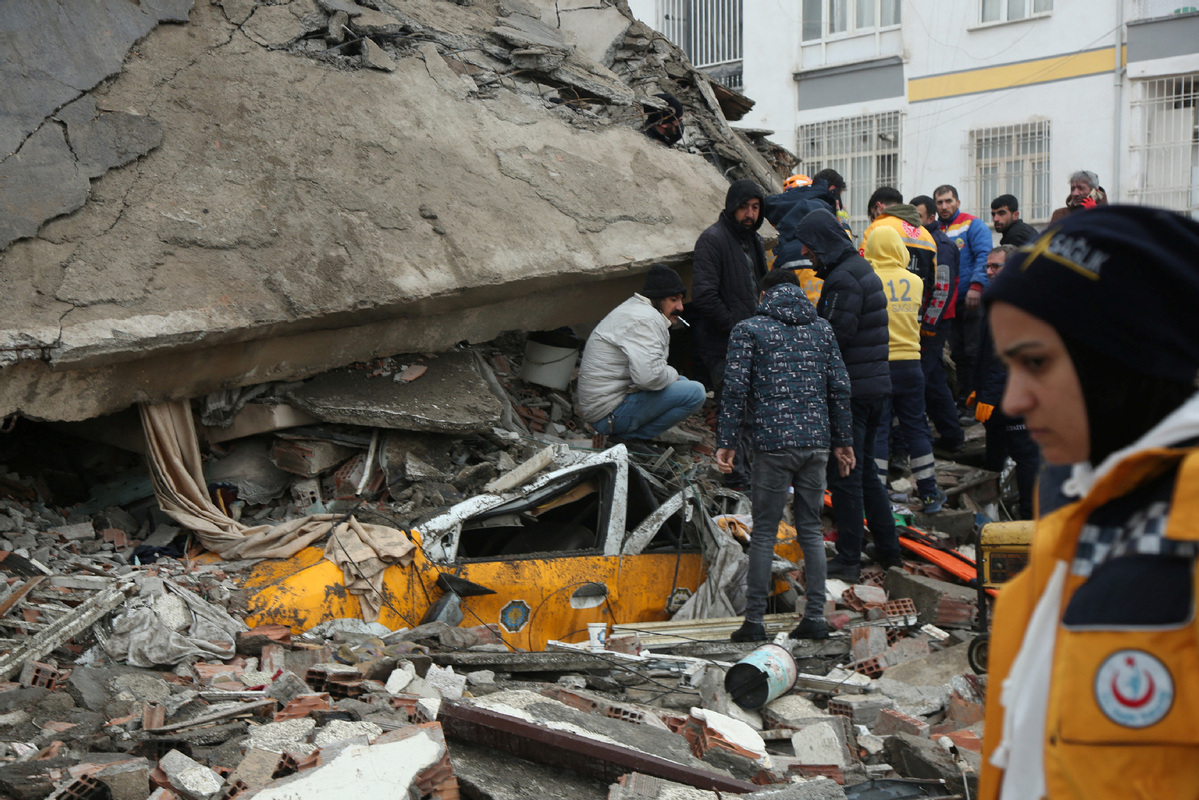 ISTANBUL - Aid poured out from Turkiye's major cities on Monday after a magnitude 7.4 earthquake struck the country's southern province of Kahramanmaras and left hundreds of people dead and thousands injured.
Some 912 people were killed and over 5,000 others injured after two strong earthquakes jolted southern Turkiye early Monday, said Turkish President Recep Tayyip Erdogan.
The earthquake occurred at 4.17 am local time (0117 GMT), followed by another magnitude 6.4 quake. Damage was reported in at least 10 provinces in southern and southeastern Turkiye.
Ali Yerlikaya, the governor of Turkiye's largest city Istanbul, said on social media that over 1,000 personnel, including healthcare workers, four search and rescue dogs and 30 tons of aid materials had been dispatched to the region, adding that 19 ambulances also departed from Istanbul.
Some 703 police officers and 376 gendarmes have also been dispatched from Istanbul to participate in search and rescue missions.
Meanwhile, city hall has dispatched its resources. Istanbul Mayor Ekrem Imamoglu told local media that 311 search-and-rescue personnel, 20 construction vehicles and two trucks that can produce thousands of meals daily are heading to the affected areas.
Imamoglu said that 26 specialized containers to meet the survivors' lavatory needs as well as sleeping bags and blankets were also ready to go. Turkiye's Disaster and Emergency Management Presidency, the department responsible for coordinating disaster relief, has dispatched Istanbul municipality aid to the southern city of Hatay.
Tunc Soyer, mayor of the western city of Izmir, also announced that the municipality's search and rescue teams, comprised of 7 vehicles and 41 personnel, have been dispatched to the southeastern province of Osmaniye.
Many provinces near the disaster area have also sent medical teams and ambulances.
The country's defense ministry has put the Turkish Armed Forces Humanitarian Aid Brigade and transport planes on standby. Defense Minister Hulusi Akar, the chief of general staff and the chief of land forces are all heading to the affected areas.
"We dispatched all our search and rescue teams to earthquake zones. We set the highest alert," Interior Minister Suleyman Soylu told reporters.
Soylu also called out for international assistance. "We've set up a fourth-level alert. This is an alarm that includes international assistance."