Aftershocks of quakes could rock the global economy
By WU YIXUE | China Daily | Updated: 2023-02-08 07:31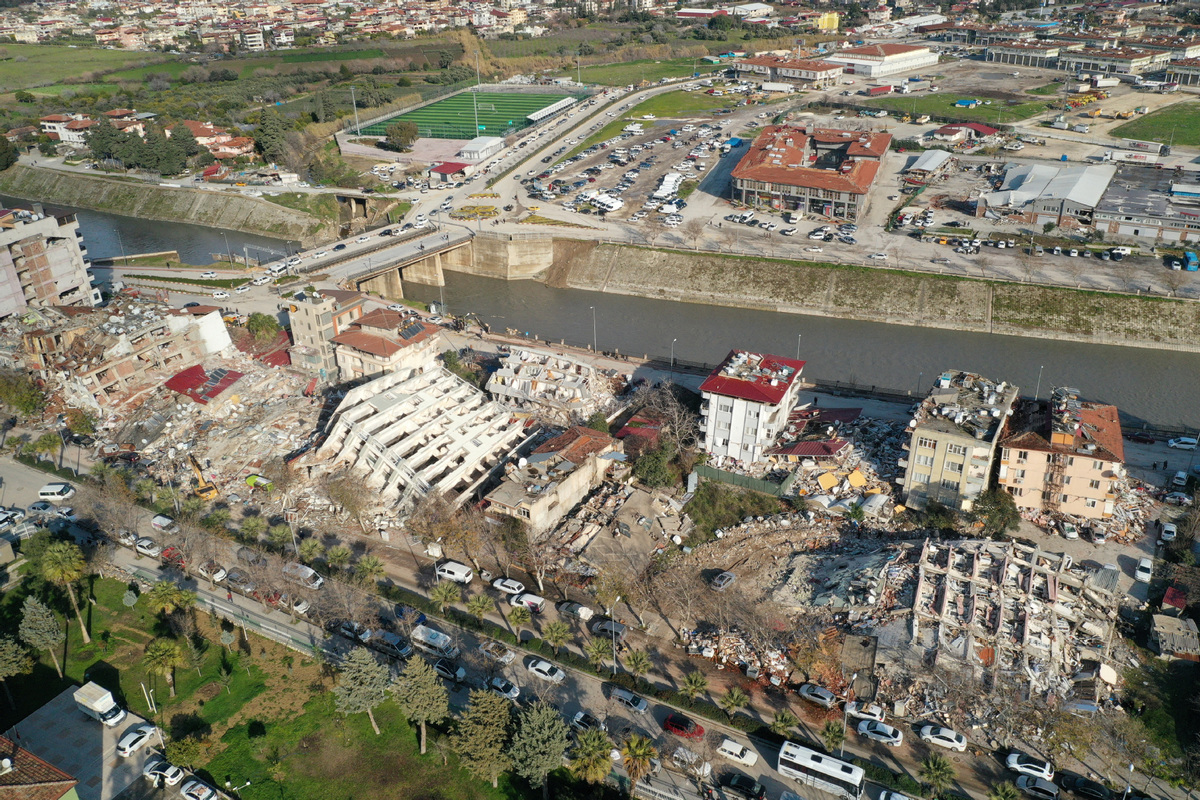 Two powerful earthquakes that rocked Turkiye and Syria on Monday have so far killed more than 5,000 people, with the death toll continuing to rise.
In messages sent to Turkish President Recep Tayyip Erdogan and Syrian President Bashar al-Assad after the quakes, Chinese President Xi Jinping expressed deep condolences and sympathies for the dead and bereaved respectively on behalf of the Chinese government and people, while hoping that the people of the two countries can rebuild their homeland at an early date.
The Chinese government immediately launched the emergency humanitarian assistance mechanism and decided to provide emergency assistance to Turkiye and Syria. The first emergency assistance fund to Turkiye will be 40 million yuan ($5.9 million), and China will also send rescue teams and medical teams, as well as provide urgently needed relief materials to Turkiye. China is also actively coordinating the delivery of urgently needed relief supplies to Syria and is accelerating the implementation of its ongoing food aid projects. The Red Cross Society of China decided the same day to provide $200,000 in emergency humanitarian assistance to each country.
Turkiye is now one of the countries hardest-hit by high inflation, with the consumer price index rising 64.27 percent in December from the same month in 2021, and high unemployment and high foreign debt seriously plaguing the local economy.
The quakes can only worsen Turkiye's economic situation. After the quakes, the Turkish lira fell to a record low of 18.85 against the dollar. A persistent trade deficit, high inflation and the depreciation of the lira will further expose the vulnerability of the Turkish economy. Also, the Turkiye government will have to invest heavily in post-disaster reconstruction.
Worse, as the Russia-Ukraine conflict has deeply affected the international food security situation, if Turkiye, with a population of more than 80 million, cannot solve its food problem itself, it could further unsettle the global grain supply-demand balance.
The international community should not underestimate the influence of the quakes on the broader global food, energy and security landscape. With their fates being interlinked, all countries, developed ones in particular, should discard feuds and extend their timely helping hands to Turkiye and other affected countries to help them overcome the natural disaster.