BP profits prompt windfall tax call
By JONATHAN POWELL in London | China Daily Global | Updated: 2023-02-08 09:55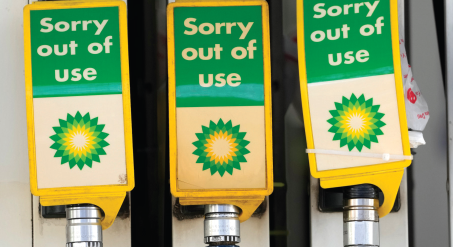 Lawmakers in the United Kingdom have renewed calls for a tougher windfall tax on energy companies following BP's announcement of record profits.
BP said on Tuesday that its profits had more than doubled, to 23 billion pounds ($27.7 billion) last year, amid surging oil and gas prices, partly due to the outbreak of conflict in Ukraine.
Other major energy companies have recorded huge profits in the past week, with Shell revealing earnings of nearly $40 billion and Exxon Mobil posting record earnings of $55.7 billion, reported the BBC.
It noted the price of Brent crude oil had reached nearly $128 a barrel following the outbreak of the conflict, but that it has since fallen back to about $80, and that gas prices have now also come down after a spike.
Soon after BP made its announcement, lawmakers, workers' unions, and lobby groups expressed anger over the profits, reported the Press Association.
Trades Union Congress General Secretary Paul Nowak said: "As millions struggle to heat their homes and put food on the table, BP are laughing all the way to the bank."
Last summer, the UK government introduced the Energy Profits Levy, a new 25-percent surcharge on the extraordinary profits the oil and gas sector is making. Last month, the surcharge was increased to 35 percent.
BP said it would pay 1.8 billion pounds in UK tax for 2022, a big increase on its previous estimate, as the UK's new higher windfall levy pushed taxes on UK profits up to 75 percent in total.
The company said it paid out nearly 10 billion pounds to shareholders and increased its dividend for the next year.
The opposition Labour Party's Shadow Climate Secretary Ed Miliband called on Britain's Prime Minister Rishi Sunak to introduce a "proper windfall tax" on energy companies.
He said: "What is outrageous is that as energy giants rake in these sums, Rishi Sunak still refuses to bring in a proper windfall tax."
Last week, Sunak told Parliament the idea of a windfall tax sounded "superficially appealing" but that it would ultimately deter investment.
BP also announced it would miss its target for reducing oil and gas output, having previously promised that its emissions would be 35-40 percent lower by the end of this decade.
It said it was now targeting only a 20-30 percent cut, as it needed to keep investing in oil and gas to meet current demands.
The company also announced an adjustment to its green investment strategy, revealing plans to invest up to $65 billion between 2023 and 2030 into renewables and low-carbon energy products.
Bernard Looney, BP's chief executive, told Bloomberg TV: "The energy trilemma is we must have cleaner energy, for sure, and at the same time we must make sure that energy is secure, reliable and we must make sure that energy is affordable."