Lucky Losar festival pads pockets of Tibet's traders
By DAQIONG and PALDEN NYIMA in Lhasa | CHINA DAILY | Updated: 2023-02-08 18:41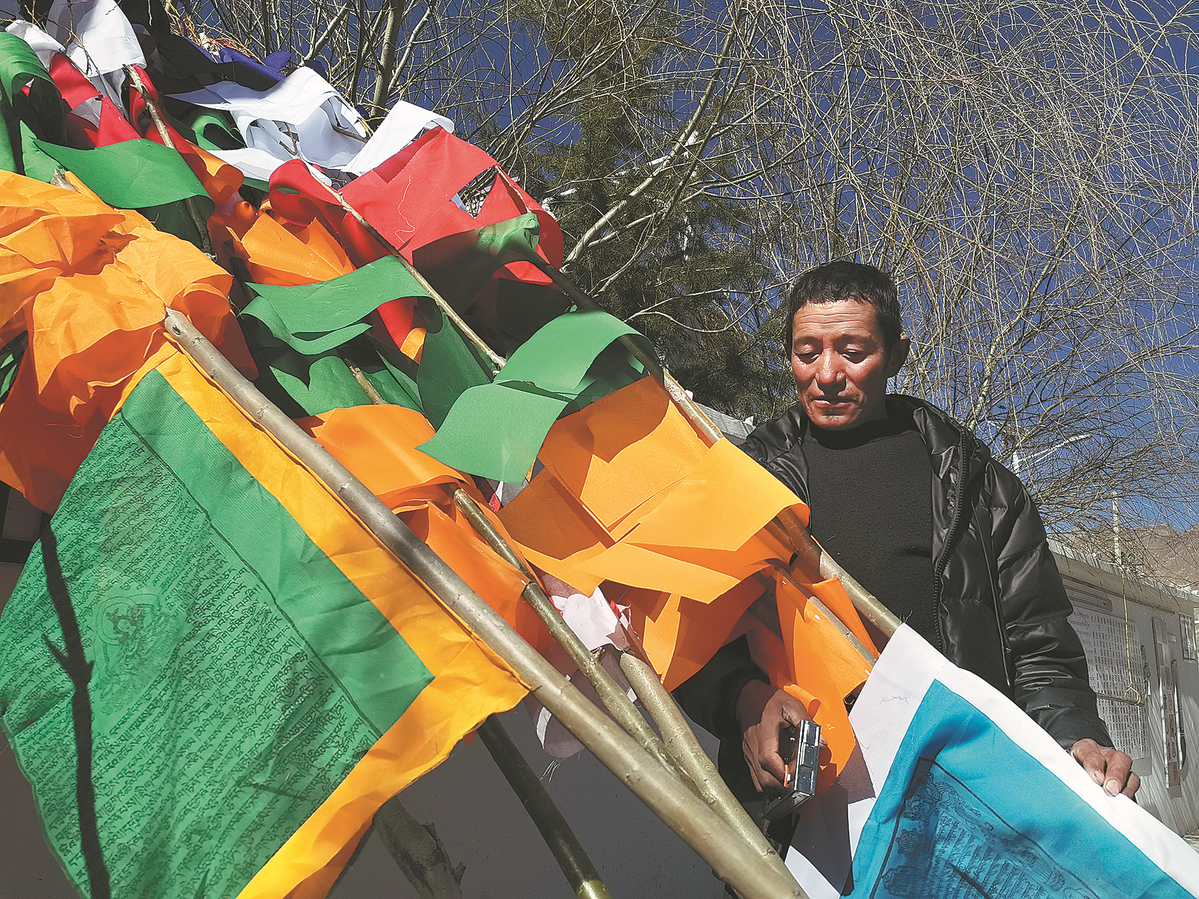 Ahead of the Losar New Year festival, business is booming in Lhasa, Tibet autonomous region, as Tibetans gear up to celebrate one of their most important holidays.
Stalls were swamped as people prepared to usher in the Year of the Rabbit on Losar New Year, which will fall on Feb 21 this year. Residents thronged one of the biggest wholesale markets in Lhasa, the Tromzikhang Shopping Mall, making purchases. Stalls selling yak meat, wooden bowls, butter, candy, dried fruit, prayer flags and handmade pastries could be seen everywhere.
Local products from elsewhere across the region are being sold in different markets. Chile powder from Chamdo, mutton and cheese from Shigatse, dried yak jerky from Nagchu and pork from Nyingchi are popular items on people's shopping lists.
Spring Festival and the Tibetan Losar New Year make big contributions to the local economy and tourism. During this year's Spring Festival holiday from Jan 21 to 27, regional capital Lhasa received nearly 287,000 tourist visits, an increase of 18.8 percent year-on-year, Tibet Daily reported.
During the same period, tourism revenues exceeded 285 million yuan ($42 million), up 15.8 percent year-on-year, according to the city's tourism development bureau.
Dawa Drolkar, a local trader selling potatoes, said business has boomed this week as more people geared up to shop.
"I feel excited as Losar is getting closer. People spend more ahead of the festival, so I want to make the most of the opportunity," she said.
Losar symbolizes the beginning of a new year, she added. "And we usually make good preparations, and have many gatherings and parties."
Migmar Tsering, a resident of Lhasa's countryside, said that life for his family has greatly improved in recent years, and so more choices are available for Losar shopping.
"The main family expenditures are meat and jewelry. I have bought a lot of yak meat and some gold jewelry for my family as gifts," he said.
Referring to good fortune, he added, "I want to send Tashi Delek ('good luck') wishes to all. I hope everybody will be healthy and happy and have good luck in the new year."
Because of Tibet's many differences in elevation and the varied harvesting times, Losar celebrations are not the same across the region. While most people mark Losar on the first day of the first month on the Tibetan calendar, some residents of the cities of Shigatse and Nagchu celebrate Losar at the start of the 12th month, while people in eastern Nyingchi and a few places in Ngari prefecture celebrate Losar in the 10th month.