ASEAN reaffirms commitment to regionalism
By PRIME SARMIENTO in Hong Kong | China Daily | Updated: 2023-02-09 07:07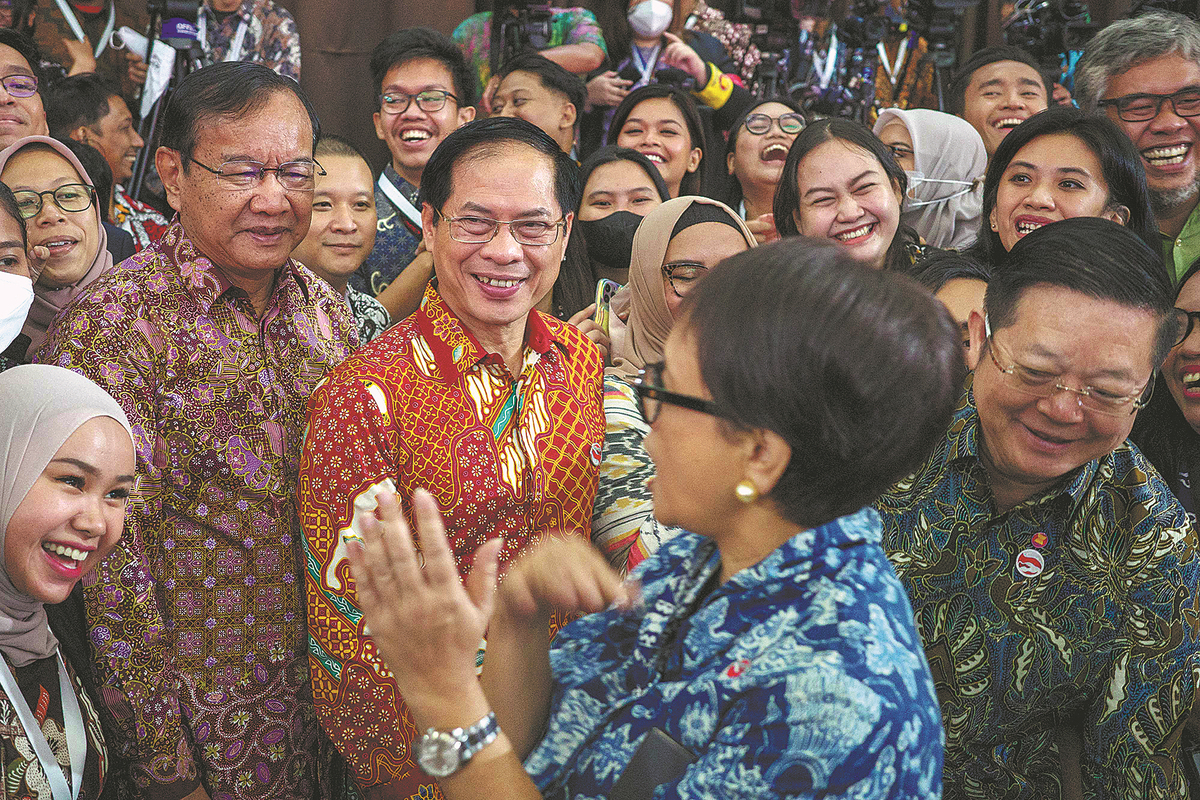 Indonesia has begun its chairmanship of the Association of Southeast Asian Nations, with its member countries reaffirming their "strong commitment" to regionalism and multilateralism. This is an indication of how the regional bloc will confront the challenges to its economy and security, analysts said.
Indonesia is heading the region's largest forum at a time when ASEAN members are recovering from the pandemic, while battling food inflation and the harsh impact of climate change. These were some of the key issues on the agenda at the ASEAN Foreign Ministers' Retreat held in Jakarta from Feb 2 to 4.
It was also the first time that a delegation from Timor-Leste had attended a ministerial-level meeting of ASEAN. The association has agreed in principle to admit Timor-Leste as its 11th member in November. Timor-Leste's Minister of Foreign Affairs and Cooperation Adaljiza Magno said it is an "honor and privilege" to participate in the meeting and thanked all ASEAN member countries "for their wise decision to accept us", Xinhua News Agency reported.
Indonesia showed commendable leadership and spearheaded the G20 Summit in November despite several geopolitical challenges such as the Russia-Ukraine conflict, and will once again be expected to produce similar success during its ASEAN chairmanship, analysts said.
"Indonesia's G20 presidency amid ongoing geopolitical crisis was considered successful and provided leverage in managing its ASEAN chairmanship," said Shofwan Al Banna Choiruzzad, assistant professor at the international relations department at the University of Indonesia. However, Indonesia's G20 success also meant that there is increased pressure for Indonesia to lead ASEAN in solving difficult issues in the region, such as the Myanmar crisis, he said.
"We need to manage expectations from different stakeholders," Shofwan said.
For this year's ASEAN summit, Indonesia has the "legitimacy and capacity" to serve as leader of the regional group, said Radityo Dharmaputra, lecturer in the international relations department of Airlangga University in Indonesia.
Dharmaputra said Indonesia can uphold the principle of ASEAN centrality by engaging in critical issues and offering the bloc as a platform for negotiations.
The principle of ASEAN centrality refers to advancing and implementing policies based on regional interests. With this, ASEAN engages with a number of other countries at its summits.
Lina Alexandra, head of the international relations department at the Centre for Strategic and International Studies in Jakarta, said many of the issues included in the G20 Bali Leaders' Declaration can be followed in this year's summit, which is scheduled to be held in November.
"Action is needed and not just declarations," said Alexandra, noting that G20 issues can also be part of the ASEAN agenda under Indonesia's chairmanship.
Leonardus Jegho in Jakarta contributed to this story.