Agricultural inspection defends against crop diseases and pests
By Li Lei | CHINA DAILY | Updated: 2023-02-09 09:33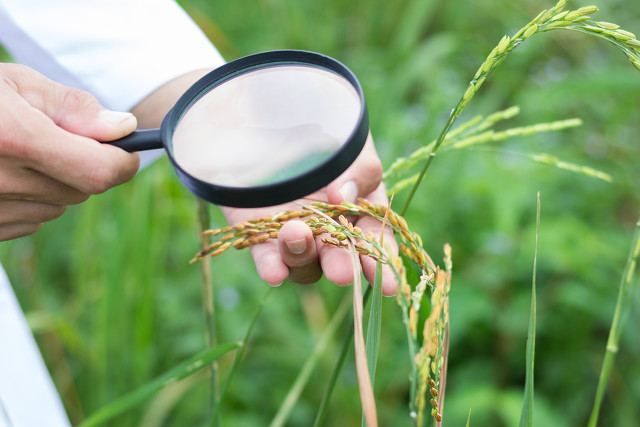 Agricultural authorities have launched a sweeping inspection aimed at spotting destructive crop diseases and pests on the tropical island province of Hainan, seat of a sprawling national breeding base with increased global sharing of germplasm.
Germplasm, or seed matter, are genetic resources such as seeds or animal tissue that can aid in the breeding of crops or livestock.
The inspection will zoom in on the National Seed Breeding Base in Hainan, and be performed by inspectors from major grain growing areas including the Inner Mongolia autonomous region, and Heilongjiang, Jiangsu, Hubei and Gansu provinces, according to the Ministry of Agriculture and Rural Affairs on Monday.
The upcoming inspection, the fourth of its kind since 2019, will focus on viruses and insects affecting corn and some vegetable species, the ministry said in a release.
The ministry said that such inspections now cover the entire breeding base, and more than 300 inspectors had participated over the past four years. The samples they had collected jumped 50 percent, while the areas of diseased fields dropped 57 percent.
A paper published by an administrator of the base in October said a large number of breeders swarm to the tropical island between October and December each year, when most parts of China are gripped by cold weather.
Some 16,700 hectares of fields need to be inspected yearly, resulting in a "serious shortage" of hands, it said.
The ministry said that the prospect of a biological invasion has risen with the advance of national projects such as the Hainan Free Trade Port and the construction of the base, which is also referred to as the "Silicon Valley for breeding".
The developments have led to increased introduction of exotic seeds and seedlings, and foreign breeders into Hainan, the ministry explained.
There has also been a surge in crop samples being shipped to the island from across the country, especially in colder months, raising threats of a biological invasion, it said.
The ministry pledged to use new methods for the upcoming inspection and warned of serious punishment for misconduct that results in further spreading of crop diseases.
As part of an effort to invigorate the seed industry, the ministry has launched a crackdown on faulty and fake grain seeds, and ramped up research into core germplasm resources with an aim to reduce reliance on imported food species.
Gou Tianlai, a professor at Beijing University of Agriculture, said rigorous inspections are common at breeding bases worldwide.
He said the inspections represent stepped-up scrutiny over seed security, and the increased sharing of resources with foreign partners made such inspections more crucial.
"Imported plant epidemics have multiple routes," he said.
Apart from seeds hitchhiking on samples donated by foreign partners, plant viruses and pests can also make inroads into China through smuggled or imported food, and quickly spread across the nation assisted by convenient e-commerce and logistics, Gou said.