Zelensky calls for more weapons on UK visit
By JULIAN SHEA in London and CHEN WEIHUA in Brussels | China Daily Global | Updated: 2023-02-09 09:35
President repeats appeal for planes as countries pledge 100 Leopard 1 tanks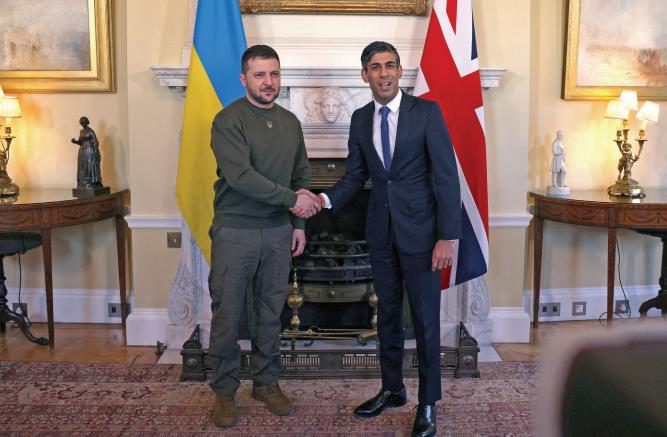 Ukraine's President Volodymyr Zelensky made a rare trip out of his country on Wednesday, daring to visit the United Kingdom in a bid for more advanced Western weapons.
It's his first trip to the UK since the conflict with Russia began nearly a year ago and his second confirmed journey outside Ukraine since then.
The UK is one of the biggest military backers of Ukraine and has sent the country more than $2.5 billion in weapons and equipment.
Zelensky held talks with Britain's Prime Minister Rishi Sunak before addressing the Parliament and meeting with King Charles III and UK military chiefs.
Addressing Parliament, Zelensky said how the UK had been "among those very few (countries) who helped before the large scale invasion began," and he renewed his call for fighter jets.
"I appeal to you and the world with simple and yet most important words: Combat aircraft for Ukraine are wings for freedom," he said.
His visit came on the same day that Sunak announced that the UK would send more military equipment to help Ukraine deal with a possible renewed spring offensive, and also expand its military training support to include marines and fighter pilots.
"President Zelensky's visit to the UK is a testament to his country's courage, determination and fight, and a testament to the unbreakable friendship between our two countries," said Sunak.
United States President Joe Biden said last week that the US will not give fighter jets to Ukraine, although the Biden administration had previously said it would consider the request for Lockheed Martin F-16 fighters.
Biden's decision followed Germany's Chancellor Olaf Scholz saying earlier that he would not send aircraft to Ukraine, over fears it would escalate the conflict.
On Tuesday, Germany, Denmark, and the Netherlands announced plans to deliver at least 100 Leopard 1 tanks to Ukraine in the coming months while Russia accused the US and its allies of trying to prolong and escalate the conflict.
A joint statement by the defense ministers of the three European Union member states said that they are going to provide refurbished Leopard 1 tanks of the older A5 type from industrial stocks to Ukraine.
Leopard 1 is no longer in production. It was West Germany's primary main battle tank in the 1960s and 1970s until it was succeeded by the faster Leopard 2, which is more heavily armored, with a more powerful main gun and targeting systems.
The German government's security council has already approved the delivery of 178 Leopard 1 tanks for Ukraine from industrial stocks, with the bulk to be delivered next year.
Russia has repeatedly warned that Western arms supplies would only escalate the conflict.
"The US and its allies are trying to prolong the conflict as much as possible," Russia's Defense Minister Sergei Shoigu said during a conference call with military officials on Tuesday.
Shoigu said that "such steps are dragging NATO countries into the conflict and could lead to an unpredictable level of escalation".