Secondhand luxuries hit shelves in communities
By ZHENG YIRAN | China Daily | Updated: 2023-02-15 08:55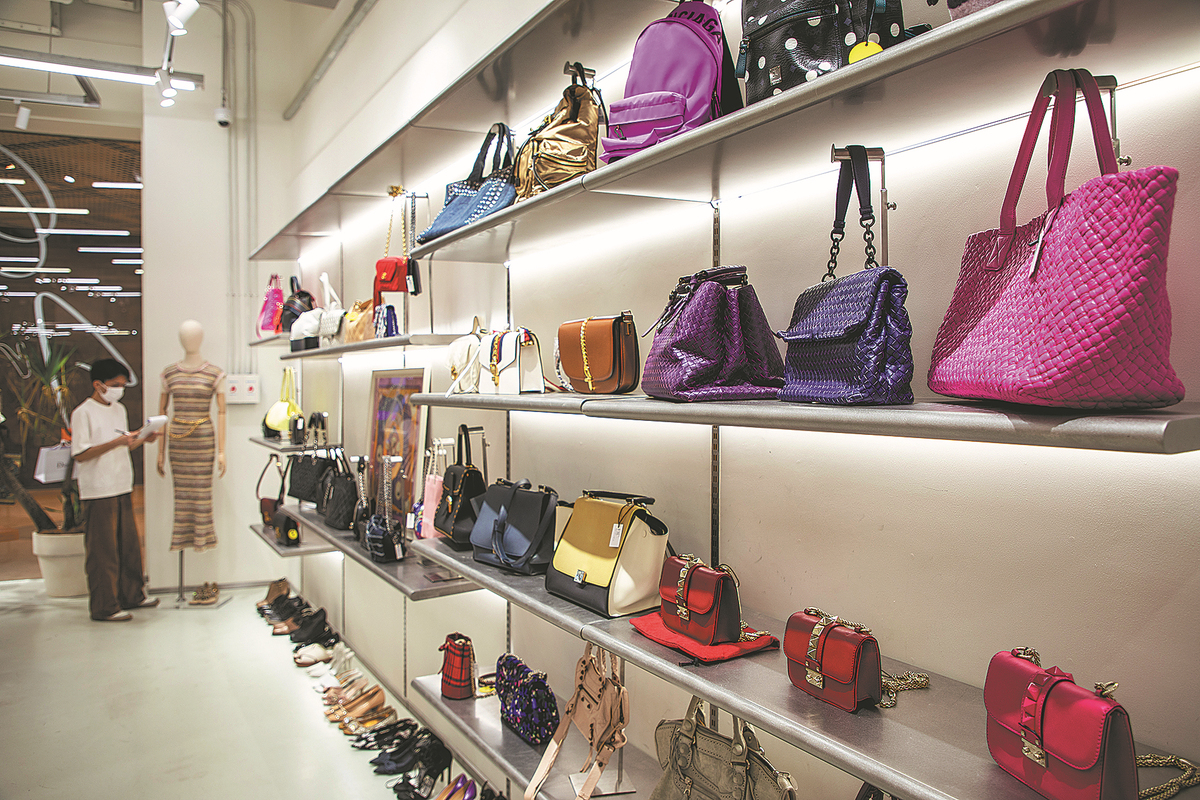 Despite the impact of COVID-19, China's luxury market has been flourishing and is showing on new trends in recent years, especially secondhand luxury trading, supported by relatively lower prices and a large consumer base.
Having been engaged in the luxury trading sector for years, Liu Min, based in Chengdu, Sichuan province, described secondhand luxury trading in communities as "bamboo shoots", and is attracting more entrepreneurs nationwide.
"In some communities in Chengdu, dealers engaged in the sector are seen everywhere — from small Western-style buildings to the surrounding alleys," Liu said.
Boasting low prices and operating costs, secondhand luxury trading in communities is becoming a major trend in China, experts said.
"With fewer concerns over operating costs, secondhand luxury dealers can sell luxury goods at relatively low prices, which are barely seen in booths in malls, in communities," said Lyu Xiaotong, an independent investment expert based in Wuhan, Hubei province.
"Although e-commerce shopping is prevalent, once the luxury goods are put on online shelves, they will be facing more competition as well," Lyu said.
Zhang Yi, based in Huzhou, Zhejiang province, who used to be engaged in overseas shopping business, opened a secondhand luxury store in a community recently.
Though still called a store, the place is more like a tea room for Zhang and his customers to chat and drink. As he tells his shop assistants, Zhang said he has been operating his store in a more "pleasant way" for both the consumers and himself, instead of choking his buyers with tons of product introductions.
"Apart from enjoying lower rent, opening a store in a community makes us closer to both sellers and consumers. We can get and sell nice luxury goods at nice prices," Zhang said.
Zhang's operating pattern is common among dealers nationwide, as it indeed works well among consumers.
Fang Xiaoyun, a 30-year-old office clerk in Beijing, said: "I often visit the stores near communities, where luxury goods are offered at more affordable prices. Shop assistants in such stores are always friendly.
"I just bought a secondhand LV bag at 8,000 yuan ($1174.2) at a secondhand luxury shop nearby where I live."
Ying Mu, a luxury analyst, said: "China's huge market means huge space for diversified business models. With more diversified market patterns, secondhand luxury trading will gain popularity gradually."
According to a recent survey conducted by market consultancy Deloitte, the revival of offline luxury transaction models, which emphasizes shopping experience, has become a more obvious trend recently.
The survey noted that although online platforms are developing rapidly, consumers still feel that brick-and-mortar retail has irreplaceable advantages.
Among the consumers standing for brick-and-mortar stores, up to 38 percent of the interviewees think that taking away goods right away is the main reason for shopping at a physical store. Some 37 percent think that products sold at physical stores are more guaranteed in quality, while 35 percent think checking the products in person is the key reason.
Shi Songpo, vice-president of Lock Capital, said: "High-end communities are the main 'battlefield' for secondhand luxury dealers and they should secure as many stable sourcing channels as possible. Good customer relations are also key for such a business model.
"Burgeoning though the market is, communities are still relatively small for long-term development. Dealers should develop their businesses to larger-scale sales models like chain stores."
The 2022 White Paper on China's Cyclical Fashion Industry, issued by the Central University of Finance and Economics, Sina Fashion and secondhand luxury trading platform Hongbulin forecast that by 2025, China's secondhand luxury market will surpass 100 billion yuan.
According to a recent report jointly issued by the Luxury Specialized Committee of the China General Chamber of Commerce and Yaok Institute, in 2021, China's luxury market surged by 18 percent year-on-year to $146.5 billion.