Wary Ohio town wants answers over derailment
China Daily Global | Updated: 2023-02-17 09:19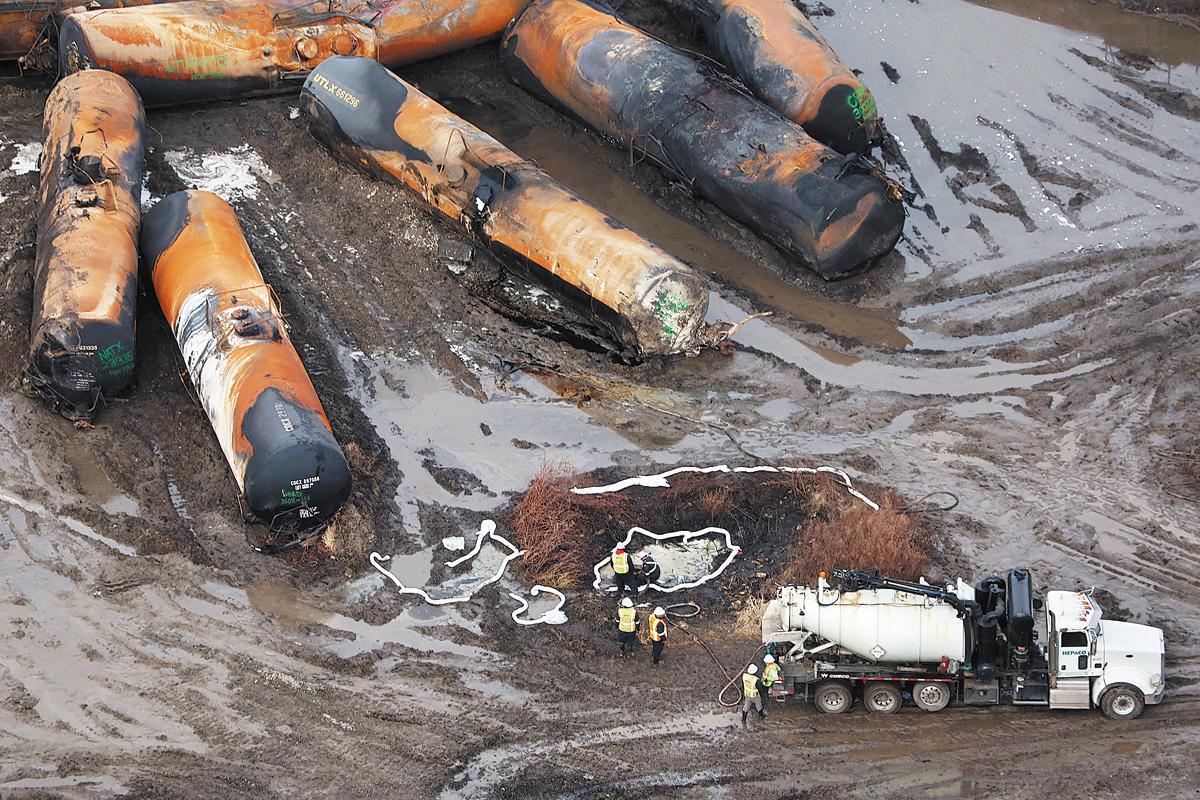 The derailment of a train carrying hazardous materials in Ohio, the United States, earlier this month is continuing to raise questions and fuel public distrust of authorities.
At least 38 cars of the Norfolk Southern freight train, including 11 carrying toxic chemicals, derailed in East Palestine, an Ohio town on the state's border with Pennsylvania, on the night of Feb 3.
On Wednesday, local residents upended by the derailment packed a school gym to seek answers on whether they were safe from toxic chemicals that spilled or were burned off, The Associated Press reported.
Hundreds of people gathered to hear state officials insist yet again that testing shows the air in East Palestine is safe to breathe so far, and promise that air and water monitoring will continue, according to the AP.
Michael Regan, administrator of the US Environmental Protection Agency, is scheduled to visit the town on Thursday to assess the situation and hear grievances.
Ohio Attorney General Dave Yost told Norfolk Southern on Wednesday that his office is considering legal action against the rail operator.
At a news conference on Tuesday, Ohio Governor Mike DeWine said the train was not considered to be carrying "highly hazardous materials" and, hence, the state was not notified in advance that it would be passing through.
"This is absurd, and we need to look into this. Congress needs to take a look at how these things are handled," he said.
According to the US National Transportation Safety Board, 38 rail cars derailed and a fire ensued, damaging an additional 12 cars. A total of 20 rail cars were carrying hazardous materials, 11 of which derailed.
Five of the derailed "hazmat cars" were carrying vinyl chloride, a colorless gas that burns easily and is industrially produced for commercial use. There were no reported fatalities or injuries.
Fears of possible explosions prompted the evacuation of hundreds of residents, and a so-called "controlled burn" of the chemicals on Feb 6 released toxic — and potentially deadly — fumes into the air.
The Ohio Department of Natural Resources estimates that spilled contaminants affected more than 11.2 kilometers of streams and killed some 3,500 fish, mostly small ones.
Norfolk Southern announced on Tuesday that it is creating a $1 million fund to help the community, while continuing remediation work, including removing spilled contaminants from the ground and streams, and monitoring air quality.
An estimated 4.5 million metric tons of toxic chemicals are transported by rail each year, according to the US Department of Transportation.
The US Bureau of Transportation Statistics, a branch of the department, which has been tracking train derailments since 1975, found that between 1990 — the first year the statistics agency began tracking derailments and injuries each year — and 2021, there have been 54,539 accidents in which a train derailed, an average of 1,704 derailments per year.
The Ohio incident is only "the tip of the iceberg", Ron Kaminkow, general secretary of the cross-union group Railroad Workers United, was quoted as saying by The Guardian. "If something is not done, then it's going to get worse, and the next derailment could be cataclysmic," he said.
Xinhua and Agencies contributed to this story.