High readings of chemicals after crash
By AI HEPING in New York | China Daily | Updated: 2023-03-06 07:49
Scientists warn of lingering impacts amid worries among townspeople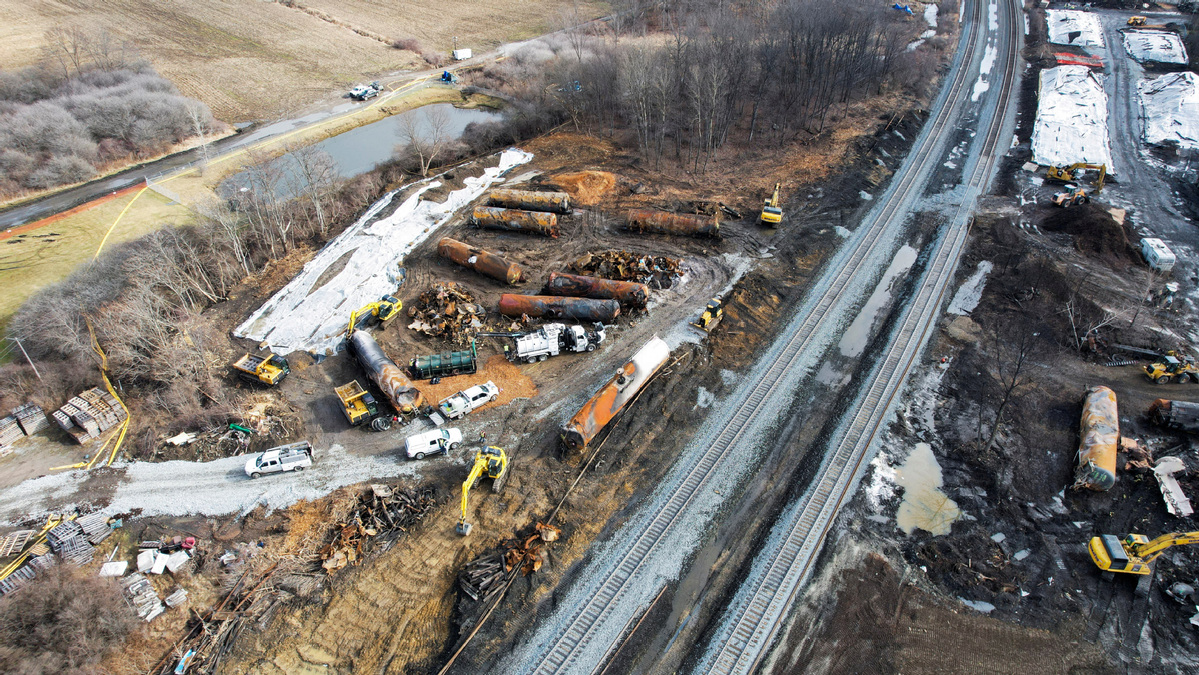 The train derailment in Ohio last month released dozens of chemicals, and nine of them are in a higher concentration than would normally be found in the area, scientists say.
On Feb 3, 38 cars of a Norfolk Southern freight train in East Palestine, in northeast Ohio near Pennsylvania, derailed, and several of the train's cars carrying hazardous materials burned.
Though no one was injured, nearby neighborhoods in both states were imperiled. The crash prompted an evacuation of about half the town's 5,000 residents, a multigovernmental emergency response and lingering worries among villagers of long-term health impacts.
Scientists of Texas A&M University and Carnegie Mellon University in Pennsylvania said on Friday that if the levels of some of the chemicals remain high, they could pose challenges to residents' health in the long term.
"It's not elevated to the point where it's necessarily like an immediate 'Evacuate the building' health concern," Albert Presto, an associate research professor of mechanical engineering in the Wilton E. Scott Institute for Energy Innovation at Carnegie Mellon University, told CNN.
"We don't know necessarily what the long-term risk is or how long that concentration that causes that risk will persist," said Presto, who is working on the university's chemical monitoring effort with a mobile laboratory in East Palestine.
The analysis has found that the highest levels were of acrolein, a herbicide used to control plants, algae, rodents and microorganisms.
It is a toxic chemical that can cause inflammation and irritation of the skin, respiratory tract and mucous membranes, the US Centers for Disease Control and Prevention said.
Toxic combustion
While acrolein was not on the list of chemicals carried on the derailed train cars, it can be created during the combustion of fuels, wood and plastics, the International Agency for Research on Cancer said.
The scientists found that values of benzene, toluene, xylenes and vinyl chloride were below the minimal risk levels for intermediate exposures as set by the Agency for Toxic Substances and Disease Registry.
The team said no "hot spots" were found in their mobile sampling and that the analysis corroborates data collected by the federal Environmental Protection Agency between Feb 8 and Feb 22.
Some in East Palestine say they continue to experience symptoms such as headaches, vomiting, dizziness and persistent coughs.
On Friday the Ohio Health Department issued the results of surveys conducted at its East Palestine Health Assessment Clinic, as well as door-to-door visits by the US Health and Human Services Department.
A total of 168 After Chemical Exposure community surveys were completed, with the following symptoms reported most: 74 percent of people said they experienced headaches, 64 percent reported anxiety, 61 percent reported coughing, 58 percent listed fatigue, and 52 percent said they had irritation, pain or burning of their skin.
Agencies contributed to this story.