Media report: Migrant children exploited in US
By AI HEPING in New York | China Daily Global | Updated: 2023-03-06 09:06
Some unaccompanied minors forced into jobs, leading to injuries, deaths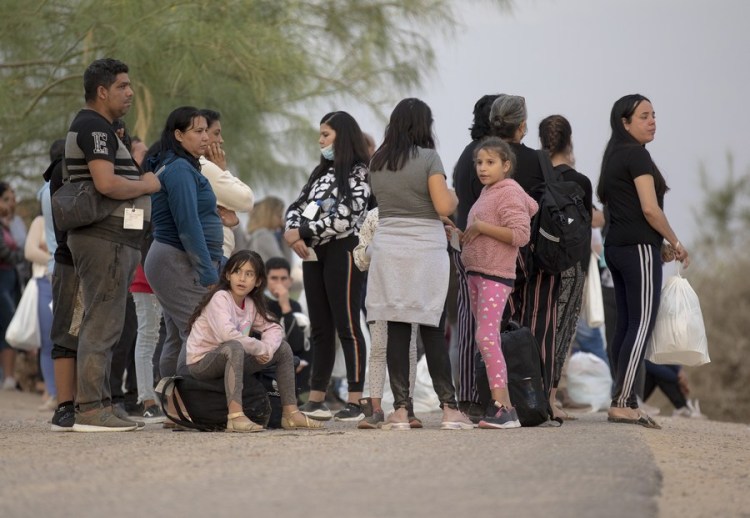 Migrant children from Central America who have been arriving in the United States without their parents in record numbers are ending up in punishing jobs across the country, some of which have led to injuries and deaths, according to an investigation by The New York Times.
In interviews with underage migrant workers, the Times said it found child labor in the supply chains of many major brands and retailers, including Whole Foods Market, Walmart, Target, J. Crew, Ford and General Motors, and ice cream maker Ben& Jerry's.
Several major brands, including Ford, General Motors, J. Crew and Walmart, as well as their suppliers, said they took the allegations seriously and would investigate. Target and Whole Foods Market didn't respond to requests for comment.
Ben & Jerry's said it had worked with labor groups to ensure a minimum set of working conditions at its dairy suppliers. Cheryl Pinto, the company's head of values-led sourcing, said if migrant children needed to work full time, it is preferable for them to have jobs at a well-monitored workplace.
Despite federal laws that bar minors from dangerous jobs, many migrant children are doing them, the Times said. They have had their legs torn off in factories and their spines broken at construction sites, but most of the injuries go unreported. The Times said it found a dozen cases of young migrant workers being killed since 2017.
The deaths include a 14-year-old food courier who was hit by a car while on his bike at an intersection in Brooklyn, New York; a 16-year-old who was crushed under a 35-metric-ton tractor-scraper outside Atlanta, Georgia; and a 15-year-old boy who fell 15 meters from a roof in the state of Alabama while he was laying shingles.
The Labor Department tracks the deaths of foreign-born child workers but no longer makes them public, and 2017 was the last year the department reported any.
The Times said its investigation took 10 months, with the reporter speaking to more than 100 child workers in 20 US states. The investigation also involved reviewing court and inspection records as well as interviews with hundreds of lawyers, social workers, educators and law enforcement officials.
Since 2008, the US has allowed Central American children who arrived at the US-Mexico border to remain in the US and live with sponsor families while they go through immigration proceedings. The policy kept children from otherwise being stranded in Mexico.
The Health and Human Services Department is responsible for ensuring sponsors will support them and protect them from trafficking or exploitation. In the past two years alone, more than 250,000 children have entered the US by themselves.
When Kelsey Keswani first worked as an HHS contractor in Arizona to connect unaccompanied migrant children with sponsors in 2010, the adults were almost always the children's parents, who had paid smugglers to bring them up from Central America, she told the Times.
Now, just a third of migrant children are going to their parents, a Times analysis of federal data showed, and a majority are sent to other relatives, acquaintances or even strangers.
Nearly half are coming from Guatemala, where poverty is driving a wave of migration. Parents know that they themselves would be turned away at the border or quickly deported, so they send their children to the US in the hope they will get work and send money.
The child labor force has been slowly growing for almost a decade, and the number of unaccompanied minors entering the US reached a high of 130,000 last year — three times of what it was five years earlier — and this summer is expected to bring another wave, the Times said.
The HHS checks on all minors by calling them a month after they begin living with their sponsors. However, the Times said data it obtained showed that over the past two years, the agency couldn't reach more than 85,000 children.
The agency lost immediate contact with a third of migrant children, according to the report.
As more children have arrived, the Biden administration has pressured HHS staffers to move the children quickly out of shelters and release them to adults, leading to a rushed vetting of sponsors.
An HHS spokeswoman said the agency wanted to release children swiftly, for the sake of their well-being, but hadn't compromised safety. "There are numerous places along the process to continually ensure that a placement is in the best interest of the child," said Spokeswoman Kamara Jones.
Sponsors are required to send migrant children to school, but some children arrive to find that they won't be enrolled in school. Many of the children send cash back to their families while often being in debt to their sponsors for smuggling, rent and living expenses, the Times said.
The federal government hires child welfare agencies to track some minors who are deemed to be at high risk. But case workers at those agencies said that the HHS regularly ignored obvious signs of labor exploitation, a characterization the agency disputed, the Times said.
The HHS provides case management to about a third of children who pass through its care and usually for just four months. Tens of thousands of other children are sent to their sponsors with little but the phone number for a national hotline. There is no formal follow-up from any federal or local agencies to ensure that sponsors aren't putting children to work illegally.
In Pennsylvania, one case worker told the Times he went to check on a child released to a man who had applied to sponsor 20 other minors. The boy had vanished. In Texas, another case worker said she had encountered a man who had been targeting poor families in Guatemala, promising to help them get rich if they sent their children across the border. He had sponsored 13 children.
In a statement, the HHS said it had updated its case management system to better flag instances when multiple children were being released to the same person or address.
In many parts of the country, middle and high school teachers in English-language learner programs told the Times it is now common for nearly all their students to rush off to long shifts after classes end.
"They should not be working 12-hour days, but it's happening here," said Valeria Lindsay, a language arts teacher at Homestead Middle School near Miami. For the past three years, she said, almost every eighth grader in her English learner program of about 100 students was also carrying an adult workload.
aiheping@chinadailyusa.com