Surge in asylum seekers at unofficial US-Canada crossing sparks debate
By RENA LI in Toronto | China Daily Global | Updated: 2023-03-06 09:10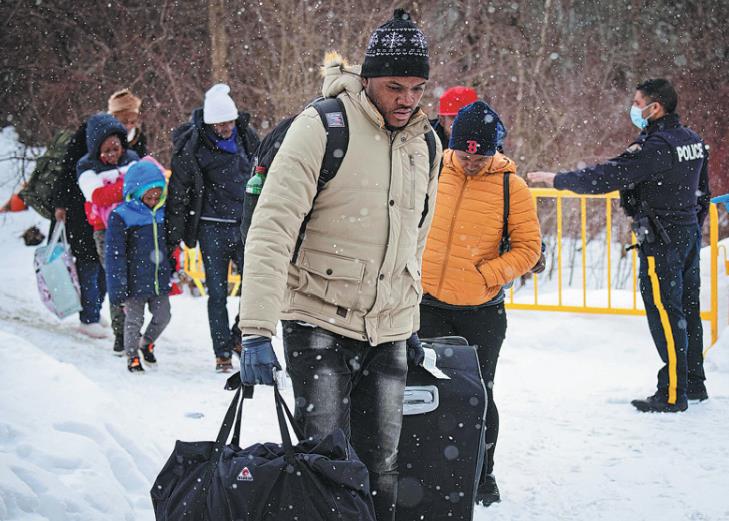 A small road connecting the state of New York and the province of Quebec has become a topic of international debate in recent weeks, with thousands of asylum seekers crossing into Canada from the United States and politicians calling on Ottawa to close the road to stop the influx.
Last year, more than 39,000 people crossed into Quebec through Roxham Road, an unofficial port of entry about 50 kilometers south of Montreal, the Canada Border Services Agency reported.
The number of asylum seekers in Canada is expected to reach 70,000 this year. In January, there were more than 4,800 interceptions of asylum seekers entering Quebec through Roxham Road, up from 4,700 in December.
The Canada-US Safe Third Country Agreement allows Canada to turn away asylum claimants seeking entry from the US at "official land border crossings".
The agreement, which was signed on Dec 5, 2002, and took effect on Dec 29, 2004, mandates that potential asylum seekers who reach an official crossing after first arriving in the US can be turned away to pursue their claim in the first safe country they arrived in.
However, asylum seekers continue to take advantage of a loophole in the treaty, which applies to only "official land border crossings" and not unofficial ones such as Roxham Road.
While it is illegal for immigrants to cross the border anywhere other than at an official port of entry, they are legally allowed to apply for asylum — a step toward refugee status — once they have entered Canada.
The Royal Canadian Mounted Police warn immigrants that they will be arrested and charged with unlawfully entering Canada via Roxham Road. But once charged, they are quickly released, The New York Times reported.
The immigrants can start working and receive healthcare and other social benefits in Canada while their asylum applications are processed. Many are sheltered at government-paid hotels for extended periods and their children enrolled in public schools.
Quebec Premier Francois Legault has asked Prime Minister Justin Trudeau to close Roxham Road, as the province's "capacity to take care of the asylum seekers is now largely exceeded".
Legault's interventions have had little impact so far. The federal government started transferring migrants arriving in Quebec to places such as Ottawa, Windsor and Niagara Falls, Ontario. Only the Atlantic provinces have expressed a willingness to do more.
Windsor counselors said the city won't be able to handle any more asylum seekers without federal help, according to the Canadian Broadcasting Corp.
Abdulla Daoud, executive director of the Refugee Centre in Montreal, told Reuters that "bureaucratic delay" is the real problem. "If we were to move them to any other province, we're not really solving anything," he said.
The province has seen many immigrants recently coming from Latin America. Conservative leader Eric Duhaime has called on Quebec's main political parties to form a common front against Ottawa on the "Roxham Road crisis".
Responding to recent political pressure, Trudeau, who has been welcoming to refugees in the past, said his government had been trying to close Roxham Road for years by rewriting the Safe Third Country Agreement.
At a news conference in February, Trudeau said that negotiations between Canada and the US are continuing, and that he would raise the issue when US President Joe Biden visits Canada later last month.
US Ambassador to Canada David Cohen said the agreement would do "very little" to address "irregular migration", and the two countries should focus on addressing the underlying causes of such migration.
Critics said the agreement should be enforced everywhere along the border, including at informal crossings. For a long time, asylum seekers have made dangerous journeys elsewhere along the border, through deep snow and freezing temperatures. Simply closing Roxham Road might drive them to other unofficial — and less safe — crossings.
Refugee advocates argue that the rights of asylum seekers aren't adequately protected in the US. An Amnesty International official in Canada told The New York Times that the US is becoming unsafe for asylum seekers, as the Biden administration moves to make it easier to quickly deport them.
Jamie Chai Yun Liew, an associate law professor at the University of Ottawa, told The Hill Times that the Roxham Road issue shows the political climate toward immigrants has "drastically changed" since the Canada-US agreement was signed in 2002.
Liew said that other than suspending the agreement to force asylum seekers to enter at official ports of entry, she wasn't sure what alternative the government could be negotiating.
renali@chinadailyusa.com