2 Texas Senate bills driving Asian political participation
By MAY ZHOU in Houston | chinadaily.com.cn | Updated: 2023-03-07 13:07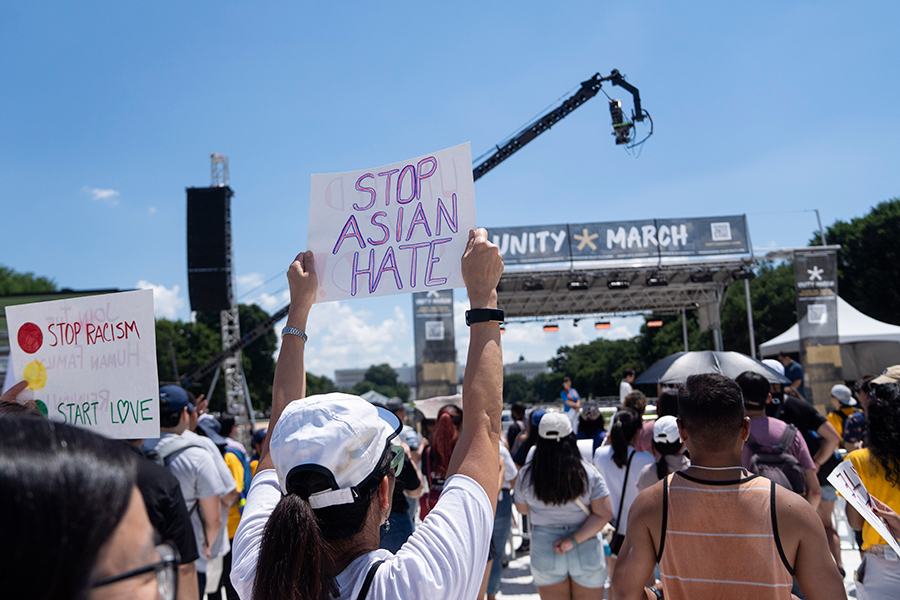 More than 100 people, most of them from the Asian community across Texas and primarily from Houston, Austin and Dallas, showed up at the Texas Senate recently to testify about two legislative proposals — SB 147 and SB 711 — with 90 percent opposed.
Martha Wong, a former state representative, told the Senate on March 3 that the best thing that has happened with SB 147 is that for the first time she saw "so many Asians in the statehouse".
Wong, also the first Chinese American member of the Houston City Council, formed the Asian American Assembly and has been trying to get Asians to participate in the political process for almost two decades, but with limited success.
"I have worked so hard to involve the Asians in the political process," Wong said. "Thank you for waking up the Asian community because you have done that," she said to her former colleagues at the March 3 meeting.
Texas SB 147 has drawn nationwide attention since Governor Greg Abbott tweeted his support of it in mid-January. The bill, in its current wording, would ban government entities, companies and citizens of China, Iran, Russia and North Korea from purchasing any real property in Texas.
The bill has prompted strong pushback from the Asian community, and the bill's sponsor, Republican Senator Lois Kolkhorst, made a concession by stating at the hearing that "the committee substitute will make it crystal clear that dual citizens and legal permanent residents are able to purchase property".
Kolkhorst also said a change will be made to make an exception for the purchase of a homestead by people who aren't citizens or permanent residents.
The hearing was also about SB 711, a bill proposed in late January to require foreign entities, businesses and individuals from countries identified as a country posing risk to US national security, according to the federal Annual Threat Assessment, to disclose their nation of origin when purchasing real property.
It also allows the seller to end the sale agreement based on such disclosure without any penalty or liability.
Of 139 registered speakers, 129 opposed both bills at the Senate hearing. Those speaking included F-1 visa students, work visa and green card holders, citizens, and representatives from various business organizations and civil rights groups.
CJ Zhao, a citizen who has been in the US for more than 30 years, told the Senate: "We feel we are under attack by our own state representatives" and vowed to fight those who will vote for the bill.
"Your vote for this bill will be a vote against our whole community. When the time comes for re-election, we will remember this. We will become single-issue voters voting for your opponents and campaign against you in every way we know how," Zhao said.
A 10-year-old boy from Arlington told the Senate: "If I show this bill to my classmates and schoolteacher, they would all agree that this perfectly matches the definition of discrimination." He said he is worried that he and his Chinese friends would be bullied, and his grandmother might be attacked because of the bills.
"Are you going to be responsible for that?" he asked.
A woman who said she is a Dell engineer and obtained her permanent resident status recently, said that her family will move to another state if the bills pass "because we just don't feel comfortable to live in an Asian-hatred environment".
Another woman, a work visa holder, told the Senate that the proposed bills are already turning some Asians away from Texas. She said a friend of hers is reconsidering a software engineering offer in Austin because of the bills and is now looking elsewhere.
Wong, who was given extra time to testify, recited her life story, which illustrated the progress of American society and urged the lawmakers not to go backward.
She told how her father wasn't able to buy or rent a house in the 1930s and 1940 in Houston, and the whole family had to live in a store room where grocery boxes were stacked to the ceiling.
She recounted that when a friend's parent was planning to build a house in the Meyerland neighborhood in Houston in 1959, a person filed a petition to not allow the Chinese man to build a house on the lot.
Eight years later, she and her family moved into the area, and in 1994, she, a Chinese, was elected to represent the area on Houston's City Council.
She recalled that River Oaks, one of the most affluent neighborhoods in Houston, had deed restrictions in the 1960s not to allow Jews and Chinese but only Caucasians to buy property there.
"In 2003, I was able to represent the River Oaks area in the Texas House of Representatives," said Wong, adding that "we have moved forward in the state of Texas".
However, the two bills are causing discrimination against many Asians, Wong said.
"What is happening is that the unintentional consequences [of the bills] are going to cause us to have some backward movement" and "that's what most people talked about today" at the hearing, Wong told the Senate.
Wong urged the lawmakers to look closely at the language of the bills and come up with a better version.